Jil Sander, Lemaire and Bottega Veneta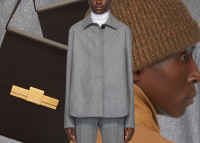 It's time to reexamine the fluidity of the word "handsome"—striking, elegant, and stately. Handsome dressing points to muted neutrals, tailored silhouettes, and dignified staples. Often rendered in wool, handsome connotes autumn and cozy sophistication. Think plush tweeds and peacoats.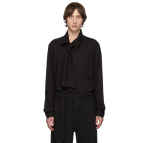 Yohji Yamamoto Black Collar Stole Shirt
Handsome dressing at its most distilled comes down to one simple requirement: sophisticated details that aren't ostentatious. This reworking of a classic black shirt features a stole collar, proving that function doesn't always have to be utilitarian.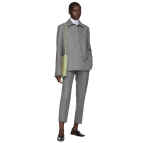 Jil Sander Grey Boxy Shirt
There's something statuesque about gray—maybe because it's castle-colored. Wearing the stature you wish to have in the world is certainly one way of getting there. Layers mean strength in numbers—heightened versatility for unpredictable weather.

Dries Van Noten Tan Lace Up Derbys
The comfort of a buffed leather-lined arch in the sole of your favorite Derbys is hard to match, (a hot cappuccino on a cold morning comes pretty close). Thankfully you can have both from Dries Van Noten—comfort at your feet in the same creamy caramel coffee shade.


Bottega Veneta Brown Daisy Cigarette Box Clutch Bag
A structured bag is a ticket that takes the wearer from casual to handsome. In oversized cigarette box proportions, you can rock the look without a cloud of smoke. Although it might look like you emerged from one, a la film noir.