Squaring Off: The Return of the Angular Toe
Five Ways to Wear It Ft. Eckhaus Latta, Y/Project, and Lemaire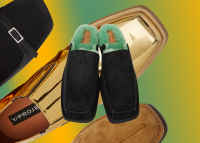 No matter how you slice it, the square toe is tough. Severe and angular, it stands its ground. Even in lazy shearling lounge shoes or strappy evening sandals, the square toe takes a hard line. Potently nostalgic, the blunt shoe feels anachronistic, but on time for revival, as fashion takes a turn towards minimalist-yet-dramatic silhouettes. Here, see five vastly different ways to incorporate a square-toed shape.

You might think of an Eckhaus Latta and Ugg collaboration as a bit of a "square peg in a round hole" situation, when really, there's no such thing when it comes to the cult-favorite Los Angeles brand. Expect only the unexpected—which is found here in a remix of the Ugg lounge slide by way of turquoise green Muppet shearling.

With these sleazy, gold low-cut booties, it's the square toe that seals the deal. Part pirate, part cowboy, part gambling man, part trophy, these boots are all camp, all costume.

This elegant square-toed slingback inspires total nostalgia sickness in the best possible way. Reminiscent of late 90s prom shoes, conjuring slick up-dos, silky slip dresses with coordinating shawls, chunky highlights, and Gwyneth Paltrow and Brad Pitt hand-in-hand. Take us back to whatever time this prim buckled sandal came from.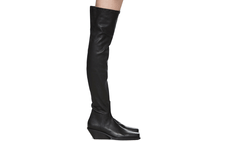 The original square-toed boot was probably the motorcycle boot, like the real ones worn by people who ride motorcycles. Black leather and a roomy toe-box make for Harley Davidson approved footwear. Ann D. of course loves black leather, and of course takes cues from bikers, fellow leather lovers. Here, a functional biker boot is given the Antwerp twist, with a slanted, nearly-wedge block heel and a sexy over-the-knee extension.

Chukkas, or desert boots, take their origins from the British Military, but have long since fled the battlefield and found themselves settled under the hem of jeans or suit slacks. A staple of the menswear lexicon since at least the 40s, leave it to Lemaire to take something so utterly classic and find a way to update it—in this case, with an unexpected blunted toe.