To Hell N Back with Bakar
The Rising UK Artist and Louis Vuitton Model on His New EP and Why He Doesn't Have a Phone
Interview:

Niloufar Haidari

Photography:

Bafic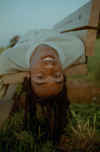 To the public imagination, Camden is home to punk rock and Madness. Amy Winehouse, brogue shoes, and the glory days of indie music. But the area also has an overlooked side, producing successful hip-hop artists such as N-Dubz and the lesser-known, hyper-local rappers that rising London artist Bakar would listen to while growing up there.
On a Monday afternoon, we meet on a bench outside of a pub in idyllic Hampstead, enjoying some long-awaited August sunshine. Bakar still lives in the area, and during the course of our conversation, he is interrupted both by a friend's fashionable mum, who stops to ask how his music is going on her way to buy artisanal bread, and a young man with his face covered driving past on a moped.
Bakar represents the new breed of modern artists, unconfined and uninterested in the textbook path to success. He's modelled for creative collective Brain Dead, walked for Louis Vuitton (twice) under Virgil Abloh, and counts on the rise stylist Jordan Vickors (who also styled Bakar for this shoot) among his closest friends. Today, he is off-duty in a purple hoodie and tracksuit. He tells me how he began taking the idea of music seriously after spending time at Skepta's residential studio during the recording of Konnichiwa, where they would jam together making "weird punk shit," and even considered starting a group with Bakar as the lead vocalist. Having grown up around some of London's biggest cultural gatekeepers, Bakar has earned his impressive list of co-signs, and his diverse, genre-melding sound has won him genuine adoration among Gen Z—all without major label backing or brazen marketing campaigns.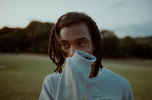 Although he tries to limit the amount of time he spends on social media, his Instagram—with only 33 posts but nearly 50,000 followers—is emblematic of someone who knows exactly how to use the platform. He keeps his fanbase informed of developments with his music without drowning them in updates about his life and who he's spending it with. His live shows often portray him embracing the energy of the artists that made Camden such a mythical place in the Rock n Roll pantheon. Sweaty, euphoric, and electric, his legions of teenage fans chant every word of his songs back to him as they support him, shirtless, crowd-surfing.
Bakar's music incorporates elements of indie, grime, ska, and punk alongside broody bits of spoken word about failed relationships and girls he's met in clubs while on tour around the world. There are shades of Jamie T and Bloc Party; Skepta and slowthai. His newest project, a six-track EP by the name of Will You Be My Yellow, releases next Friday on Black Butter Records (home to J Hus and Octavian)—"Everyone calls it an EP because it has six tracks, but to me, it's a short story,'' he explains. He's also recently taken on a manager, after fielding offers for the last two years and waiting it out for his dream company, September Management.
The first track from WYBMY is "Hell N Back," a deceptively cheery-sounding song with lyrics detailing an unhealthy relationship that tested the limits of both participants. The record was made alongside long-time producer and friend Zach Nahome, who also produced his 2018 debut album, Badkid. Here, to coincide with the upcoming launch of his EP, Bakar talks about the importance of authenticity, taking time to let inspiration find you, and the pressures of creating something new in an over-saturated industry.
Right now seems like a good time to be an experimental artist; very few people are confined to one genre or sound. Where do you think this approach to making music has come from?
We've grown up in a mishmash of so much shit, especially if you're in the city. We're exposed to so much on the level of like, you go to your friend's house and he's half Sri Lankan, half English. You go to your other friend's house and he's from West Africa. You're not clocking [that] at the time, but you're taking in all of these different things. Years later, when I started making music, I was like, 'Oh, maybe that's why I feel comfortable doing my own thing.' You don't realize it.
On the flipside, it can also be quite hard to make music that sounds genuinely new in any way, maybe because of the internet, and having an endless archive of inspiration and footage that you can dip in and out of. Do you think it's possible to create anything that's new anymore?
It's tough! It's very cliché to say that nothing is original, but I feel like for the last 20 years that's been the case. Everything is one reference away.
How do you combat that in your own music?
I think whatever you do, it's gotta be true to you. This is super cliché again, but you have to be authentic. People know when you're bullshitting and when you're not. I personally make a lot of different styles of music, but I feel comfortable in every single one of them, so people don't question it.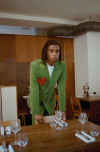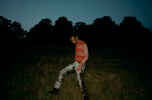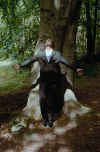 Do you put in scheduled hours in the studio, or do you live your life and wait for inspiration to hit?
I strongly believe that it's not really up to us when the magic happens.
Can you tell me a little bit about your relationship with your producer, Zach Nahome?
It's like a marriage! Sometimes we'll work with other people; we'll cheat on each other and come back together, but it's a beautiful thing. He's seen me make songs when I've been down, when I've been up...it's a very intense relationship. But I'm so blessed to have someone who I align [with].
How did you get into making music?
Everyone went to college, and I didn't, so I started hanging out with people who were older than me, and they ended up being rappers and producers. I was always in the studio and around music, and I was really intrigued and wanted to understand how to make a song. I understood something about it, because my friends that were artists and rappers would value my advice. That stuck out to me. I was like, 'Oh, I have an ear!' I ended up being around Skepta a lot, while he was making Konnichiwa. Loads of my friends went to Japan for his album release, but I stayed at home. I'd broken up with a girl, I was in my feelings, and I just started uploading shit to Soundcloud.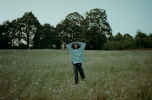 You spent some time recently at Rick Rubin's lauded Shangri-La studios. What was that like?
It was amazing, I'm a nerd for engineers. I don't want to be around the big artists, I just want to be with the best engineers in the world. The engineers that I was working with were like, 'Come work at this studio,' and I was like, 'Fuck, this thing is really far away! Where am I going?!' I got there and checked the Wi-Fi and I was like, 'Am I at Shangri-La?!' and they started laughing. I was only meant to be there for four or five days, but I ended up staying there working for two, three weeks.
Were you working with Rick Rubin at all?
No, he wasn't there. But you can feel him there. I wrote songs in Bob Dylan's tour bus that's just sitting there. You can feel all this history. I thought it was gonna be really big, and there was going to be so much stuff, but it's super bare. There [are] no screens, no nothing. Everything is by design and on purpose.
I read that you don't have a cell phone, why is that?
I haven't had a mobile number for about two years now. Going back to my creative process, [going] from A to B is crucial for me. When I'm sitting on the bus, or in a cab, or if I'm walking...that's the most precious time to me, so I don't want to dilute it. I'm super protective over that. It sounds self-indulgent but the fact that someone can insert [themselves] into my life by pressing a button and ringing me wherever I am…it's violent. And then all the stuff that comes with it...so I thought, let me just get rid of that.
Your upcoming EP is called Will You Be My Yellow. What does the title mean to you?
Yellow is a metaphor for light in general: will you be my light is effectively what it means. At the start of this year a lot of dark shit happened. One of my friends took his own life, another one went to jail for a long time. With all of this shit happening, I wasn't really in the mood to make music. It's light at the end of the tunnel kind of music.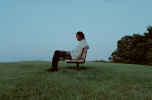 Niloufar Haidari is a freelance writer based in London. Her work has appeared in Vice, The Fader, Vogue, and more.
Interview:

Niloufar Haidari

Photography:

Bafic

Styling:

Jordan Vickors

Photography Assistant:

Jack Batchelor

Styling Assistant:

Andrew Carnegie Brown

Production:

Claire Burman

Production Assistant:

Geraldine O'Reilly

Date:

September 13, 2019