Fucking Up the Status Quo with Hubert Lenoir
The Award-Winning Canadian Artist on Finding Confidence in the Spotlight
Interview:

Romany Williams

Photography:

Brent Goldsmith
"I think sometimes you can tell a different story without adding words," says Hubert Lenoir. He's getting his hair slicked and coiled and his lips glossed in the makeup chair, talking about his love for instrumental songs. He's relaxed, wearing a Kesha t-shirt and baggy pants. Lenoir, 24, is famous in his home province of Quebec, Canada, equal parts for his critic-lauded debut album Darlène, released earlier this year, and for his dismissal of rules or labels when it comes to his sound and style. For example, he mooned the crowd, exposing a Fleur-de-lis tattoo while performing on an episode of reality TV show La Voix (French The Voice), and the conservative French media went wild. At the ADISQ gala in October, an awards ceremony celebrating the best in Quebecois music, Lenoir won pop album of the year, discovery of the year, and song of the year. "For those who feel that I'm different, that I'm weird, it's always a question of perception," said Lenoir during his acceptance speech, dressed in a peasant blouse layered underneath a vintage tee and multiple gold rope chains, his face airbrushed with speckles of red and yellow paint. "And for the youth of today in Quebec," he continued, "I just want to say: 'You're wack'." More critical articles ensued. Lenoir does things differently, and Quebec clearly wasn't ready.
Growing up in the small French town Clerval, his older brother introduced him to music. They formed a band, The Seasons, and played throughout high school. Today, Lenoir is synthesizing his rural Quebecois background with influences from Prince to Kanye West, resulting in a sound that's equal parts Marc Bolan and Mac Demarco. His ability to fuse disparate genres and sounds makes sense coming from a self-proclaimed "kid of the internet". When we meet, he's carrying a plush backpack the shape of a Dalmatian dog. I ask him what's inside of it. He says, "my wallet, a condom, some soap," and then stops to contemplate before finishing, "other stuff." He's thoughtful, and a bit more shy than his on stage-persona. Over Tim Hortons coffee, we spoke about how he developed his style and what it's like to be a contemporary artist in a conservative scene.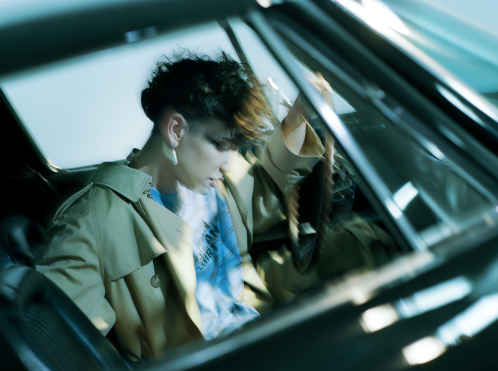 Romany Williams
Hubert Lenoir
What kind of music were you into in high school?
I was mostly into hip hop growing up. When I was going to high school in the countryside, everybody seemed to be dealing drugs and listening to hip hop. I met three other boys that dressed the same way as me. We kind of got together, the four of us, and discovered music from the 70s—that's where I discovered Brian Eno, Elton John, Donovan. Mostly 70s experimental, 60s psychedelic, and songwriter stuff. That was a phase in my musical journey. I recently had a jazz phase. But I feel like every album that I'm gonna do in my life is always gonna be a melting of everything that I've been listening to.
It sounds like music really shaped your upbringing, but it's interesting that style is what initially brought your friend group together.
Yeah, because at first, I was really scared of being picked on because I was really attracted to mostly feminine—I don't wanna say feminine, because I think clothes are unisex—but we knew looking at each other that we were kind of into the same thing and then we started doing it together. We were like the four weirdos in high school. People laugh at you a little, but when you keep on doing it at some point they're like "Okay, well these guys are just like that." They can't laugh forever.
What kind of stuff would you guys wear?
We would wear very oversized wool shirts with long sleeves. And Coats. Really long, oversized stuff—that was our thing. I don't know if it was punk rock or whatever, it was just our style, our way of getting dressed. I think style is a way of telling a story, of showing who you are at first.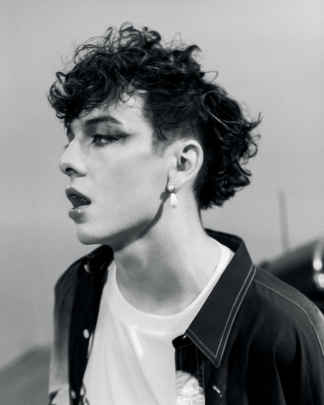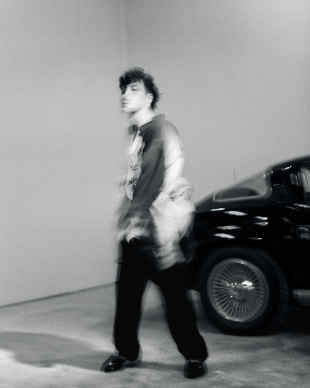 It's definitely a language.
You just gotta be careful about not being too superficial or narcissistic. Because it's me wearing stuff, and wearing my makeup, but in the end, you're also kind of doing it for other people.
What have you been wearing lately?
Right now I've been wearing the Montreal designer, Pretend Play. Unique pieces made from recycled fabrics. When I see her clothes, I see music. I hear music. And I think that's a good sign, hearing music when you see something. Because it's so true and so raw. It tells a story. When I see a good painting, I can hear music, or when I hear music, I can see clothes. I like things when they are true. That's why I'm really, really not into H&M, I just don't get the point of that.
What's your idea of dressing "true" to yourself?
We're all influenced by trends, but I think that it's awesome when people put their own little something into style. I feel like these days you go into a hip bar and everybody has the same kind of bag. It's not like you can't wear it, but find your own something, because otherwise you're just a conformist. Truth is something I've really been thinking about these days. What is true in all of this? My life, the music. It's pretty, but life is very tough. It's hard. People are mean to each other all the time and the world is a crazy place. Sometimes you wonder what the true things in life are, what should I care about? Is art only capitalism or is it something that is true and deep and beautiful? What should I leave behind?
When it comes to performing, how did you find the confidence to be true to yourself on stage?
At first I was very shy. I'm still a very shy person. I don't talk too much. I try to look people in the eyes but it's kind of hard for me. So at first it was the same thing on stage. But I feel like I got so used to putting music on when I was at home and dancing around that it got to the point that I couldn't go on stage and not do it. Because I love what I'm doing.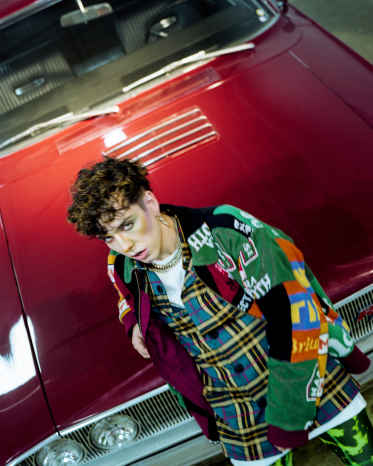 "Sometimes you wonder what the true things in life are, what should I care about?
Is art only capitalism or is it something that is true and deep and beautiful?"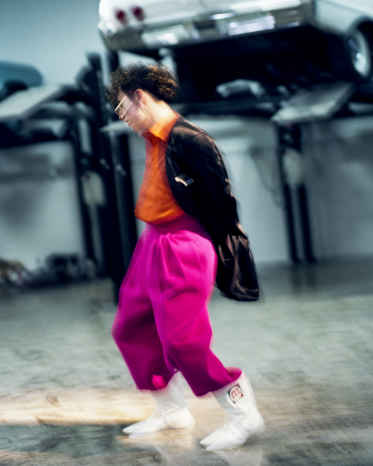 Is there a difference between being a performer and being an entertainer?
I'm not very good with a crowd, it's not like I'm an entertainer. I just sing, dance around. I stage dive, I crowd surf, but it's just part of what I want to do because I get pretty crazy as a person. I have these two sides of my personality. I'm very shy, but I've also done tons of crazy stuff in my life. When I get turned on by music or alcohol or just euphoria, I can get pretty messy in a few seconds.
So a performer is when it's coming naturally from within, and an entertainer is something you see as more choreographed, an artist that gives the people what they want.
This entertainment thing, I don't know how much of it is true. There's music, pure music, and there's music business, show business. They are two separate things.
How does that factor into the way you make your music?
Well, sometimes I get tired of people only releasing singles for no reason other than Spotify streams. No offense to people who do, I'm not against releasing singles, but just do it for a purpose.
What about the instrumentals on your album? It's rare to see a young artist today focusing on instrumental based songs that are longer than three or four minutes.
I think sometimes you can tell a different story without adding words. People have this misconception of pop records that you can't be too innovative because it's not pop if it's innovative. I think that's totally wrong. I think it's possible to make something that is new and innovative and still have tons of people enjoy it.
I've read quotes from you where you stress that you want your music to be something people can reference 10-20 years from now. This idea of timelessness seems really important to you.
You shouldn't worry too much about that when you're an artist because everything is disposable in a way. It's nice to be trending and stuff but I also think that art is not about that. I hope my music is relevant in 10 or 20 years. There is nothing more beautiful than listening to an album all the way through. I think that's the biggest compliment you can say to me. Last night at like 3 am, I got an Instagram DM that said "I've listened to Darlène like 300 times since it's come out, thank you for making this record. That's it, have a good night." It was the best feeling. Somebody at home last night listening to it. Maybe with friends, maybe not. But they listened.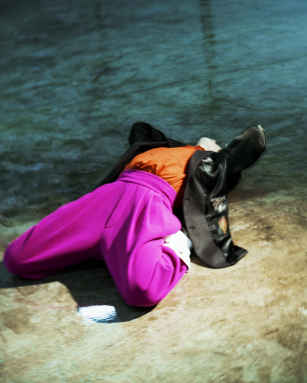 Romany Williams is a Stylist and Editor at SSENSE.
Interview:

Romany Williams

Photography:

Brent Goldsmith

Styling:

Benjamin Evans

Photography Assistant:

Kéven Poisson

Hair and Makeup:

Carole Méthot

Production:

Alexandra Zbikowski

Production Assistant:

Ian Kelly

Location:

John Scotti Classic Cars