Empress Of is Such a Libra
Keeping it Balanced with the Electro-pop Singer
Interview:

Khalila Douze

Photography:

Julian Burgueno
As a child growing up between Pasadena, where her mom lives, and Van Nuys, where her dad lived, Lorely Rodriguez was raised listening to music curated by her Honduran parents: traditional salsa, merengue, cumbia, and a lot of Selena.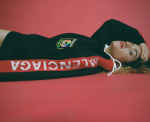 Rodriguez—better known as Empress Of—credits her father, a salsa pianist, as a fundamental reason for her obsession with music. "There was always music in the house and a big piano that I attempted to play," she says. Like most kids with immigrant parents, she developed a sixth sense for navigating cultural space as she simultaneously listened to pop radio, watched MTV and VH1 Divas, and went to school with a change of clothes in her backpack.
It's 10A.M. and despite having traveled between the coasts just hours before we meet for brunch in downtown L.A., Lorely is bright-eyed and fresh-faced. She exudes a graceful confidence upon first impression, arriving in a plaid skirt and a black Terrible Records hoodie, a hand-painted bucket hat on her head, and purple and orange Nike Air Vapormax sneakers on her feet. Lorely is stern when ordering her eggs, asking to get her coffee in a to-go cup, and reminding the waiter that her plate is missing its side of gluten-free bread. But her demeanor isn't cold, rather, it's assured. Leaving room for humility, like when she asks if I've listened to the album, not wanting to assume I had. As an astrology geek, I want to attribute her coolheaded sense of self, attentiveness to others, self-reflexivity, and tendency to speak in contradictions to her Leo rising, Libra sun, and Gemini moon placements—details she insists I remember—but that would just be scratching the surface of who she is.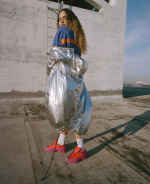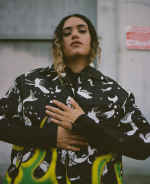 In many ways, the Empress Of who made Us is a very different person from the one who released her debut album, Me, three years ago. Shortly after its release, Lorely moved back to L.A. from New York. At home in Highland Park, she's just a 15 minute drive away from her mom, and naturally, her homecoming has meant reconnecting to her roots—the food, the music, the streets and the people that raised her. "When you don't live in the same city as your family, you're more existing in the moment, as opposed to existing in a big generational sense," she explains. "Seeing other generations of your family gives you a perspective on how important the bigger picture is," she adds. The most notable change in the music she's made in the three years since Me is a move away from the self-written, eccentric, introspective electro-pop experiments that explored being alone, and an embrace of collaboration and stories of community, resulting in a polished, accessible pop sound. Lorely says she felt she had to prove something on her first record. Now? "I'm in a more receptive, open place in my life. I'm in L.A. and I made all these amazing new friends who are inspiring me, so it just seemed really easy for me to call it Us," she says. In addition to working with her friend Dev Hynes (Blood Orange), producers DJDS, and Spanish electronic artist Pional for her album, she's recently lent her talents to the projects of other artists she admires, like Khalid's Suncity, Mø's Forever Neverland, and rapper Tommy Genesis's self-titled debut.
As a teenager, she would illegally download music off of the internet, discovering innovative artists like Bjork and Imogen Heap—artists who she says made her realize that she could make any type of music she wanted, and prompted her to give it an honest try. "I had a program on my Windows where I would record songs," she says. A few years later, she found herself at Berklee College of Music in Boston, where she had access to state-of-the-art gear and studios, spending all of her time learning how to make beats. Rodriguez writes her best stuff early in the morning, around 8AM, or late into the night—the hours of the day when our brains are in that hazy, half-awake stage. When we're somehow most present.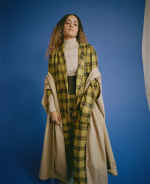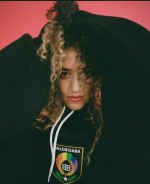 Throughout our meal, we swap anxiety stories. She outlines a disparaging Pitchfork review of her album, and shares some nuggets of sound advice, which illustrate how she manages to stay present. "If it's not going to bother you in five years, then why are you letting it bother you right now?" she asks. "Are you gonna be thinking about how you said something dumb in front of a camera in five years when you're like, I don't know, in Italy or on your farm, petting your llama?" On the subject of harsh criticism, she's learning to not let others' opinions sway her. "Seeing those criticisms can hurt and everyone's entitled to their opinion, but what's important to me is being at Rough Trade and having all these people come up to me and share how much this record meant to them."
Some of Lorely's new friendships have grown from more than a place of just being open and receptive to new experiences. "Being from Honduras, I don't usually meet a lot of creatives from Honduras," Rodriguez notes. But, a friend recently told her about a Honduran L.A.-based clothing designer called Kids of Immigrants: "And then all of the sudden we're having coffee and they're like, 'Can we shoot you for our lookbook?'". For Lorely, these friendships are about representation and seeing herself in other people, something she hadn't be able to in an earlier part of her life. "I was one of the only kids growing up that wanted to do music."
This year, Rodriguez attended her first Paris Fashion Week, as a guest at Chloe's presentation (she worked with the brand on their Fall/Winter 2018 campaign). Fashion is another world Lorely is embracing as a part of her newfound creative exploration, and ownership of her image. She has a stylist who's a close friend, and is discovering more of her own tastes, finding inspiration in the way her mother dresses and in her L.A. origins (Dickies and Jordans). "Every body is different, and every personality speaks differently through clothes," she says, noting how she's grown more secure and free in her own body.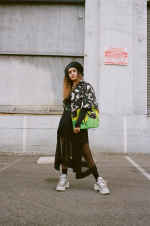 The youngest of four children and the only girl, Lorely looks up to her mother—a single mom and an immigrant who both raised them and financially supported them. As a child, she would get frustrated with her mother's constant stress, and inability to buy her the things she wanted, or take her to the concerts she was dying to go to. "As a kid, you make your parents feel so bad for not being able to give you dumb things like that. As an adult, I realize I get my work ethic from her and I'm really influenced by her, and her spirit, and how she never gave up." In many ways, Lorely is maternal in her own right. She is a natural healer, choosing to care for those around her by roasting a chicken and veggies and inviting friends into her home when they need to talk. "Food is healing, and sharing food with people is such an old tradition. It's survival, it's primal. That's probably the nurturing thing in me," she says. This maternal essence recalls the story of how she became Empress Of in the first place. "My friend was reading my tarots, and [the Empress] was the first card he pulled out," she remembers. The card traditionally symbolizes a mother, a creator, or a nurturer.
As we wrap up, Lorely talks an "R&R" trip to Mexico City—her favorite city in the world—that she has planned for later in the week. "On my birthday, I had so much shit going on, it wasn't even my birthday, so my partner got a place in Mexico City. I was like, 'What? You wild!'" she says beaming. Despite the excitement of accomplishments to celebrate, she plans to disconnect and unplug over the four days she's there: "I love connecting with fans... but I just want to be present in this right now."
Khalila Douze is a freelance writer and tarot enthusiast based in Los Angeles. Her work has appeared in The FADER, Pitchfork, Dazed, i-D and more.
Interview:

Khalila Douze

Photography:

Julian Burgueno

Photography Assistant:

Dylan Gordon

Styling:

Turner

Styling Assistant:

Megan King

Hair and Makeup:

Matisse Andrews

Production:

Rebecca Hearn

Production Assistant:

Jessica Druey