Big Sean is Building His Los Angeles Legacy
From Acting for Lena Waithe to Devoting Himself to Wellness, the Rapper Has Found His Place in Paradise City
Text:

Erika Houle

Photography:

Julian Klincewicz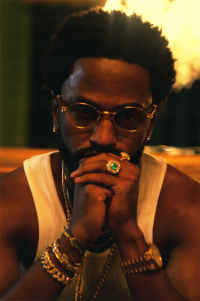 Big Sean keeps a journal. He writes in it every day. Affirmations, mostly, and stray thoughts about his future plans—stating his intentions, mapping out and manifesting. The 31-year-old rapper, born Sean Michael Leonard Anderson, has spent the last year committing to a practice of self-reflection that combines both body and soul, meditation and swimming laps in his Mediterranean-style pool.
He's looking and feeling better, he says, adopting L.A. lifestyle buzzwords like "food sensitivity," "inflammation," and "meal-plan snacks." While Sean grew up in Detroit, he was born in Santa Monica. His newfound way of life isn't just a West Coast cliché—it's an indication of how he fits into the industry. Where "Big" was maybe once about stature, it's now about perspective.
When he's not hard at work in his home studio—he's been finalizing his forthcoming album, Don Life—Big Sean is tending to his backyard herb garden. Fresh mint and rosemary offer energizing aromas. He considers himself a homebody, spending most of his time in his Beverly Hills mansion (previously owned by notorious party monster, Guns N' Roses' guitarist, Slash). What was once a hub for rockstar debauchery, Sean now describes as "super zenned out." Slash left behind an oversized, interior nightclub of Playboy proportions, but Sean says he's only used it once. Over a decade into his career, work-life balance is both a luxury and a necessity for Sean, and he's mastered his own unique approach.
Raised in Detroit, Sean remains indebted to its culture, highlighting the city's prosperous creative scene in the video for his latest hit, "Single Again." He's also been working closely with his mom to establish their annual D.O.N. (Detroit's On Now) weekend, a project dedicated to giving back to the community and supporting young local talent. This year's lineup of activities included coding lessons, yoga classes, and a mental health panel hosted by Sean. "I think from now on I'm going to stop calling it mental health and just call it health," he says, contemplating his words: "It is what it is." He's proud to use his platform to urge others to take care of themselves.
With the demeanor of a friendly neighbor and a taste for collaboration—Sean's worked with Nicki Minaj, Pusha T, E-40, Kanye, 2 Chainz, Eminem, Lil Wayne, and more—it makes sense that his latest endeavor, a small-screen acting debut, was the result of a shared meal with award-winning screenwriter, Lena Waithe. ("I did very well, according to Lena," says Sean.) The new BET series, Twenties, is a comedy depicting Waithe's own transition to the L.A. scene. She cast Sean to play a character not dissimilar to who he really is: a "workout guy" who's mindful of his emotions. Here, between wrapping up Don Life, following his wellness routines, and performing his new single "Bezerk" with A$AP Ferg at the 2019 MTV VMAs, Sean opens up about how all this self-care is serving him success.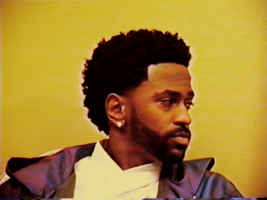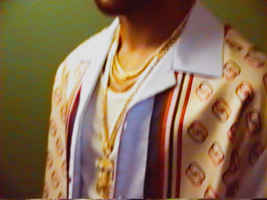 In what ways does L.A. feel like home?
My mom visits all the time. She has a room in my house and nobody touches her room. She's like a Taurus mom.
What do you like to do when she's in town?
We like to eat. We like chilling a lot, watching movies. She doesn't like to go out very much, truthfully I'm the same way. I'm a homebody. Sometimes she's in the studio with me because I have a studio in my house, too. I'm lucky enough to have a very beautiful house and there's a lot to do, a big movie theatre, a nice pool. I have a garden in the back where I grow fresh mint and rosemary and all different herbs and it's super zenned out. I also have a night club in my house, but I never really use it. I bought this house from Slash from Guns N' Roses.
I'm sure settling down in a rockstar's ex-abyss was interesting...
The house is completely different now. It's way brighter. It was a crazier process than I thought it would be. But it got done. It took like nine months.
And you kept Slash's nightclub? What's it like?
It's one of those things you have to see in person, kind of like the Playboy grotto. I've only had one party at my house, ever.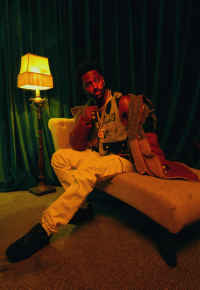 Which room gets the most love?
My favorite space in the house is probably the studio. I really like the kitchen, too.
What do you keep in stock in your fridge?
Fresh fruit. I took a food sensitivity and allergy test earlier in the year and found out I was eating a lot of things I was allergic to. I'm allergic to almonds and I was drinking almond milk, I was allergic to kale, pineapples, stuff like that, and so I have to redo a lot of my diet. I have coconut milk in there, a lot of little snacks, meal-plan-type snacks. I always keep water on deck, that's my number one drink. I think it's kind of nasty when people say they don't drink water, it's kind of weird.
Hydration is key. Do you have other daily routines?
I meditate every day. At least 5-6 times a week. I have a journal where I write down my affirmations, sometimes daily, sometimes for the week. Lately I've been working out a lot. When I really need to get away, there's a few spots I go to that are just personal to me. Little escape spots in the middle of nature. Nature is definitely something that calms me down. Sometimes I get overwhelmed. I overload.
What's the best way to unwind?
I don't really do drugs or anything like that. There's nothing that can carry me through except me. I drink green tea.
Is there one affirmation that you find particularly helpful?
I don't really like sharing them. That's a personal thing. I got a nice gold pen because I feel my pen is my sword. I look at myself as a King. When I write my affirmation, it's like writing a law or something. I sign it at the end of every affirmation, like I'm signing a bill.
It can be hard to focus on yourself with social media constantly broadcasting everyone else's business.
I feel like comparison is the thief of joy. When you give out hate or judgment, it's going to come back to you in some ways. You know what I'm saying? Why not just give out love?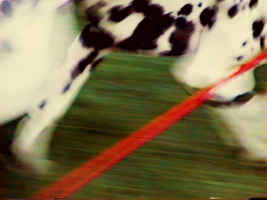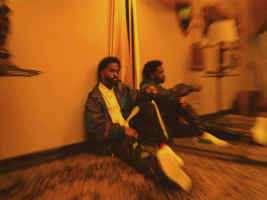 What does love look like to you?
It took me 30 years to realize the true difference between conditional and unconditional love. I used to think that the big house and the car and the watch and all these things were worth everything. They're not. What's worth everything is the emotion of real love from your family, from the people who will be there no matter what. I remember the first time I got a Benz, it was all I ever wanted. A week later it didn't really… the feeling wore off.
Was there a moment where you felt your priorities shift?
About a year ago, I realized that something was off. I had to step back and take time for myself, because I was spiralling out of control on the inside. I didn't know what was going on. I've been meditating since I was 17, so I could deal with the anxiety and stress.
And how do you deal with stress now?
Somebody referred me to my therapist. I haven't seen him in a while, I definitely need to go back to therapy. I've been moving around. It's been over a month now. But I like to see my therapist once a week, at least once every other week. I have a spiritual advisor that I spend a lot of time with—her name is Marie Diamond. She helps me take my meditation to the next step, my visualization, the feng shui of my house. She's an absolute guru. She also was in that movie The Secret, and she's worked with a lot of people and world leaders. Truthfully, when me and Marie met, it just felt like she was one of my homies, probably from a past life or something.
Has she shared any go-to advice?
Absolutely. So much. I just appreciate her. There's also another lady who I talk to once in a while named Christie Marie Sheldon—she's amazing as well. I work with both of them in different capacities, but they are the real deal when it comes to clearing energy and blocks in yourself. All of these types of things that I don't know if I would have been able to get past on my own, as far as emotionally real, deep work and the guidance to take time for myself.
Have you found that it's been difficult to address this stuff publicly?
I feel better opening up about it. A lot of people go through these things. I don't ever want to play like a victim, it's a blessing to go through the brightest times and the darkest times because they shape you.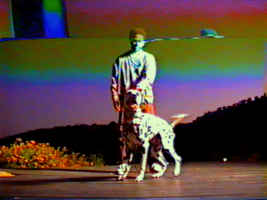 You recently held your second annual D.O.N. Weekend, where you hosted a self-care panel among other mental health awareness efforts. Can you elaborate on that?
It's a charity weekend where I linked up with the Boys and Girls Club, and I built my second recording studio for kids to use. And not just record, they learn how to engineer. There's also a lighting studio and a stage where kids can rehearse, a writing center, people performing in the studio. The first day we opened it during D.O.N. Weekend, there were kids dancing on stage, and then there was a nine-year-old girl, she was controlling the lights. She was like, "Wow, I didn't even know this was a job." She goes, "I think I want to do this for real." It made my mom tear up. We had a whole bunch of activations for healing people that have been through so much and teaching them yoga and sound healing. We had a block party where about 5,000 kids and families came. And the next day we had a mental health discussion.
I saw you've made your first foray into acting. What has your experience been like working on Twenties?
I did very well, according to Lena [Waithe]. She was super impressed, and all the directors and everybody was just like, "Man, you're really good at this. You ever thought about doing this?" It was a great experience to be on set with somebody who's as talented and as hungry as Lena Waithe.
How did you and Lena end up working together?
I invited Lena over to hear my album, and she came to my crib. She was rapping me stuff from my other albums and I played her the [new] music, and then was telling her where I was at in life. She was like, "It's almost like it's screaming at me for you to play this role." So then she had a chef come over to my house another night and make dinner for me and my mom. She formally asked, "I have this idea for you to play this role." That goes to show how classic of a person she is, her believing in me and giving me that chance.
So the character was meant for you.
I feel like the character relates to me, because he's a guy who is very in tune with himself, but he doesn't have a cell phone. So he's not really on social media like that. There have been times where I've had to take a break from social media and just really, really get myself right. He's a workout dude. That makes it easier to create a character and portray him and execute it.
What do you want your legacy to be?
Truthfully, I want to make my future generations proud, my ancestors proud, in the sense of doing something great with my platform, making the music that really helps people through certain moments and times in their lives. Helps them get over something, through something, or to something. I want to be remembered for being that service.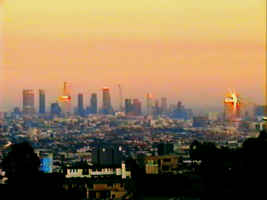 Erika Houle is an editor at SSENSE in Montreal.
Text:

Erika Houle

Photography:

Julian Klincewicz

Styling:

Van Van Alonso

Makeup:

Lucia Rodriguez

Grooming:

Ronnie McCoy

Production:

Rebecca Hearn

Date:

November 1, 2019