Shifting Focus with Antwaun Sargent
The Curator of The New Black Vanguard on Using Fashion as a Device to Frame American Stories
Interview:

Haley Mlotek

Photography:

Dana Scruggs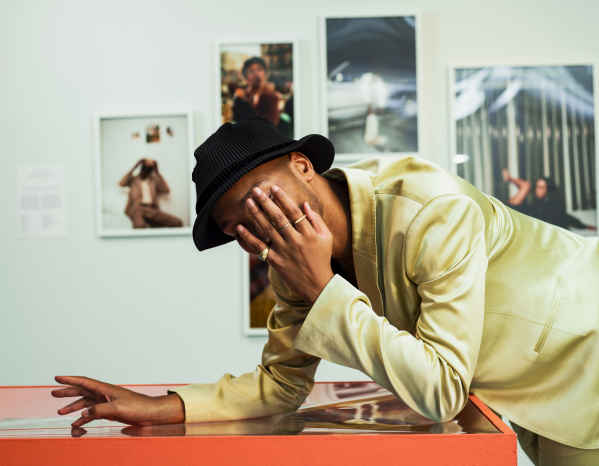 Antwaun Sargent speaks in profile. I met the 31-year-old writer and critic at the Aperture gallery located in New York's Chelsea neighborhood, surrounded by the exhibition that accompanies his recently released book, The New Black Vanguard: Photography Between Art and Fashion—on view until January 18. At every image, Sargent stood beside me, holding his fingers over the bow of his mouth while he thought of what he wanted to show me, or extended his whole hand towards the object of his attention, his face turned towards the photo so he could speak towards what he saw.
In the same way Sargent holds his head, his perspective has always taken the form of the profile: his work is dedicated to seeing, with panoramic clarity, the way artists exist in their element. Sargent has written for publications such as The New Yorker, The New York Times, GQ, and The Nation; he's spoken at Atlanta Contemporary, the Studio Museum in Harlem, and the Art Gallery of Ontario; and written exhibition catalogues for artists like Arthur Jafa and Mickalene Thomas. The New Black Vanguard, his first book, is a portfolio collection featuring 15 photographers including Renell Medrano, Nadine Ijewere, Daniel Obasi, and Ruth Ossai, among others. As Sargent writes in the essay that serves as the book's introduction, they comprise a collective forming a, "new black vanguard of photographers, who are working internationally, across the African diaspora, and using their cameras to create contemporary portrayals of black life that are reframing representational paradigms."
Sargent intended his essay as a critique, his argument situating a community between a past still revealing itself and a future still unknown. The New Black Vanguard is not just asking the question of who takes the photo—it is the question of how much it takes to make a photo. In the intersection of art and fashion, commerce reveals itself as an unlikely and unwelcome influence. Sargent and the assembly of photographers in The New Black Vanguard reveal how within such contrast beauty can be its most honest. Many of the images included originated in or are informed by fashion, a deliberate rethinking, writes Sargent, of "how the fashion image can be less censorious and more reflective of real life." There are Deana Lawson's photographs of Rihanna for Garage, Adrienne Raquel's portfolio of Lizzo in Playboy, and Tyler Mitchell's portraits of Beyoncé, which made him the first black photographer to shoot a cover by Vogue. Under Sargent's curation, the exhibition also features vitrines filled with print magazines. Visitors can walk around one glass display case and see issues of contemporary magazines like FADER or Niijournal, and in the other are collector's items, such as original editions of Ebony, Hue, and Jet placed beside the Black Photographers Annual 1973.
"Fashion," Sargent writes, "is a malleable document." The family photograph at Sears and the billboard hanging over Times Square can both, to Sargent, become a fashion image. "There's a great diversity within the image, but also in the construction," he explained to me. Sargent included photographers who take still lifes or portraits, street style or landscape, but many of them share the same desire for fashion to be in the foreground. "We all look at these images and take something different from it," he said, "It has this magic to it, this power to it."
The rare writer who is also willing to be the subject of a profile, Sargent and I spoke about reading, writing, and the many different acts of organizing happening in and around art institutions. The conversation moved between the worlds inside the photos on the wall, and the world still waiting outside.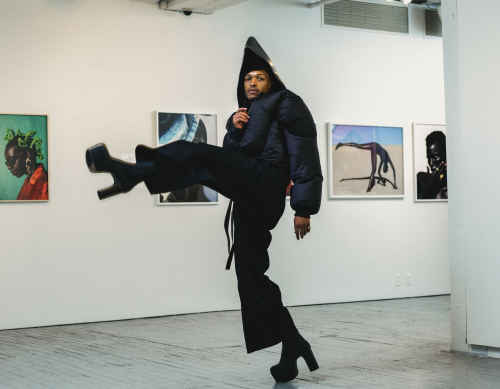 Haley Mlotek
Antwaun Sargent
I wanted to start by talking about how, before you were a writer, you worked as a kindergarten teacher.
I went to Georgetown, where it was impressed upon us that we were not alone, and we needed to make a social contribution to the world we lived in. When I finished school, I wanted to commit myself to service in some way. I moved to New York and taught kindergarten in East New York with Teach for America. It was, to this day, the most rewarding and insane thing I've ever done in my life. There are a lot of issues with Teach for America, many of which I voiced when I was a part of the organization and that I continue to voice; East New York is a low-income neighborhood, and I didn't go in there as a savior. That work as a teacher is no different than the work I'm doing here. It's an act of love to try, in some ways, to make the outcome a little more bearable. Whether that's for the black and brown kids in poor neighborhoods who have their ambitions defined by where they live, or a group of young artists who are making serious images but no one's talking about them—I think there's a sense of community that I've always tried to live with, and live by, and live up to.
The magazines included in the exhibition seem to perform the same function as the last section of the book, conversations between artists across generations and mediums. Do you see part of this project as being educational? Not in a prescriptive sense, necessarily, but in a way that offers another type of learning?
The magazines serve two purposes: first, people think that photographers using the technology of their time is new, and it's not. This generation has social media, and previous generations had magazines as a way to disseminate their images. I wanted to make sure we were thinking about how photographers—really, artists in general—have been adept in thinking about how to use technology as a deliberate device.
I also wanted to show that there was a context these photographers are working in. Often, when you think about black anything, there's a sense that they didn't come from a history, that they just showed up. Here's the first one. Although we're looking at the present to look at the future, there's a real nod to the past. A lot of the photographers who are influences for the younger generation of image-makers never got their due. There's the Black Photographers Annual here, which was started by a collective of photographers to show their own images. That's not unlike what Jamal Nxedlana did with Bubblegum Club, or what Campbell Addy does with Niijournal.
If we walk over here, to the series "Purple" by Quil Lemons, we see it's a generational project. These are the women in his family—his grandmother, mother, and younger sisters. He saw a photograph of his grandmother in Virginia, wearing a prairie dress on the farm that she was born on, and it reminded him of Batsheva dresses. And he was like, wait, my grandmother is wearing this, let's have this conversation through fashion. He's using fashion as a device to frame American stories, to notions of home that black people are often written out of. And he did it with dresses in a way that says a lot about heritage; about how we often have to force memory to remember.
The use of memory within fashion is particularly critical. It's become such a cliché to say fashion is cyclical and leave it at that. But it's not that trends repeat for their own sake, it's that they're capable of gaining significance in every repetition.
Even the fact that Quil had that response to the trend, to realize that there's a real history being erased in the way we're even thinking about the people who were on the range, and that he can create images to help us see those people, to draw a connection through a dress. I'm interested in the way these photographers use fashion as an opportunity to frame a larger narrative. Photographers such as Stephen Tayo speak to generational links that might not always be obvious—he's a Lagos-based photographer who does what I like to call "lightly staged documentary photography." He walks around Lagos and asks if he can take a picture, then offers to take it now, or to come back the same time tomorrow so that the subject can wear whatever they want. It's not unlike what Jamel Shabazz did in the 1980s, when he would approach people on the street and ask, "Can I capture your legacy?" Those small parts of history, the ways photographers act ethically—it says so much about the ways in which they think about photography itself.
To me, artists are constantly grappling with the questions of our time, whether in terms of race, identity, the environment, or imagining new futures. Often artists are the first to those questions—not politicians, not activists. When Tyler Mitchell thinks about blackness and diversity, he's thinking about the American self and where blackness can be expressed in leisure. A refusal of traditional capitalist structures that has literally tied the black body to labor, to productivity. In art, often black people are seen doing something—protesting, playing sports, they're active—and that action justifies their presence. To refuse that in an image is significant. That's an artist thinking about the available images, and how they can make a contribution that expands the narrative of blackness.
All of these worlds are totally fucked. Education is totally fucked, the art world is totally fucked, fashion is totally fucked. And for these young people to say: "I know it's burning. I know there are fewer jobs. I know they don't care about me. But there's still something about the magazine, or photography, or art, that makes me want to contribute to these worlds"—it speaks to the power of those things. If they are willing to be irrational, then I, as a freelance writer and critic, am willing to take them up on that. There's a certain level of irrationality that comes with writing; the idea of making a decent wage is not an obvious one, in this town.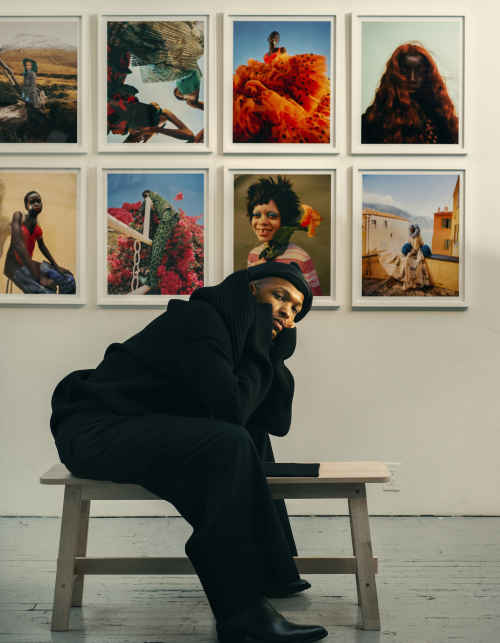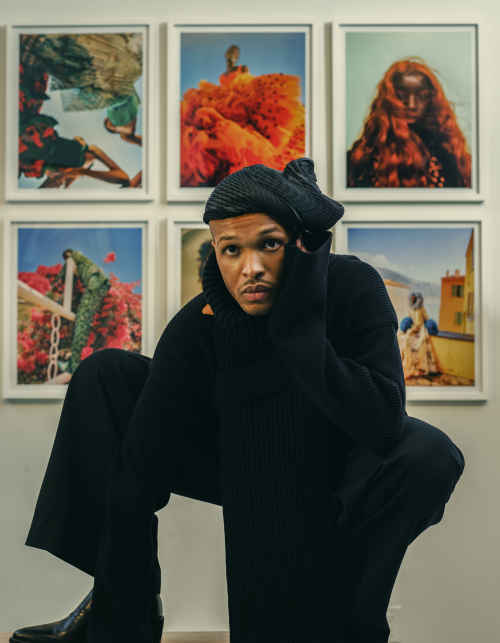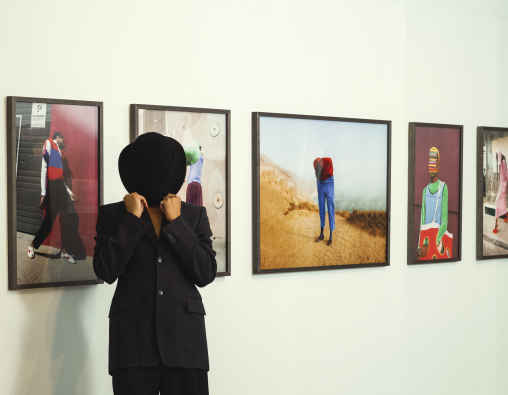 It's absolutely irrational; or maybe it just has its own emotional logic.
Right, because people are like, how do you write about art? There's so much to see! You do it because you love it, or because there's nothing else.
I think I'm always trying to meet artists at their word. It's important to me to interview the artist, to take into consideration what they were trying to do; sometimes I see it, and sometimes I don't, and that's a legitimate space to engage critically with the work. I know that's a different way to think about criticism, but we've seen another form for so long, and it's left out a great deal of people. It's narrowed our definition of what art can be, or what beauty is, or who matters. I'm always thinking about how even in a moment like right now—where we have a renaissance within cultural production as it relates to black artists—you have the same critics writing about this world with no mention of the fact that they ignored, or worse, denigrated it, for so long. How is that honest?
We have a lot of access. Young black artists are getting opportunities that previous generations have not gotten, and it's important for us to realize what had been erased for us to get here. If we're going to say that criticism matters, which I think it does, we need to be better about being self-reflective. At these traditional publications, are their critics the best people to talk about a 23-year-old black photographer pushing the boundaries? Even in this moment where I enjoy a certain level of work that I have fought for—I've written for Vice for $25 a post—I'm still not necessarily the person to write about something. I'm always sending editors a list of ten other names. When someone asks how much I get paid, I tell them exactly how much. I don't want to be part of any of those legacies of inequality.
I wonder, too, if we're experiencing a return to a certain understanding of labor within culture—artists and writers are increasingly thinking of themselves as workers, and their standards for the work raise accordingly.
The way people are consciously pushing back, not just being like, "Oh, this editor from a major fashion magazine came and anointed me"—I do think there is a worker organizing history to what is happening right now. It's so important to acknowledge that people are working. I'm working to give black aesthetics their space. Part of the issue of appropriation is when people are not named or given credit. The New Black Vanguard is a naming project. Every hair stylist, makeup artist, every person is credited, so you can come back and say, actually, that's this person's work, this person thinks this way. When you write yourself into the canon, there's no way you can be erased.
Because the next question is always: who profits from this work? Who profits from using your name? Your art?
We'd be kidding ourselves if we weren't honest about the fact that if Vogue had the opportunity to continue doing exactly what they've been doing for the last 126 years, they would have done so. The public is demanding more of art institutions, and they're no longer accepting the gatekeeper's ideas of what beauty is. It's important for us to hold that idea: the institution was forced to this point. That's very different from an institution being reflective.
There's no one institution that has done the right thing over the last 50 years. Black artists, very often, have to have a whole career with no notoriety, or they have to die, before their contributions to Western visual culture is acknowledged. There are young image makers who are going to have long careers, who are going to change their concerns, who are going to think about the possibilities of the photograph of the future. Their work shows us how these images are mirrors.
I curated this show because I wanted to see this show. I wrote this book because I wanted to read this book. I know there was the 15-year-old me who would wait every month for the new i-D to come out, go to fucking Barnes & Noble and if they didn't have it come back next week. I was yearning for those images, because I didn't know there were people making images like this.
As a critic, this book is intended to be an argument. Don't take it for fact. Think through it. These are young photographers who should be challenged. There are images that support and illuminate and complicate our history. That's what history is; that's what, in this moment, I'm trying to do. I'm asking you to hold a lot of different ideas in your mind.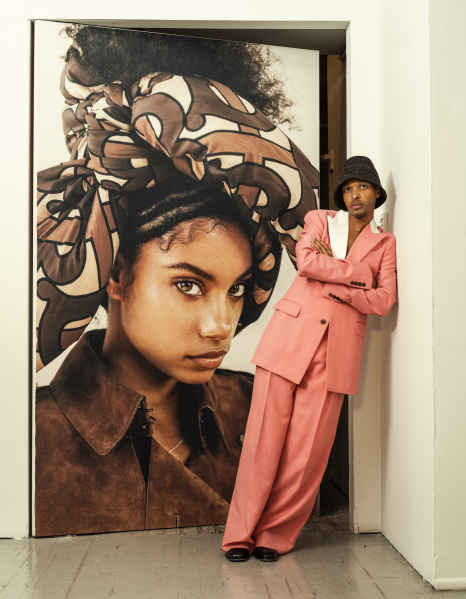 Haley Mlotek's writing has appeared in The New York Times Magazine, ELLE, The Globe and Mail, and Hazlitt, among others. She is currently working on a book about romance and divorce.
Interview:

Haley Mlotek

Photography:

Dana Scruggs

Styling:

Kyle Luu

Photography Assistant:

JD Barnes, Paula Agudelo-Poulsen, Rahim Fortune, and Rhianydd Hylton

Date:

January 13, 2019