Matthew Williams And The Business of Family
Free Your Mind with the Moncler Genius Collaborator and Milan-based Creative Director of 1017 ALYX 9SM
Text:

Haley Mlotek

Photography:

Christian Werner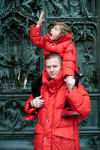 Standing in the domed centre of the open-air Galleria Vittorio Emanuele II in Milan, Italy's oldest shopping mall, I am surrounded by four brick-and-mortar pillars of luxury—a Versace, Louis Vuitton, and two Prada stores, one for uomini and one for donne. When I find designer and creative director of 1017 ALYX 9SM, (pronounced ah-LEEX) Matthew Williams, he stands out from the crowd of shoppers in a bright red matte Moncler Genius jacket from his own collaboration with the brand, and a pair of jeans made of overlapping strips of denim sewn on top of the pant, frayed and patched to create an effect that's part paper-pieced quilt, part punk rock (another of his partnerships, this one with a Japanese company called Blackmeans). We choose a corner cafe with an enclosed patio, a quiet reprieve from the crowds. A slice of lemon in our sparkling water is just the thing, we decide; green tea for him and espresso for me while we talk about his day. William's middle daughter, the namesake for the brand that has become the family business with his wife Jennifer, had performed in the holiday pageant at school. He explains that the children posed as living statues—Alyx, he tells me with the pride of a parent whose kid got the good part, was Joan of Arc.
Launched in 2015, 1017 ALYX 9SM is luxury sportswear much more than the sum of its parts. The cross-body bags and harness accessories have the appearance of dense, precise machinery. Materials are, alternately, of the elements or protection from them, a mix of softness in their sweaters and layers of solid shelter against wind, rain, snow. Alpine snakeskin and industrial equipage hang beside punctilious suiting and thick platform tank boots. These collections are less about contradictions than they are about logical conclusions: people who wear it have the look of someone who knows to expect everything, and will prepare for anything. The effect is of a military excursion to Aspen, camouflage for people who don't want to blend in with trees but with machines.
With minimal branding, 1017 ALYX 9SM is recognizable for its buckles, which have become an instantly identifiable part of the brand and a key to their connections with other companies. The buckle that 1017 ALYX 9SM produced for the Dior Spring/Summer 2019 show is now a staple of Kim Jones' line, the distinctive hardware that fans and followers—which includes Luka Sabbat, Travis Scott, Skepta, Bella Hadid, and Laura Dern, among others—have come to identify as uniquely 1017 ALYX 9SM. "It feels different than any other buckle out there," Williams says, the result of a process that went straight from being inspired by a roller coaster seat belt, to working with the same company contracted by Six Flags amusement parks, and finally onto the runways of Paris Fashion Week. In their collaboration with Mackintosh, 1017 ALYX 9SM took the centuries-old heritage brand raincoats and made them look like they were out of The Matrix; with Nike, the clasps and closely cropped structured silhouettes give the sports outfitter the look of being ready to blast off into space.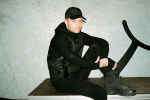 Williams' company has a foundational morality, providing a necessary interiority often absent from even the most outwardly beautiful articles of clothing. All their partners are required, without exception, to agree to the company's Code of Ethics, one that lists dignity and respect for people and our planet in equal measure. Now, 1017 ALYX 9SM has partnered with Moncler for its Genius capsule lines made in collaboration with some of the most creatively challenging designers working today, like Pierpaolo Piccioli, Simone Rocha, and Craig Green. 1017 ALYX 9SM is the sixth project. Sleek and light, much of the line is black, white, and red—the same chromatic and tectonic tenets of 1017 ALYX 9SM itself.
Williams had previously associated Moncler with its French Alpine origins, made for workers and worn by athletes, but when he and his family settled in Italy he realized it was almost as ubiquitous as blue jeans. The family—Williams, Jennifer, ALYX and baby Valetta—relocated from the United States to Ferrara first, in 2017, and when it came time to enroll Alyx in school, moved again to Milan. "I always thought of it as luxury outerwear—but when we landed, it was like an institution," he recalls realizing. "I understand the brand more from living here. Everyone wears it." (It's true; while I walked around the Duomo later that night, I tried to make a game of counting how many Moncler jackets I could see, and gave up almost immediately. It was too easy. Children and grandparents, men in suits and women in jeans, all wrapped up in brightly colored powder-puffed parkas.) Elegance is often the province of pieces that can supposedly be worn anywhere and everywhere, but there's something graceful about clothes that are so of a time and place, tied to their function no matter how or where they're worn. A Moncler coat speaks of slickness on a snow slope, whether seen in a ski lodge or dodging around a city street. The environment may change, but the elements stay the same.
Williams believes that local production clusters are the future of sustainable fashion, and moved to be closer to his factories and his distributor and business partner, Luca Benini of Slam Jam. "The beautiful thing about Italy," Williams tells me, "is that everything can be made here and driven in a day to wherever it needs to go." Because Moncler is also based in Milan, Williams has had easy access to the resources and influences that make a Moncler jacket. He brought his process into their studios, incorporating the first sustainable fabric for Moncler Genius—a garment dye on the down fabric, a look that Williams describes as making what's unseen seen—as well as the same upcycled jersey and recycled nylon that are integral to 1017 ALYX 9SM.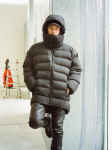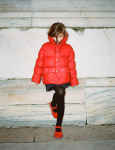 Williams talks with an animated assurance as he gets into science, easily explaining the complexities inherent to ethical and environmentally conscious fashion production. His vision is one in which many different things can be made from the same material—a closed synthetic loop, in his words. Williams thinks about how half of the materials known to us are made in labs, and the other half made by the planet—sun, water, dirt. "That's poetic, that cycle. I like the concept that clothes come from the earth. We just need them to go back in a way that's healthy and not damaging."
He's as attuned to the politics of this thinking as he is to the poetry. Much of what is considered biodegradable is done under man-made designations, and in order to achieve it, manufacturers will sometimes add accelerators to their materials just to receive the right label—but those accelerators release toxins back into the earth. "There's conflicting information, and diplomatic issues, where people are trading lobbyist initiatives for one another that prevent clean supply chains to cross countries." Williams calls the supply chains common to fashion today a "Jurassic" technology—outdated and outsized, traditions can become their own fossils.
Williams has often said that 1017 ALYX 9SM is about evolution, not revolution. The distinction intrigues in its paradoxes—after all, every revolution has deep roots, and every evolution is, at first, radical. Williams wants people to buy less, and buy better, believing that our values must change in step with the way fashion designers must change the way they work. "I think making high-quality clothes that last is very sustainable. When you're buying a luxury product," Williams wants to remind his customers, "you're paying so that somebody else is paid properly in healthy working conditions. When something's super cheap, someone pays the price along the way."
There are many ways to determine what sustainability means—the carbon footprint, the units of water used, discarded materials that become trash—but less options for determining what accountability would mean. In June, 1017 ALYX 9SM announced that they were releasing a prototype: blockchain technology for nine units of clothing that would document exactly how, when, where, and who made every element of each article. This is a way of testing the next phase of what sustainability requires: accountability that can be verified by a customer as easily as a corporation. "There's a great element of storytelling, to show the accreditation or the craftsmanship," he says. "But I think transparency is demanded for everything in our lives. In the future, documenting the lifespan of a garment from raw material to finished product will be the goal."
The conversation pauses for a moment. "I'm being silent so you can say more if you want to," I explain. "I'm doing the same to you," Williams replies, and laughs.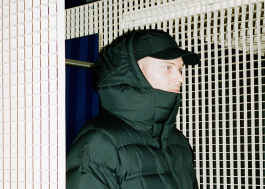 Born in Evanston, Illinois in 1985, Williams' family moved to Pismo Beach, California when he was two. Williams describes his childhood as idyllic: a school that looked out onto the Pacific Ocean, loving and supportive parents. He grew up wanting to be an emergency room doctor, and comes from a family of medical professionals—his father was a dentist, and his mother used to work for the American Cancer Society. His grandmother was the president of the Mid-State Fair, a woman who went out every night well into her eighties—"I think my sense of fashion came from her," he says. Under her direction, the fair had rides, livestock, and most importantly, music. MC Hammer performed in 1991; so did Boyz II Men, in 1995, and Britney Spears in 1999. As a teenager, he would drive to Santa Barbara or Los Angeles to see bands and DJs, realizing that there was a whole other way to have a career beyond the nine to five. He still has the look of a surfer who grew up and left for very different shores—his eyes are bright blue and his dark blonde hair is cut into an exactingly precise style, fine enough to flop forward or slick back, depending on the story he wants his outfit to tell.
Williams expected to live in California forever, but at 19, he discovered fashion, and with it, New York City. He moved there and assumed it was where he'd spend his whole life. "Right now I think I'm going to be in Italy my whole life," he tells me. "Who knows?" He began working for a friend's denim line, Corpus, and remembers those years of the early 2000s, when he would scan the magazine aisles of newsstands for Japanese street style zines and look through images of Hedi Slimane at Dior. "I dedicated my life to it," he says, describing himself as a student of fashion. "It's the only job I've ever had." Most consistent throughout his life is an ethics of labor—the belief that anything worth doing it is worth doing right. "It was always: you can be talented, but how much more effort are you going to put in to be more than just talented?" He recalls when summing up his childhood wisdom. "That's who I am now—raised in a small beach town in California. That's how I got here in Milan, talking to you."
Williams met Jennifer when he was 20 years old, right around the same time he began working in fashion, and it's clear that she was then and remains now a major inspiration. Jennifer had worked as the sales director for brands like Hood by Air, and a designer for Edith A. Miller. "At the beginning, we both did everything," he says, the work of establishing and determining what 1017 ALYX 9SM would be one they shared as a duo. "Creative and design, commercial and sales." As the company has grown, Jennifer mainly focuses on the commercial side, though her design influence is everywhere—she created the company's best-selling bag, the Brie bag (a name shared with Jennifer's close friend, the stylist Brie Welch), a severe and supple leather purse that evokes a hyper-futuristic version of a Victorian doctor's kit. Williams sees his career as having distinct phases—first as an assistant designer, then music costume designer, creative director, then ALYX. Now, he says, he's in the period of living his dream—the "life's work" phase, he calls it. "I feel really fortunate," he continues. "There was no Plan B."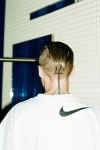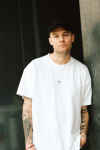 Only 34 years old, Williams has been working in and around fashion since he was 19. In some ways, Williams is nothing like a typical millennial—as one example, when I ask him how he feels on a topic he says that his emotions don't matter; for another, he says he only pays attention to astrology when things are going badly (classic Libra). He often feels older than his age, and speaks openly about having his first child, a son named Cairo, when he was in his early twenties; he has found himself closer to people a few years or even decades older than him, those who might share more of his experiences than peers his own age.
Yet Williams is also as much of his generation as he is a key influence of it. He's just like the rest of us, in ways both big and small. On Instagram, he posts a photo posing in front of a Memphis Milano mirror; in life, he works nonstop, blending the boundaries between life and leisure. He was, and is, a part of a coterie of musicians and artists whose work has come to define much of the last two decades. From 2008 to 2010, Williams was the creative director of House of Gaga—he and Lady Gaga were also dating. "We haven't spoken in ten years," he says when I ask if they're still in touch, and leans in closer to my recorder. "I'd be happy to catch up with her again. Tell her to reach out."
After that, he worked as the art director of Donda with Kanye West, and in 2012, with Heron Preston, Virgil Abloh, and Justin Saunders as co-designers, and Jennifer as sales director, there was Been Trill, a line that turned Internet jokes into accessories and outfits, t-shirts and hoodies printed with hashtags on tie-dye, the logo turned into a typeface dripping blood. "It was just a group of friends having fun," he says when I ask him about that time, "Spur of the moment ideas, not thinking too much about the longevity of what it was we were putting out." (This, too, is very much a classical millennial response: the escalation of haha and then what inevitably leaving the group chat and entering the real world). The three are still in touch—he considers them motivation for his own work.
Williams has always centered his work within a community. "It's about having a dialogue that brings the final idea to a place you couldn't reach on your own," he explains. In his collaborations, he can offer products a line the size of 1017 ALYX 9SM might not be able to do on their own; in the same way, his work can bring a new, unexpected dimension to an existing brand. Williams has an extensive research practice, one that requires weeks of conversations in his studio and with suppliers and developers. They'll style pieces on a model, sketch on top of photographs, using 2D or 3D imaging as required. He cites Nick Knight and West as being two of the mentors that taught him how to think creatively; more than that, he credits West with teaching him to believe in himself and his own instincts. "I probably talk to him more than my family," he says. They don't talk about work in the same way anymore, out of respect for their conflicting professional relationships—Williams works with Nike, while West is with Adidas—but it's still a close friendship Williams clearly cherishes. "He is like family, like a brother. We mostly just talk about life."
"I would love to hear some of those conversations," I say.
"I'm sure you would," Williams replies, and laughs.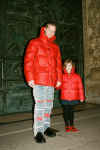 For our second interview, Williams and I spent a sunny afternoon in one of those sunless seafood restaurants, where the dark yet bright blue decor gives the not unwelcome feeling of being underwater. On his recommendation we ate spaghetti with breadcrumbs and anchovies—mostly a vegetarian though sometimes a pescatarian, this restaurant is a family favorite and one of the few where Williams eats fish. He wore a Dior suit made by Jones, who he counts as another close friend within the industry, the sharp blazer lapel meeting an asymmetrical button across his waist.
Williams wants 1017 ALYX 9SM, and all their partnerships in turn, to be thought of as evidence of modern craftsmanship—a tradition that allows for a contemporary conscience. "How can we evolve and push the definition of craftsmanship forward?" He asks. "That takes time and trust and dedication from suppliers and us. We have to spend time on appreciation and accidents—getting people comfortable trying new things." Some brands, Williams notes, have been able to cut through the breakneck pace of the fashion cycle, the way some musicians have been able to determine not just when they release new albums but the conditions under which they do so. "There's another approach where it's a stream of consciousness. Some fashion is like that now, where it's about being continually in conversation. I like to think we have a good balance of both."
Though Williams is adamant that he does not think about the future, he does think about doing a couture line someday, describing it as a dialogue between the past and the present, a tension between tradition and modernity. "That was always my favorite thing about costume design," he says, "that it was for one person, for one moment. It frees your mind." Though distinctly ready-to-wear, 1017 ALYX 9SM has the unique specificity he's describing—in the same way that the same pair of sneakers can look totally different from one person to the next, his vision of sportswear is high-concept high-performance outfitting—outfits for Cheerios with the children, meetings that last all morning, lunar eclipses that excuse all manner of misspoken words. It's clothing for those who get dressed by checking the day's weather (unpredictable and tempestuous) after they've considered the day's mood (very much the same).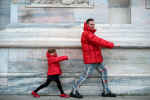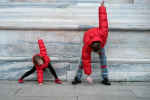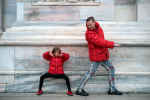 Williams is a serious person, though he considers himself an optimist. Believing in the future requires as much sadness as it does hope. "This is the first time in history that we don't know what the world is going to look like for our grandchildren," Williams says. He's been reading Sapiens by Yuval Noah Harari and is thinking about the very distant past, a time when "if your dad was a blacksmith and you learned to be a blacksmith, you knew you could earn money that way. Now the knowledge we obtain in our lives is not necessarily going to serve our survival in the future. The only way to prepare for that is to be able to adapt on the go, every day with an open mind."
Alyx likes to tell her parents that 1017 ALYX 9SM is her brand, logic they can't exactly fight with—it is, as noted, named after her—and she frequently gives her own suggestions, telling Williams what colors to use. Williams wants the family business to be around long enough for his three children to inherit it. Many of the people he works with do so with their children, and he admires the way that heritage can be passed down through generations.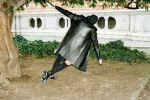 Over the course of his career, Williams has experienced the major structural shifts of an industry that has exploded by every possible metric—in capital that is as cultural and commercial, fashion has developed its own orbit on a shared planet. One such change is the increased visibility and subsequent fame of designers like himself, and Williams, while forthcoming and funny, has not seemed entirely at ease with the attention this kind of profile requires.
"Do you like doing interviews?" I ask.
"Not really," he says. "I don't dislike them. Sometimes I'm scared of them. A week from now everything could change, and these words are in stone forever. When I started working in fashion, you didn't always know what designers looked like. I didn't expect that I would have to do shoots—but now it's so much a part of the gig." On the other hand, he says, for those who are really into fashion—either as fans or colleagues—their awareness and attention keeps the brand visible, and with visibility comes the chance to be seen by those who really get it. "I'm not really aware of how the public views me," he explains. "I think we all view ourselves through a mirror that is a culmination of truth and fiction; there's probably no reality to who I really am."
"Sometimes," he tells me, "I wish I was more frivolous in interviews. Like I could just say I'm inspired by a banana peel. Or I channel ghosts for my designs. Or I'm excited to be cloned so I can be in more places at once. What are some other wild things we can say?" he asks me. "We could keep going. It would be really fun." "It would be fun for you," I agree, "but I might get in trouble." Besides, we've reached the moment when I promised to let him go. Williams knows that, much like eras of history and seasons in the natural world, even good things have to end. This philosophy shares the same purpose as a buckle, which is more of a link than lock—it reminds that what can be kept separate is often better together. Like all good clasps, its craftsmanship is not just a question of how tight it holds, but also how easily it can be released. Williams laughs, and we say goodbye.
Haley Mlotek is a writer, editor, and organizer living in Brooklyn. She is the co-chair of the Freelance Solidarity Project, a distinct division for freelance digital media workers within the National Writers Union. Her work has appeared in The New York Times Magazine, The Nation, and Hazlitt, among others. She is currently working on a book about romance and divorce.
Text:

Haley Mlotek

Photography:

Christian Werner

Date:

January 9, 2019