Eileen Kelly: Killer and A Sweet Thang
Decoding Sex in the Digital Age with the Young Editor-in-Chief
Interview:

Arabelle Sicardi

Photography:

Brad Ogbonna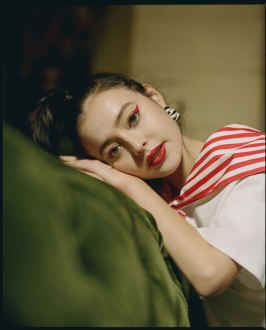 Eileen Kelly's most recent Instagram selfie is a thirst trap. She's sitting on a hotel bed, face turned toward the camera, the glow of youth hitting her Glossier highlight just so, with a dove emoji covering her décolletage. The 23-year-old built her following of nearly half a million (and a Shorty award nomination for activism) on photos just like this one, paired with the vulnerable captions she posts alongside them: "I'm fascinated by the effects social media and the digital age are having on the way we communicate, date and have sex. The internet is not only the source of my pain at times, but it is the source of many pleasures." Her comment threads, which average in the thousands, range from earnest confessionals to rabid agreement, to parades of heart emojis, or nauseated ones, to people gossiping about her private and personal lives. The focus on Kelly has been centered around the fact that she is, in many ways, peak millennial: salads at Café Gitane with W Magazine (and a truly inspiring hate-read of a profile), and prom with Luka Sabbat. In photos, Kelly struck a perfect dancer's pose in Lucite Prada heels.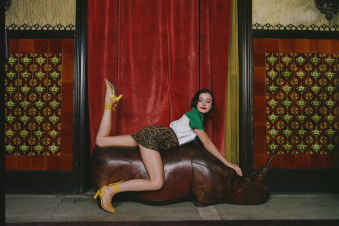 But Kelly's expertise has considerably more range than a well-curated Instagram grid. She is the Editor-in-Chief of Killer and A Sweet Thang, a website for Gen Z kids covering sex, crushes, and the mess that we call growing up. In a moment where discussions about consent, celebrity, and power are permeating every arena of culture, Kelly is fostering a community where the voices of young people matter the most through a platform that spans generations, genders, and borders. She's shifted qualities that people often make fun of—youth, internet fame, sexuality, and earnest romanticism—into something much bigger than herself, for the good of other people. I met up with Kelly on a rainy day at the Jane Hotel in New York, and she was as sweet and composed as the peacock perched above the door.
Arabelle Sicardi
Eileen Kelly
We both grew up on Tumblr—and now you've got nearly half a million followers and have created an independent platform. What inspired you to make the move? It was a good one, considering they'd probably have shut you down now given the new censorship rules.
When I moved to New York, I studied gender studies and honed in on sexuality and the gender spectrum. I decided that I wanted to build a website where I'd write articles about information that I didn't get growing up. I already had this Ask Alice situation going on [on Tumblr] where people would ask me questions and I'd share very openly about relationships and sex, so it was an easy move. But I realized after a few months of writing everything myself that doing it on my own was insane. My perspective is so narrow.
My hope is that anyone who comes to the website can find at least one piece that resonates with them on a very personal level. We have over 100 people that write for us. We've published everything from dating red flags, to getting an IUD inserted, to getting an abortion as a teenager, to a lot of queer subject matter. And we have many editors, so it's able to run on its own.
That's impressive—I've been thinking a lot about sustainability for youth-run projects, now that ROOKIE has folded. Writing for them helped begin my career, so it's a relief that there are still young people doing work for other young people.
I loved ROOKIE. I'll miss it—and yes, running a website requires a lot of money. It's a passion project, and it has to be, because we can't use Google Ads or traditional web advertising due to the subject matter.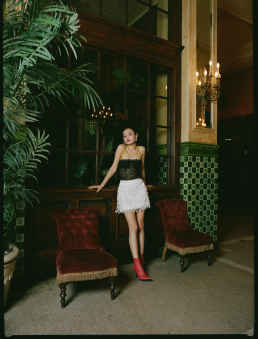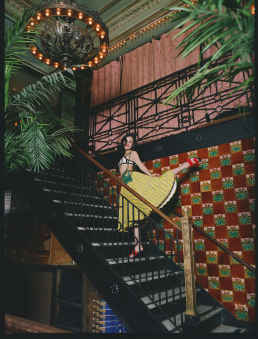 It's wild. SESTA and FOSTA have already shaped how we're dealing with sex online now.
There is a war going on about sex on the internet. It's for all the wrong reasons. They say it's for good intentions, to stop child trafficking and sex trafficking, but in reality, more people will actually get hurt because those situations aren't getting brought to justice. Instead people who have autonomy and are sex workers and want to do so safely won't have the places to have that line of work. It's so quickly changed the culture of Tumblr—a platform we grew up on and had conversations on about serious and private stuff.
Let's say I'm a young gay guy in Texas, I want to talk to someone who understands what I'm going through if I can't relate to anyone in my home town or my community. That opportunity is being killed. Xtube still exists and Pornhub, but they're not conversations.
It's entertainment. I want to focus on how the digital age is shifting the way we have sex. We're the guinea pig generation. People who are even just three or four years younger than me already have a completely different experience on the internet, and it shapes relationships so drastically.
My dream sex-ed program would include porn analysis for teenagers, [and] teach that it is entertainment, that this isn't real, that they're not using condoms and that's not the reality of what your sex life should look like. She's acting; she's not having an orgasm right now.
I'd love to design an after school program that people could come to and learn about sex from youth educators, in the zones that need it most. There's an epidemic of bad sex education around the country—and the South has the highest rates of teen pregnancy and STIs. There are so many issues that are completely avoidable with the right education and access. It predominantly affects low-income people of color, so it's a systematic issue and it's a racism issue. Why is sexual healthcare a privilege?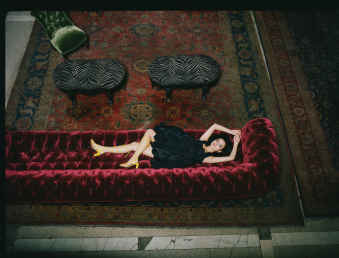 "The new Silicon Valley interest is women's products and women's health and women's only clubs, and I think you have to take it with a grain of salt that at the end of the day, they're selling a product to you."
It's good then, that that you're making a free, community-sourced platform online that anyone with an internet connection can access and you do open calls for contributors.
Yeah, and we [KaaST] try to do an art project every year. We did a zine last year, and we held self-defense courses. We're trying to have our community meet in real life, getting off the internet to have people to confide in. We want to make sexual health education fun, accessible and not corny, or even too-cool and hard to relate to. It's never been my goal to be seen as some hyped-up influencer or have this project be all about me. I like that KaaST is not about me. Anyone can reach it and it's just other young people talking about sex, getting their period, what anal is like the first time. It's such a specific, safe space.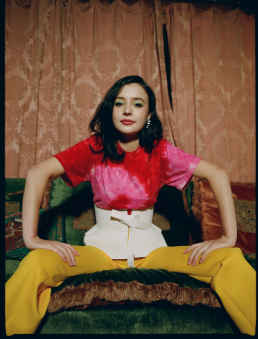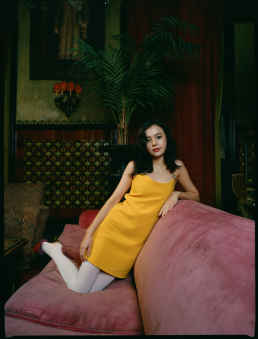 To know that you might be their only connection to these conversations must be difficult. And to be running it at such a young age when you're learning about this stuff alongside them – it lends itself pretty easily to criticism and skepticism.
Yeah, it's the biggest criticism I get—that I'm too young. I'm thinking about going back to school actually—I just got my associates, and I'd love to go back to school to learn even more about sexual education and psychology. Also, I'm pretty careful about what I feel comfortable sharing. I can answer some questions, but I'm human and can't go through hundreds of messages and act as a therapist. I think it's inappropriate for someone who's 23 to be telling teenagers what to do with their personal lives, like if they should break up with their boyfriends.
I think what's really interesting about KaaST is that we're not profiting off of it. We're not selling a product. I see a lot of these new feminine hygiene companies [for example] get so much investor money. The new Silicon Valley interest is women's products and women's health and women's only clubs, and I think you have to take it with a grain of salt that at the end of the day, they're selling a product to you. Which is fine, but that's different from what we're doing.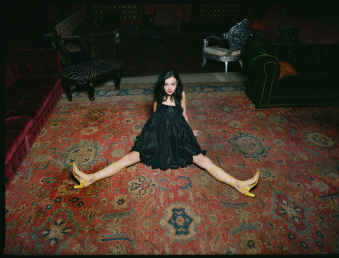 How would your life be different if you had better sex-ed in Catholic school? Do you think you would still be running this website?
I feel like I'd still have this passion. It started even before I ever had (bad) sex-ed in school. It started from the fact that I have a single dad. Growing up, I felt like I had no one to talk to about these things. If I had this platform myself, earlier, I think that I'd have a lot less internal shame. That drives a lot of my work. But I'm happy for everything that's happened.
Why is this information a privilege, the education that you're getting about your body? It's what you have throughout your whole life. At the end of the day, it's all you have.
Arabelle Sicardi is a beauty and fashion writer. They have work in i-D, Allure, TeenVOGUE and more.
Interview:

Arabelle Sicardi

Photography:

Brad Ogbonna

Styling:

Tess Herbert

Hair and Makeup:

Shideh Kafei