The Ralph Lauren Ralphabet
The SSENSE Editors Unpack the Polo Legacy From A to Z
Text:

SSENSE Editors

3D Artist:

Nathan Levasseur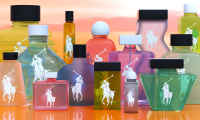 "I couldn't call it Basketball," Ralph Lauren joked to TIME in 1986. Wanting to leverage his interest in sports, the designer opted for Polo when it came to naming his eponymous label. Well, sort of. What Lauren—nee Lifshitz—started with a simple necktie, eventually transformed into an entire wardrobe. The rest of his sartorial pilgrimage is taxonomized here. The SSENSE editors unpack the ABCs of the Polo Ralph Lauren legacy.

For a brand whose legacy hinges on meticulous craftsmanship, authenticity is all in the details—the same details that will also incriminate the frauds. The Ralph Lauren website claims that the company's very foundation is authenticity. Their team of specialists "continually police counterfeiters all over the world." The company also claims that, "profits from counterfeit sales are often used to fund large criminal organizations, including drug cartels and terrorist groups." If the fear-mongering doesn't dissuade you from copping a deal on a fake, maybe this monotonous list detailing how to spot one will:
Check the logo. The mallet-wielding polo horseman is incredibly easy for counterfeiters to fuck up. Look for a lack of definition in the horse's legs and an obscured tail.
Examine the stitching. Sloppy stitching is characteristic of a knock-off.
Look at the collar label. If there's no separate size label, it's likely a fake, and keep an eye out for wonky fonts.
Examine the buttons. Authentic pieces feature buttons sewn with a neat pearl and cross stitch, using the same color of thread as the garment.
Check the hem. The back hemline of a shirt should be slightly longer than the front hem.
Read the care label. It should include this somewhere: ®.

Ralph Lauren's Polo Bear might be the original multi-hyphenate. Prep-school student turned it-boy of-the-moment, the brand's teddy mascot has had an unlikely and highly-followed career trajectory: from professional equestrian to business executive, skier to, of course, Palace x Polo Ralph Lauren skateboarder. One could argue that his transformative abilities are what keep us hooked, and in times where success is measured by quantity over quality—surely the Polo Bear could also dabble in DJing and garner more of a cult following—the heritage cub remains on our radar.

When Raekwon hit the local sporting good store Abraham & Straus in Brooklyn to look for something to wear in the Wu-Tang "Can It Be All So Simple" video shoot, he naturally gravitated towards a red, yellow, and blue color-blocked pullover with "SNOW BEACH" written in big sans serif on the front. The jacket was part of the 1993 Cold Wave snowboard collection and ended up, in major thanks to Raekwon, becoming one of RL's most coveted releases of all time. Cold Wave originals are so rare that today they go for thousands on eBay. Re-issued in 2018 to much fanfare, the Ralphabet would be nothing without this grail collection.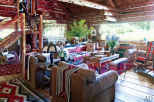 Horse-girl energy, who has it? The Hadid sisters. Taylor Swift. Mary Kate. Tina from Bob's Burgers. The entire state of Vermont. Mary Kate, again, because Mary Kate, always. Ralph Lauren's entire ethos is heritage-horse-girl energy. The riding jackets, the jodhpurs, the saddle-shaped bag, the stirrup-shaped watch collections, the Gia Carangi ad, the embroidered crests and wool training vests. The story goes that Ralph and his wife Ricky (an original horse-girl muse?) were shopping in a riding store one day. Ralph bought Ricky an authentic boy's tweed hacking jacket, and whenever she'd wear it, women would compliment. The rest is, well, horse-girl energy. The rest is, well, horse boy energy, too—note-perfectly executed by Palace's collaboration with Ralph Lauren, shot by David Sims for the cover of Arena Homme+. The skater boy's Wild West. The Polo bear's kick flip.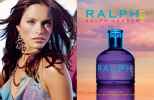 Ralph Lauren partnered with L'Oreal in 1978 to release two debut fragrances, his and hers simultaneously, launched at Bloomingdale's. "Polo" was woody, vigorous, and masculine where "Lauren" was soft, floral, feminine. This event would inaugurate decades of smash-hit scents for men and women (there are 79 fragrances in the Ralph Lauren line), and an enormous slew of magazine advertisements torn out and pasted on teenage walls worldwide. From Ralph Lauren Blue, Polo Sport, Ralph for Women, Ralph Lauren's fragrance campaigns, with their perfectly of-the-moment casting and youthful sex appeal set the tone for his and hers aesthetic aspirations. Perhaps advertising campaigns are just as closely linked to memory as scent.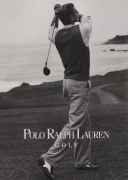 "I don't design clothes, I design dreams," said Ralph Lauren, apparently. Anybody who has ever swung at a golf ball and missed might be inclined to believe that what they're doing wrong is maybe not wearing enough Ralph Lauren. As integral to golf as the putting green is to the game, Ralph Lauren's Golf line features enough golf gear options to outfit a pebble beach. Functional looks for keeping your mulligans to a minimum.

In the early 90s, Ralph Lauren released a line of Crayola-colored wear—equal parts comfortable and athletic. Maybe the most elementary take on athleisure, or: rugby jersey mood boarding. It's no secret that we're still on that athleisure tip—hard times call for function, color, and comfort. The Hi-Tech collection was recently re-released this past fall. Running for the hills (literally) never felt so cheerful.

Sepia-toned furniture, denim-painted walls, nautical decor and seas of blue bedding—Ralph Lauren's designs span far beyond our wardrobes. "What I do is about living," says his website's "About" page. The American Dream can't be confined to just a look, after all—it's a lifestyle.

You can't call yourself all-American without them, but in 2006 Ralph Lauren Co. killed its subsidiary Polo Jeans Co., citing it as a "run-down brand that was over-promoted and over-distributed."
Knight (Of the Ralph Table)
In honor of his five-decade career in fashion, Ralph Lauren will be knighted this year.

The Lo Lifes formed in 1988 in the Crown Heights and Brownsville neighborhoods of Brooklyn, New York. First a street gang acquiring Polo Ralph Lauren by any means necessary, the style ended up eclipsing its beginnings, becoming a full on fashion phenomenon with current Lo Life crews from NY to Miami. Add Lo Life: An American classic and Bury Me with the Lo On to your reading list if you really want the down-lo.

Few campaigns embody the 90s as perfectly as Tyson Beckford and Naomi Campbell for Polo Sport. Both models are icons in the industry, paving the way for all supermodels to come. Ralph had an astute casting eye, showcasing a young Bridget Hall and Gisele Bündchen in his campaigns before they became household names, too. Unfortunately, Bruce Weber shot a wealth of Ralph Lauren's most ubiquitous imagery, another reminder that there's a dark side to the American dream.

The year that Ralph Lauren (the company) was born. Ralph convinced the president of the manufacturing company for which he worked—Beau Brummell—to let him release his own personal line of ties. The rest is history, which you're reading more about here.

The shopping experience at a spacious Ralph Lauren outlet (aka "factory") is equally as enjoyable, if not sometimes better, than that of the department store. A quintessential and ubiquitous aspect of the brand, hitting an RL outlet means the possibility of finding some major deals. A $100 Oxford is now priced at a perfectly reasonable $50. And if you're not in search of a full-look, a smart shopper would stock up on Polo socks and underwear at the very least. At an RL factory store you can get the Hamptons look just by hitting the highway. We guarantee there's one near you.

Polo is hardly as all-American as Ralph Lauren would have you believe. In fact, the horseback croquet is one of the oldest equestrian sports in the world, and was first played in (what was then) Persia sometime around the 6th century. In its early days, Polo was more of a military drilling exercise than it was a sport, invented with the intention of training cavalrymen, before it was taken up by nobility. Polo did a world tour of influence before gaining popularity in England, from which it was then brought to America. So really, the U.S. was one of the last countries to jump on the Polo trend bandwagon. The word "polo" comes from the the Balti word for "ball," and there isn't much American about it at all. It is rumoured that Ralph discovered the Polo logo when he visited Brioni in Italy in the 60s. The menswear brand had polo players printed on the lining of their jackets, because polo was the sport of the wealthy at the time. Ralph Lauren asked to license it for the American market, and they let him.

Frequently referred to by resellers as a "quail motif," the bird depicted here is actually a pheasant. The bird is a mainstay—in fabric patterns and embroidered embellishments—on the company's hunting apparel.
The Ralph Lauren oeuvre leans waspy—golf, yachting, croquet, riding—even their hunting line opts for tweeds and creamy silks, rather than camo and heavily treaded boots. The Rugby line, then, is a bit of a bull in the china shop of the Ralph Lauren legacy. Established in 2004 and marketed to teens and young adults, the designs took cues from an arguably barbaric sport. While it's since been discontinued, one particular style is evergreen: the rugby jersey, I mean, "shirt." Further proof that fashion transcends function.

"We called that the 'suicide' ski jacket because if you wore that out in the street it was like suicide. You would probably get killed for it. My friend still has his with all these holes in the back from when he got stabbed for his, but he didn't give it up. You still see the holes with the dried blood on it though." -Just Blaze

Parody or, actual text from a 2018 cover of Ralph Lauren and his family for Town & Country:
The Montauk place is both elegant and comfortable at the same time—comfortable in part because it is not so elegant as to be intimidating. The wood-­paneled room overlooking the ocean has a large fireplace, a sisal rug, a couple of Eileen Gray glass tables, a sprawling white sofa, and a mirror that reflects the view of the surf. A big coffee table in the center has piles of art and architecture books, an old copy of a magazine with David on the cover, and the catalog for an upcoming auction of vintage automobiles in Pebble Beach.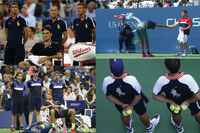 While most of us are here to watch the players on court, the off-court support staff, often referred to as "ball boys," are decked out head-to-toe in Ralph Lauren. Keep your eye out for the Polo horse—once you start seeing it, you won't be able to stop.

Hunting, fishing, down, suiting, training, yachting, and sweater vests are all types of vests in the Ralph Lauren oeuvre.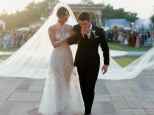 Wedding dress: Priyanka Chopra's
Chief creative officer, restaurateur, billionaire, matchmaker—perhaps Ralph Lauren had promising intuitions about celebrity couple Priyanka Chopra and Nick Jonas when he dressed them for their first public appearance at the 2017 Met Gala. And a particular inclination towards Chopra altogether, who seems to be considered an honorary member of the designer's family. "This isn't about a dress," he explained of the custom wedding gown he created for the pair's big day, with the intention to capture Chopra's "unique sensibility: strong, smart, and beautiful." Aside from Lauren's own daughter, daughter-in-law, and niece, he'd never made a wedding dress for anyone.

Arguably one of the most highly anticipated collabs of the past year, Palace x Polo is almost meta—echoing each other at two different points in the brand continuum. One with enough cache to crush a planet, looking to extend (and capitalize on) its history to another generation, the other a fledgeling boutique looking to lay another brick in the foundation, aiming to ultimately become Polo-esque in its legacy. In 20 years from now, will we wear Palace or will we wear Polo?

Ralph Lauren reissues are not just hype-driven but carry a sense of history. In 1992, the company was the official outfitter of San Diego's America's Cup (the oldest, perhaps best known, international sailing yacht competition.) A year later, following the U.S.'s win, Ralph Lauren released the CP-93 collection. Yachtwear for those without sea legs. Now fast forward 25 years to 2018: Ralph Lauren (maybe jumping on board with fashion's penchant for nostalgia as it intersects with streetwear, see: above) reimagined the collection. The limited-edition capsule, titled once more, CP-93, was everything the '90s did right: windbreakers, allover prints, reds and blues that fade perfectly, swim trunks as everyday shorts, color blocking and crest-embroidery. That special variety of sea-prep for the city dweller dreaming of summer (year round).
In August of 2015, Ralph Lauren presented his children's Fall collection at the Central Park Zoo. Frequently a metaphor for immortality and eternal childhood, Neverland (the show's theme) perpetuated an undercurrent of fantasy, but also connoted one thing about Ralph Lauren Co. that will never change—its timelessness.
Text:

SSENSE Editors

3D Artist:

Nathan Levasseur