Dressing Up in Black Sneakers with Nike, Prada, and Margiela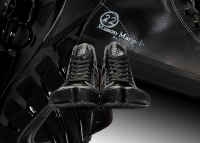 Whoever decided summer weddings were the most romantic, clearly set the date in some more temperate season. The idea of putting on a suit in a heatwave, or having to sock-up your sandal feet and step into leather brogues is hard to digest. Not to mention the insurmountable, all-seasons challenge of maintaining your sense of style when the dress code requires a jacket and tie. Enter black sneakers, smashing the casual-formal distinction and making a case for a laid-back approach to formality that is both comfortable and cool.

Vince Carter debuted the Nike Shox BB4 back in 2000, spurring an insatiable hunger in every middle-schooler for hydraulic sneakers. Last year, Nike re-released the Shox, much to everyone's hybrid nostalgia-sickness and delight. For a formal look with maximum air, channel Vince dancing down the street in a blue suit and sneakers for his 2002 Shox commercial. Boing.
These adidas sneakers are so classic they are nearly invisible. By now, they are integrated into the visual lexicon to such a degree that they are imperceptible, so timeless they've become a neutral.

Who would have thought a slip-on could feel sophisticated? Bottega Veneta takes a dressed-down style and elevates it with buttery soft black and white buffed leather, woven Intrecciato-style into something of a checkerboard effect. But these aren't the checkered skatepark staple they look on first take. With a black-tie color scheme, in luxurious leather, these slip-ons feel like the more-fun cousin of the classic wingtip style.

Here the mystique of the infamous Margiela Tabi lends itself to the comfort of a high-top sneaker. With a shiny, rubberized toe and smooth black leather body, these sneakers feel a lot more considered than your everyday Chuck Taylor. And it's the consideration that counts. Perhaps you will feel divided—cleft—as to whether or not these can pass as formal-wear, but we assure you, the look will come together.

While these Pradas are sneakers, they are sleeker than your average, managing to make velcro fastening feel less playground and more Mission Impossible. The technical detailing and original Linea Rossa era call-back would certainly lend a 90s cool to a suit and tie, a stand-out look in what could otherwise be an exercise in fitting in.