Travel in Compact Luxury with Gucci, Burberry, and Bottega Veneta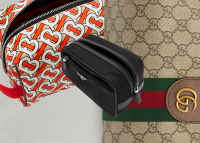 In the not-too-distant past—before passenger aviation became the truly disheartening experience it is—there was a time when commercial aviation was actually… glamorous. In the 1960s, now-defunct airline Pan Am served passengers opulent cocktails and full-course meals on fine china. Travellers aboard the extinct Concorde jet were treated to champagne in crystal flutes, and samplings of caviar and canapés—it's rumored the lavatory was decorated with fresh-cut flowers. The golden age of flying may be over, but allow these travel pouches and dopp kits to inject some luxury into your next excursion, wherever it may be.

Ladies and gentlemen, the Captain has turned on the fasten-seatbelt sign. Ensure your essentials are stored securely in Prada's streamlined wash bag. Rendered in the label's signature Saffiano leather and nylon cloth—a fabric inspired by military-grade canvas—this dopp kit keeps items secure and dry in the face of any in-flight turbulence.

Did you know that logomania as we know it today originated from the luggage industry? As early as the 1800s, stylish travellers flexed with luxurious logo-patterned trunks and hard cases. A more practical option, Gucci's GG canvas kit fits right into your carry-on.

No need to hop a trans-Atlantic flight: bring a little bit of low-key British sophistication wherever you go with London-based designer Paul Smith's plaid flannel pouch.

Launched in May 2019 under the creative directorship of Riccardo Tisci, Burberry's newly-minted Thomas Burberry monogram is poised to soar to the same heights as the label's iconic Nova check. Fly high with the colorful take on the travel case.

Bump your clout up to first class. Crafted from the label's luxe nappa leather and creamy canvas, Bottega Veneta's travel pouch is as sleek and aerodynamic as the fuselage of a Concorde jet.