The Prolific Author on Clothes, Camp, and Her Latest Collection, Screen Tests
Interview:

Claire Marie Healy

Photography:

Heather Sten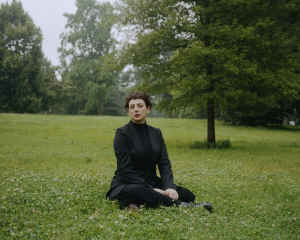 Kate Zambreno is enjoying a t-shirt at the exit of the Metropolitan Museum of Art's Camp: Notes on Fashion exhibit. On the t-shirt is a cartoon Susan Sontag wearing a pink hoodie that reads CAMP COUNSELLOR and a barrette that reads SUSAN—which we both agree Sontag wouldn't wear, but maybe "that's what makes it camp." Still, the writer is gleeful among the merch of Notes on Fashion, like a set of bejewelled pencils, or the miniature Molly Goddard bags, like bright tulle kitchen tiles. They seem to represent a sort of knowingly ridiculous femininity the writer has always had on her mind.
Zambreno's new book, Screen Tests, is full of jokes. In it, she twists around moments that feel glamorous, tragic, and bleakly ironic: an invitation to attend the annual Jean Seberg International Film Festival in Iowa; the way her dad insists on nicknaming her baby "Tallulah Bankhead," an actress whose dying words were "Codeine... Bourbon"; the fact that Patty Hearst was a winner of the Westminster Dog Show, in later life. Reading Zambreno has always felt more intimate than many writers: with Screen Tests, she is more teasing than before. Because what's more intimate than a joke?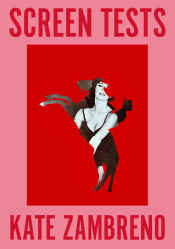 Right now, Zambreno is working on a novel [with two novels and three works of non-fiction behind her, she is nothing if not prolific]. If Heroines (2011), Zambreno's cultish non-fiction debut, indicated a specific time in her life—prior to her move to New York—her more recent work feels ongoing: Book of Mutter, in remembrance of her mother, took 10 years to write, but spun out into the year-long series of talks that became Appendix Project.
Screen Tests loves writers, and movie stars. It loves Sontag in her bear suit on Halloween, as photographed by Annie Leibovitz. It loves the lives and art of many figures, particularly a pre-90s group consisting of David Wojnarowicz, Cookie Mueller, Peter Hujar, Kathy Acker, Valerie Solanas; Warhol's factory and its glittering ghosts hover throughout. Much like many of those figures, Screen Tests is also obsessed with aging, with appearances. It's a little vain. Zambreno is a writer who, wonderfully, cares about clothes, like Valerie Solanas' silver lame dress, or Louise Brooks' mint-green housecoat; certainly she cares more than the Camp show presumes Sontag did. Zambreno questions that thesis—she is trying to seek out Sontag's sensibility, her spirit, among the mannequins. "But Camp should also be ugly!", she cries at one point, side-eyeing red carpet designs through the glass (Earlier, she stops for a long time in front of a split video screen of Sontag's actual Screen Test for Andy Warhol. We discuss how she looks young, almost teenager-ish, though Sontag would have been in her 30s at the time).
After the interview, I leave Kate to see the Robert Mapplethorpe show a few blocks away at the Guggenheim. As I enter, two women—wearing the gallery-hopping uniform of athleisure fleece and cross-body bags—stop in front of a self-portrait of the photographer posing with a rifle. "Patty Hearst!" one of them says, making the other giggle. I think Zambreno would like them.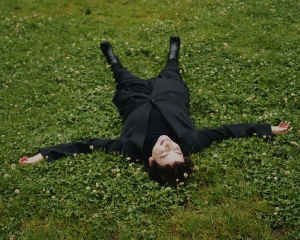 Claire Marie Healy
Kate Zambreno
I want to talk to you about clothes! There's a brilliant part in Screen Tests where you said you once wanted to look "like a pretty boy who was also a pickpocket and also an art bitch."
I [felt] shamed from writing about fashion for a while. There was a review of Heroines that wrote about my obsession with glamour [as] an "empty suit." She was very upset that I mentioned my love of my stained cardigan. I was really drawn to the tough armour of New York women when I moved here. I was really drawn to the art bitch. But now I think I want to look a little bit more strange or vulnerable.
An approachable art bitch?
No, not approachable! I don't like [to] be approachable.
For me, when you write about whether a text can be like wandering through rooms in a house, or listening to the music of Arthur Russell, there's a sense of comfort.
I don't think I ever want to comfort a reader. I'm interested in a level of intimacy with the reader. Reading is an incredibly private thing. It's this space you're existing in together, where you can hope for some level of communion and some level of communication. I've seen Fleabag like six times. I think it's the perfect work of art for our times. It's beautifully written and is a perfect tragic comedy about what love is between sisters. It's incredibily erotic, which is helpful in life. But also, it doesn't take itself too seriously. I love work to be tender and horny and also thoughtful.
You're always interested in this idea of making the text be, or act, like other things. With Book of Mutter, you described how you wanted it to feel like going through a series of rooms. The tempo of Screen Tests feels very different.
It's interesting that Sontag in Notes on Camp talks about camp being a sensibility, not an idea. I think in both Appendix Project and Screen Tests I was very inspired by tone, and by a sort of strange sensibility. Screen Tests, to me, was very much a feeling. There was a certain buoyancy and lightness to it. In a different way, the appendices, which were really inspired by Anne Carson's lectures, have this sort of jet-laggy quality to them. The screen tests, I thought of as notes or sketches—writing that was not writing. They were jokes, inside jokes, often. They were making fun of things that I've taken very seriously. I wasn't planning on either of them being books.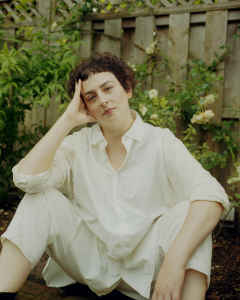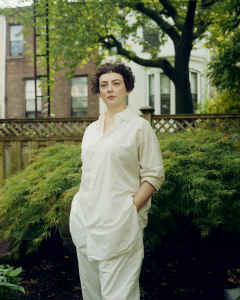 "I'm really inspired by the beauty and joy of being an artist in society. This mostly means being invisible."
The screen tests do feel very fast. At the same time, you're making so many references to artists, and their art, which creates a pause. Do you want the reader to stop, put the book down, and look something up when it comes to your descriptions of the visual?
It's funny. I keep on bringing up Notes on Camp. I hadn't really thought about that for a long time, but I am really drawn to how discursive the writing of Sontag is, especially there. She has an incredibly fast mind and I think in Screen Tests, this [was] one of the things that I was interested in writing: the discursiveness, which is the internet. You get this sense of the speaker, the narrator—who is me and not me—looking everything up online. Literally existing online, in screens, which is how we all are, [with] various things open, various obsessions that we're looking up. I'm fine with someone looking something up, but I'm also interested in what it means to write about the visual, what it means to write about art.
You're also discussing personal relationships, people who have passed away—and you're talking about a lot of known figures too, who are also dead. What are you grappling with ethically when you are recording these lives?
When I write about my friend who killed herself, that was such a catalyst for me being a writer. And it's been 20 years now. I think I feel less troubled by the ethics of that, versus writing about friendships that are now, which I think is tricky. A lot of people worry about writing about friendships. The slipperiness and the beauty and the anger and the contradictory-ness of friendship is so worth writing about. When I write about friends it's often through the spirit of tenderness. [But] I feel like if someone was boorish to me 20 years ago then I don't owe them anything. And I guarantee you they're not going to be reading my books [laughs]. Screen Tests is really a work about failure.
Failure is very "in" right now. There's a whole rash of books about how to fail better, as if failure is empowering. But sometimes life is sort of messy and your failures are just failures! They don't become something good.
When I first became a writer, for many years I worked on this series of monologues about Louise Brooks and Veronica Lake. This is probably in my late 20s. They were really awful, so I think Screen Tests [is] about the spirit of the failure that I couldn't write about [then]. That I've tried to write the pieces, but what emerges is just not being able to write about them. Louise Brooks keeps reappearing. I always thought of her as a writer. I'm very interested in the figure of the hermit and how these feminine hermits have often been ostracised or seen as grotesque or as crazy.
You write wonderfully about the life of Barbara Loden and Wanda, but also about how someone else wrote the book about Wanda that you wanted to write.
It was Nathalie Léger's book. It's so wonderful! But I was writing the same book on Barbara Loden. Being a writer is absurd and hilarious. It's not incredibly meaningful in some ways. Appendix Project and Screen Tests and this novel coming out next year are very interested in these strange moments of uncanny-ness, eerie echoes. It's good that these artists are reclaimed in their 80s or after they're dead and they have one work. But what about when they're alive? I'm really inspired by the beauty and joy of being an artist in society. This mostly means being invisible. [Loden] had one screening in New York. She died a terrible death with a terrible husband, thinking that she was completely invisible. It's that tenderness that I can't get rid of. It's that achyness of a life. The anonymity of these writers who don't get fêted in their lifetime. Kevin Killian just died—one of the most important queer New Narrative writers, who is definitely this generation's Frank O'Hara. He was married to Dodie Bellamy. Maybe 20 years from now, people will be reading Kevin Killian, but the life of the poet is making words and not getting famous in a way that impacts them. For me, that is the real life of the artist.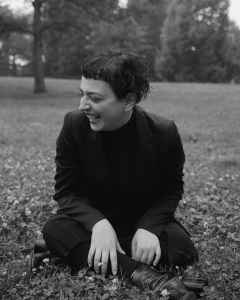 Claire Marie Healy is a London-based writer and editor, currently Editor of Dazed & Confused.
Interview:

Claire Marie Healy

Photography:

Heather Sten

Styling:

Ronald Burton III

Photography Assistant:

Pablo Calderon-Santiago

Makeup:

Justine Sweetman

Hair:

Dana Boyer

Date:

July 29, 2019