Good to Go: Bags, Wallets, Totes
With Balenciaga, Saint Laurent, and Wacko Maria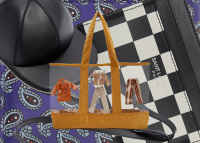 From bi-fold wallets to bowling bags, the carriers of your best-kept-secrets deserve the same consideration you give the rest of your wardrobe. Make that extra consideration—a travel companion that goes wherever you do, storing your belongings for you, too.

It's 2020 and anything is possible. Why not have a few small-scale options stored for safekeeping, should you ever need them.

Tactile, measured, and pretty, there's something classic about paisley—but don't mistake that for boring. An old friend who never fails to surprise you.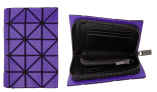 Never misplace your wallet with a hue this vibrant, and better yet, don't let anybody else mistake yours for theirs.

Embossed? Check. Leather? Check. Checkered? Check. Chess pieces not included.
Hats off to a bag that believes it's more than "just a bag."

Who needs two straps when you can just have one? All the versatility of a shoulder bag with the storage of a backpack, this Bonsac is the perfect drawstring companion for on-the-go.

We don't know what it is but we think we like it. Available in a limited run of just 50.

With its signature intrecciato weave, this grab-n-go pouch is the perfect companion who's just an arm's reach away.