Montreal's Prince of Monaco: Tennis Star Félix Auger-Aliassime
Poised for Greatness, Meet the Prodigy with a Long Game
Interview:

Kate Perkins

Photography:

Christian Werner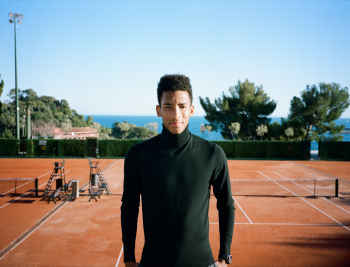 On August 8, 2000, the still-rising tennis star Roger Federer turned 19; he was two years away from his first men's singles title. That same day, in Montreal, Félix Auger-Aliassime was born to Quebec-born Marie Auger and Togo-born tennis player Sam Aliassime. By the time young Félix was five, the family had moved to a quiet Quebec City suburb where he and his sister would spend their childhood training with their father at the local tennis academy.
19 years later, Auger-Aliassime has slashed through the rankings to find himself in a strikingly similar situation as his idol did then: standing on the brink of what has the potential to be an era-defining career for tennis. Daunting stuff—though he is not alone in this high-stakes position. Flanked by contemporaries like Bianca Andreescu and Dennis Shapovalov, and regularly competing against countrymen like Pospisil, Auger-Aliassime's ascent is part of a generational breakthrough for Canadian tennis.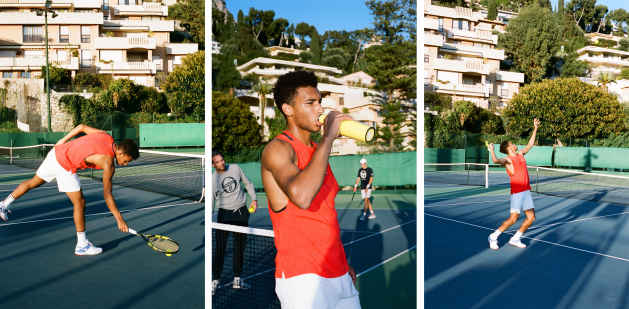 The word "prodigy" has been stuck to Auger-Aliassime for the better part of his 19 years, and it is both a burdensome cliché and an apt assessment. If you look at a list of his most significant victories thus far, he is more often than not the youngest to have achieved them, including, most recently, the youngest member of Canada's semi-finalist team at the 2019 Davis Cup. What is burdensome about the label is not the immensity of the pressure it places on an extraordinary talent of Félix's tender age, so much as the ticking timer it carries. After all, a prodigy is something you can only be when you are young. After that, a prodigy is something you will have been before you were what you would become. There is a latent grammar in the term that contains an undisclosed set of odds on your destiny.
Along with "prodigy," Auger-Aliassime is often praised for his maturity beyond his years. His talent is accompanied by an on-court poise, an off-court professionalism, and a distinctly Canadian politeness and humility that echoes the gentlemanly sportsmanship that would become Federer's trademark only after he'd transcended the flashy appeal of his early "bad boy" phase. Auger-Aliassime has a gentle way about him, an easy smile. His guilelessness feels genuine and rare in the age of athletes as social-media stars and expert personal-branders. Young athletes, especially, have to perform for their platforms. They have to be great, and they have to look great being great, to paraphrase something the prescient Basketball Diaries writer Jim Carroll once told the poet Ted Berrigan. The fan-friendly highlights and media-day-level action shots on his own Instagram channel are interspersed with wholesome, age-appropriate posts of happy days off with his girlfriend, posing beside the canals of Amsterdam or in a Gucci dressing room, post captioned "Overseas drip."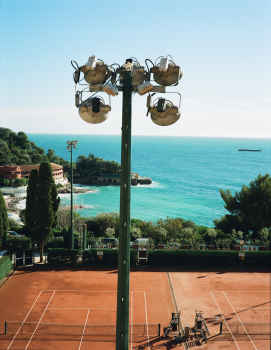 Félix picks up my call from his base in Monte Carlo, Monaco, where he's based while he trains at the academy of Patrick Mouratoglou, legendary coach of Serena Williams. The pristine climate provides ideal conditions for a relentless training regimen, a tennis paradise. It's a universe away from the snow drifts and cold fronts of his boyhood, and yet it's very much his natural habitat. Raised in the academy, he is his father's son—a lifelong student of the game. "My dad gave me his passion for tennis. I grew up playing with him and with my sister playing as well. There were a lot of young players around me; most of my friends are tennis friends, players or ex-players now."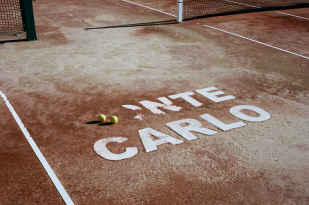 It's striking that when he talks about tennis, a solo sport, he consistently leans into a communal context for his career. His family; his friends; his generation. Indeed, he's part of a vanguard of Canadian tennis. "For sure a lot of things have changed about the way tennis is played over the last decades, and the results are showing that," he offers. "I'm proud to be part of that group of young players coming up and making Canada a threat in the tennis world." The threat is well observed: At Wimbledon this year, John McEnroe called Auger-Aliassime the most "dangerous" challenger in the tournament.
Auger-Aliassime tells me that he would have pursued soccer if he'd gone after another sport—yet another thing he shares with Federer—but for him, it was never a real consideration. He makes room for it on his off days, when he can, but his real second love seems to be for music, a talent he attributes to his mother, a choir singer and pianist. His instrument of choice, too, is the piano. In April, he took the stage at the Rolex Monte Carlo Masters players' party to entertain his elite peers wearing a suit and bowtie. He sat behind a small digital piano and gave a goofily wide, sheepish grin, like he might be about to execute a prank. As he began to play, cutlery stopped clinking and chatter fell low. Félix unspooled a short, stirring performance of Frederic Leroux's "La Dispute."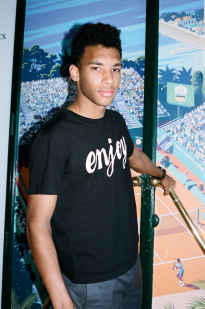 The parallels between Félix and his hero were not lost on Federer, who invited Auger-Aliassime to join him in Dubai to train with him in 2017, the year he turned pro. I asked him about how he sees Federer's longevity, and the seemingly unimpeachable dynasty he shares with Nadal and Djokovic. When so much is made about how young you are, how does it feel to see how long a career potentially stretches out ahead of you?
"It's a good question," he says, pausing for a moment. "In my case, I focus so much on what I'm doing now. But I need to take care of myself, of my body and my mind. I have to protect myself. This is my career but it's also my passion…I want to play a long time."
With that, he's back to the court, another day of training and a whole career before him.
Kate Perkins is Deputy Editor of Victory Journal.
Interview:

Kate Perkins

Photography:

Christian Werner

Date:

January 20, 2020