With Stone Island, Off-White, and Charles Jeffrey Loverboy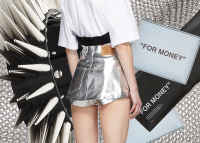 Metal is unique—it's heavy, loud, and tough, both musically and in fashion. You could say it's untouchable, which is why it's a quintessential thing to wear wherever you go. And if you like wearing heavy metal as much as you like listening to it, we've rounded up all that is metallic for your wearing pleasure.

Not quite ready to indulge in the break-the-internet Janties? Opt for this more luminous number instead. It's almost like a skirt, almost like shorts, almost like...Janties? A triple threat, just like Iron Maiden with its three guitarists.

Sometimes an accessory feels more eloquent than its material suggests (metal) and this phenomenon is mirrored in "Symptom of the Universe" by Black Sabbath. "Mother Goose is calling me back to her silver womb / Father of creation takes me from my stolen tomb / Seventh night the unicorn is waiting in the skies / A symptom of the universe, a love that never dies." Heavy metal can be poetic, too.

A nylon windbreaker is rather light, despite affording us protection from wind and rain. The ideal choice for mega(deth) light protection, when "palms are getting wet, and I'm sweating bullets."

Collars don't always have to be submissive, and Pentagram understands it's okay to make demands: "Drop all your dreams in the palm of my hands, step in the blue light, fulfill my plans."

Best to do as Metallica says and, "sleep with one eye open," especially if you plan on advertising the contents of your wallet.

Some say to wear a ring on your middle finger balances you and increases your luck. Best to wear this one appropriately if you're in the mood for poker, unless you're Lemmy from Motorhead, "You win some, lose some, all the same to me / The pleasure is to play."