Securing the Bag: Rimowa, Tumi, Away
Wheelie Luggage Gone Luxury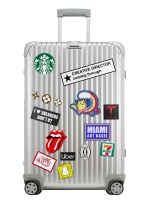 If 2018 was the year of the grifter—of flighty, expert scammers on the run, exposed, condemned, celebrated, arrested—it was perhaps not coincidentally located amidst the era of the creative director. The rolling suitcase feels tethered to the title, an inscrutable role many of the young men at 2018's Hypefest told writer Cam Wolf they aspire to, no doubt standing near the event's Rimowa x Off-White luggage carousel pop-up. No one knows what a creative director really does, but we assume it's a life of many pit-stops. International linking, building, directing of creative stuff. It doesn't matter what you do—it matters that you appear busy, that you have places to be, that you move. The rolling suitcase is the product embodiment of mobility.
At a point in history when movement is particularly restricted, monitored, and controlled, to travel freely (or even to indicate through fashion that you might have plans to) is in many ways a display of that privilege. It's logical then that, even when you are nowhere near an airport or entry-point, a suitcase becomes again, a more meaningful marker of status. The sleek hard-case rolling suitcase is the accessory equivalent of a valid passport, and the investment into luxury travel bags aims to project frequency of flight. The rolling suitcase says, "I'm going places." More precisely, it says, "I can."
The recent conversion of luggage into coveted luxury good feels like a throwback, fittingly to the decade when Rimowa became available en mass, in the early days of passenger aviation, when air travel was peak-glamour. The travelling salesman, cosmopolitan businessman, or the Catch Me If You Can scammer waltzing through security points to a Frank Sinatra score. Before air travel, there was train travel, an industry in which Louis Vuitton secured its bag with trunks and hard cases easy to store at the front of carriages, in square-shaped cabooses. Ironically, considering how typically unglamorous stations and airports feel, many logos and luxury houses began with luggage, as Haley Mlotek recounts.

When aviation took over from land travel and airports became increasingly expansive, it was no longer convenient to carry a suitcase by a handle, with no individualized coachman or bell-boy to escort you all the way. In the 1970s, Bernard Sadow had the idea to attach wheels and a pull-strap to a suitcase, and eventually, over a decade later, pilot Robert Plath popularized the "Rollaboard" by turning other pilots and flight attendants onto his invention. Ironically, given that the wheeling suitcase seems now particularly fashionable in menswear, Sadow believes rolling luggage didn't take off sooner because men had a hard time accepting the help of wheels. "It was a very macho thing," said Sadow about the aversion.
To be macho today is much more about status and mobility than physical strength. Hilariously, something like the Off-White Rimowa might make the tween Off-White maniac feel somehow kind of suave, savvy. Maybe even just to wheel it out of the cul-de-sac and down to the 7-Eleven (or wherever today's pre-teens go) feels cosmopolitan. A compact, wheeling suitcase is now representative of a contemporary lifestyle, a certain amount of hustle crossed with tech-bro efficiency, fashion luggage perceived to be filled with DJ equipment, nice sneakers, expensive deodorant, plans for collaboration, or simply stuffed full of new ideas.
A piece of luxury luggage is for those who live nowhere, for those who would sooner spend a month's rent on a travel case than a fixed address. Brands like Tumi, whose "smart-bags" feature GPS locating devices, or Away, which comes perfectly-sized to carry on, and includes a portable battery to charge electronic devices, point to the age of the "digital nomad," the neo-travelling salesman. It's a moment of lean-in precarity, in which living out of your luggage—permanently lodged at a hotel or live-in work-space facility like Roam which ensures a neat, uncomplicated Sims life—is increasingly aspirational. (A large majority of the mobile nomads are men who've drifted out of tech hubs). Away has relied on influencer marketing to propel their popularity, paring-down the physical necessities of the digital human. When you exist most primarily as an avatar, what do you really need? In the post-KonMari, post-social media model of luxury, it becomes less about style of dress and more about style of life. As Marie Kondo says, "The question of what you want to own is actually the question of how you want to live your life."
Olivia Whittick is an editor at SSENSE. She is also managing editor at Editorial Magazine.