Reading Materials With Sarah Nicole Prickett
For Fall (and Darker Times), Consider Conspiracies, Bottle Blondes, Don DeLillo, and Danzy Senna
Text:

Sarah Nicole Prickett

Photography:

Thomas McCarty

Styling:

Romany Williams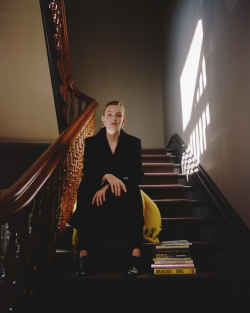 In this, our fourth installment of Reading Materials, writer and editor, and re-reader, Sarah Nicole Prickett, recommends eight beloved books. Among them: a memoir, a Didion, a brief, compulsively readable recovery of Beauty.
Accompanying Prickett's shortlist is an editorial shot by photographer Thomas McCarty, styled by Romany Williams, and set at The Canadian Centre for Architecture (CCA).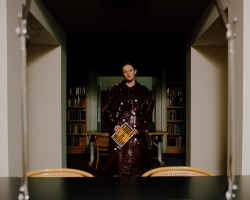 I basically think that Don DeLillo knows who killed John F. Kennedy and wrote a novel about it to make it look like he was guessing, just making suggestions, just playing the cards. There is the way he talks about "surprise" and the opposite way he talks about "history." There is the way he talks about "secrets" except when telling a secret. Novels were invented for this sole purpose: The Tale of Genji is not fiction, it's listening. No one wants to write fiction. Once at a party, a man who is both an acquaintance of DeLillo and a liar explained to me his apparent belief that DeLillo's wife had been in the C.I.A., but this did not interest me as much as the revelation, when I googled "DeLillo's wife," that she has the same name—Barbara Bennett—as a New Orleans lounge singer who knew Clay Shaw as Clay Bertrand and who drank with Clay Bertrand at the same bar where she once saw Oswald. That it was the coincidence and not the rumour which struck me as interesting is perhaps an explanation for why I've read Libra three times. There is always another level. As Joy Williams says, "I think Don DeLillo's avant garde. No one's caught up with what he's doing yet." Including the government…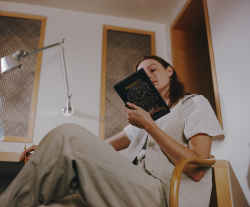 The Changeling by Joy Williams
Any time a woman appears pregnant and happy I feel like I'm watching a girl in a horror movie climb the stairs. Naturally, I love The Changeling, a modernist sort of household tale in which a mother for whom one child is plenty finds herself on an island surrounded by too many children to count—and cannot escape. Pearl is young, widowed, preternaturally helpless, attuned to the sky, and always cold. She thinks kids act like drunks. She should know. Like a pattern of tarot cards, the plot is hieratic and deceptively arbitrary and often, when it satisfies curiosity, induces a rattled wish to have asked a different question. It's a hellish novel, very realistic. As Don DeLillo says, "Joy Williams is an essential American voice, giving us a new way to hear the living language of our time, the off-notes, the devious humor—as the strange, fierce, vigorous undercurrent we sometimes mistake for ordinary."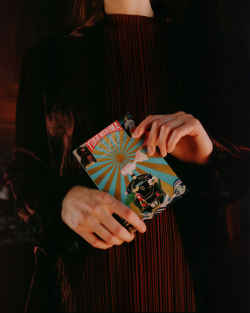 "Hemingway should be read standing up, Basho walking, Proust in the bath, Cervantes in a hospital, Simenon on a train, Dante in paradise, Dosto[yevsky] in the underground, Miller in a smoky bar with hot dogs, fries and a Coke… I was reading Mishima with a cheap bottle of wine by the bed, totally exhausted, and a girl in the shower," says Dany Laferrière, the very funny and underknown Montreal writer, in his 1985 novel How to Make Love to a Negro Without Getting Tired. I assume he was reading Confessions of a Mask. I prefer Star, which is more feminine, more fulgid, slimmer—a novella—and also quite funny. A true star never arrives, thinks Rikio, a young matinee idol and cognate for Yukio, as he decides not to attend his twenty-fourth birthday party, which is being held at his house. Showing up is for second-rate actors who need attention. Egotism, masochism, not feeling human, a prefererence for the ersatz, knife envy, white thighs, the "inability" to love women, and suicide as the last (or first) authentic proof of existence are the authorial themes, mixed with a new prescience about fame's destructiveness that makes Mishima's nisus toward superstardom seem less like a heel turn and more like the evolution of a death wish. Everyone who wants to be looked at should have to read Star. I read it with a pale, sparkling cuvée and finished it before my third glass, but when I stood up, I felt dizzy.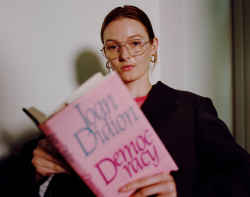 Democracy is a novel by Joan Didion. Makes perfect sense.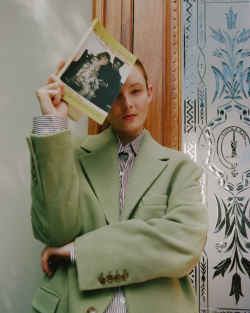 Where Did You Sleep Last Night? by Danzy Senna
I picked up Danzy Senna's memoir of her parentage because I was tired of repurchasing a certain fifty-dollar volume of her mother's novels, novels so unusual that my least-alike friends were equally likely to find them extraordinary before never returning them. Maybe I wanted a second opinion. Books by disgruntled former children of the sui generis are reliable for their deconstructive tendencies. Yet Senna, it turned out, meant by the subtitle, "a personal history," something self-possessed and indifferent to creative myths, favoring something akin to a reconstruction, detective-style, of familial scenes. Her opening line, perfectly hardboiled: "In 1975 my mother left my father for the last time." It's unnecessary to know beforehand that the mother is Fanny Howe and the father is Carl Senna in order to care about this sedulous investigation into the real mystery—which, obviously, is not why two poets got divorced but how a black Alabaman with the surname of a Mexican boxer came to marry a blue-eyed, blueblooded daughter of Massachusetts in the first place. (Spoiler alert: a Kennedy assassination had something to do with it.) "Together they were going to snub the history that divided them and create an ahistorical utopia in our home," writes Senna, examining a wedding picture: Carl in a Nehru jacket, Fanny in a gold lame minidress. "When their marriage failed so drastically—when history seemed to catch up with them—it must have seemed to them and those who witnessed that rupture like the death of a promise far larger than their wedding vows."
Senna's own mixed feelings are muted, relayed like light decipherings from a legal pad. She is a novelist, of course, with a strange sort of ironic objectivity, a voice from which evidence of being either parent's child has been scrubbed. My favourite scene takes place in the downtown branch of the Los Angeles Public Library, with a stack of books about the Howes, Quincys, DeWolfes—a maternal history as rich as the paternal one is scant—on a table next to a window with open blinds. Senna looks out, observing the homeless in a location she may or may not have chosen for its deracinated air. "I saw a woman as thin as Karen Carpenter squatting to defecate in a dry fountain in broad daylight," she notes.
On Beauty and Being Just by Elaine Scarry
Once I saw a tweet that asked, apparently in the spirit of saying any demented thing about "women" as long as the prefix is "white," whether there were any blonde geniuses. Yes. There is Jacqueline Rose. There is Joan Didion, although she was more of a dirty blonde. There is also Elaine Scarry, the blondest of all, completely brilliant.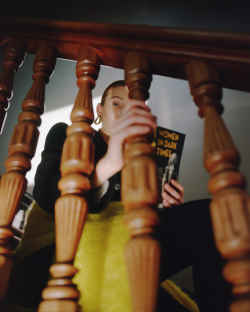 Women in Dark Times by Jacqueline Rose
Rose published her gesamtkunstwerk on women against history in the summer of 2015, when "female empowerment" was running high and no one knew what would happen. Rose did seem to know. (A word that does not appear once in the book is "Hillary.") Since then we have seen a mass problematization of the maleness which seems innate to power, as well as a wave of vengeance for the abused and the disabused that is surpassingly large in part because the winds do seem changed and in part because the ground (by which I guess I mean liberal discourse?) is often shallow. At the same time we feel a harsh rip tide. Misogyny, so ugly it's cool again, tempts the fashionable minds of the contrarians and the easily bored, while women's rights are understood to preoccupy the basic bitch despite having yet to become basic in a meaningful sense. As a popular male novelist says in the memoirs he named after Hitler's manifesto: Dark times, they had never been as dark as now.
Three "truth-tellers" who "died before their time" share top billing in Rose's book: the Polish-Jewish revolutionary Rosa Luxemburg; the Jewish-German painter Charlotte Salomon; and Marilyn Monroe, the "consummate performer, a brilliant artiste." She is a sort of limit case for women's representation. A workerist at heart, she resented being owned by the studios because she felt that she belonged to the people, perhaps more than to herself. Money was something she wanted only "to stop bigger money from controlling her fate," especially since attention, as she must have known better than anyone, is a worthless currency. Time was what she took in lieu of unpaid respect: "It was because Laurence Olivier had insulted [Monroe] by telling her just to look sexy that, by her own account, she started to be late," says Rose.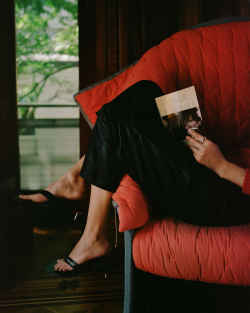 Talk Stories by Jamaica Kincaid
Kincaid was a bottle blonde with trompe l'oeil eyebrows and the improbable wardrobe of a six-foot-tall flapper when at age twenty-five she came to embody the New Yorker's New York. "It was a time in my life when I was especially interested in frivolities," she said, in a 2013 interview, about her rise in the late 1970s, the apex of print's propitiousness to stylish prose writers. "I was sort of a character. I would spend hours getting dressed and then I would go to the offices of the New Yorker—and hang out with my friends Ian Frazier and George Trow. And then we'd go and have drinks somewhere. But it was just sort of a display. … To show you how silly I was: I was a backup singer for a transvestite named Holly Woodlawn—she was one of Andy Warhol's superstars. I used to want to be a backup singer. Not a lead singer, because I really can't sing."
Later Kincaid would write novels often praised for being lyrical, but from the start she was just one of those people, like Lou Reed or Siouxsie Sioux or Billie Holiday, who naturally have voices so good that they don't really need to sing. Her pieces for "Talk of the Town" were conventionally unsigned but might as well have been watermarked, since no matter the subject—a beauty pageant, the disco-party business, or the activities of a dozen Manhattanites, from the mayor to a parking lot attendant, on a random fall day—there was and is no mistaking her mien. Lightness without a glib residue, one of the most fragile and elusive effects in non-fiction writing, trails her neat paragraphs. A knack for freedom makes her trustworthy. "Always go with the cool people," is the advice she got from her father and gives to the reader, without a word of indication as to who these people are or what makes them cool, in a report on the Fourth of July that is one of the most endearing things it is possible to read about America. Whenever someone asks for a book recommendation and I don't know what they like, or I don't feel like thinking about it, I go with Kincaid.
Sarah Nicole Prickett is a writer from Canada.
Text:

Sarah Nicole Prickett

Photography:

Thomas McCarty

Styling:

Romany Williams

Photography Assistant:

Devon Corman

Styling Assistant:

Kimberley Bulliman

Hair and Makeup:

Carole Méthot

Model:

Hunter / Elite Toronto

Production:

Alexandra Zbikowski

Production Assistant:

Yza Nouiga

Location:

Canadian Centre for Architecture