Underground and Behind Closed Doors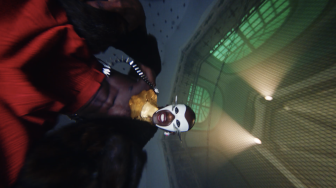 In his 1919 essay "Das Unheimliche," Freud investigated the difference between an unknown experience that is outright mysterious, versus one that is somehow, strangely familiar. Heimliche means secret—to be "un-secret" is then to be obvious, though perhaps not necessarily understood.
The very essence of Alessandro Michele's Gucci is one of deep romance and mystery. Extravagant without being gaudy, suggestive without a heavy hand. Myth and enchantment are woven throughout his oeuvre as readily as the monogrammed Gucci logo—an ethos that is characteristic of the brand's legacy, but somehow transformed—fresh, while simultaneously seasoned.
Director Matt Lambert takes us behind closed doors and underground to explore the uncanny valley that is Gucci for FW19.
Director:

Matt Lambert

Director of Photography:

Cezary Zacharewicz

Styling:

Larissa Bechtold

Camera Operator:

Adam Jaroslaw Mendry

Production:

Jannis Birsner, Iconoclast Germany, Rūta Kiškytė

Music:

Finn Ronsdorf

Choreography:

Steven Fast

Hair and Makeup:

Jurga Kartu

Models:

Nikita Semionov, Steven Fast, Matthew Woodcock-Livingston, Theo Emil, Christian Yav, Denisas Kolomyckis, Kristina Voveryte, Raimonda Makauskiene

Casting Director:

Affa Osman

Date:

September 18, 2019