Priya Ahluwalia Is The Menswear Designer To Watch
The Rising British Designer's Fresh Outlook On Sportswear, Recycled Materials, and Storytelling Through Fashion
Interview:

Simran Hans

Photography:

Ollie Adegboye
In Priya Ahluwalia's studio, there is a printout of a headless girl taped to the wall. She's dancing, knees bent, in a sleeveless crop top and drawstring miniskirt, both the same shade of shiny sky blue. The image is from Ewen Spencer's UKG, a collection of the British photographer's portraits of the UK garage scene that came of age in the 1990s. Next to it, is a still of three sari-clad aunties from Gurinder Chadha's 2002 comedy Bend It Like Beckham. Pinned to the same notice board, a faded sepia photograph of an older man in sunglasses and wide-legged suit trousers. "This is my grandad," says Ahluwalia. Each image seems to contain its own miniature legacy, aware of its lineage. You could say the rising British designer puts her heart on her sleeve, paying homage to her elders in London and further afield, with pieces that share the stories she has inherited.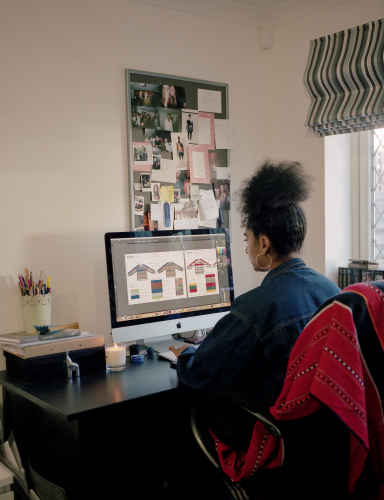 Born in 1992 to a Nigerian father and an Indian mother (second generation, by way of Newcastle), her label, Ahluwalia Studio, comprises flamboyant jumpers and tailored jackets inspired by the knit patterns and silhouettes worn by her Punjabi grandfather in the 1970s, as well as patchworked bucket hats, sportswear-style hoodies, and lounge pants that cheekily reference 1990s rave culture. Stuffiness is notably absent. There is also an element of chance in her designs, which are reliant on the materials she collects while scouring warehouses across the UK. All of her pieces are made exclusively from recycled deadstock. The young designer was part of Westminster University's first Menswear MA cohort; her sustainably-sourced graduate collection won the H&M Design Award 2019.
Today, her studio operates out of her mum's house. It's a hot August morning, and Ahluwalia is showing me two identical wooden sheds at the bottom of her garden. "This is where I put all my shit," she says. "Deadstock, another sewing machine. I was taking over the whole house—3000 silk scarves in the back of the kitchen. My stepdad got me the sheds so I could start storing stuff properly."
Ahluwalia's commitment to ethical fashion was cemented by two trips, to Panipat, India and Lagos, Nigeria, in 2017. Panipat, which sits 90km north of Delhi, has been described as the garment recycling capital of the world. Ahluwalia learned that international charities are given so many donations that they end up selling them in bulk to commercial recyclers (like the one she visited in Panipat), where they are eventually recycled and resold. "It's huge business—it's not like, a charitable effort—but also it hires all those people that recycle it, so that's a good thing." She was both disturbed and moved by what she saw; so much so that she published a photobook of her experiences, Sweet Lassi.
"In India now, they've banned the import of secondhand clothing because it stops people buying Indian-made products," she says. "It's cheaper to buy imported secondhand, so they only allow the import for recycling, or for rags, or for very, very poor people. Secondhand clothing needs to be slashed before it crosses the border. It needs to be mutilated."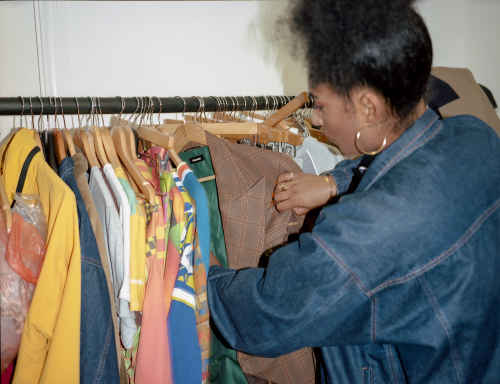 Simran Hans
Priya Ahluwalia
What was your mother's style like?
At school, people always commented on how nice she dressed, and how she didn't look like a mum. It was the 90s—she had long black hair, it was permed, but like, a big perm—a loose perm, red lipstick, and really thick, cream wool jumpers and black leggings and boots. I was obsessed with her wardrobe.
When did you know you wanted to design clothes?
Always, really. But in fashion, how many people get to be successful? I think I was a real underdog on my MA course. I was confused. I was worried I was gonna let everyone down.
Who were you worried about letting down?
Myself, my mum, my stepdad, because of how much they invested in me. It's scary—the job market's nil, and every week I'd be loading the fucking websites like, 'What's happening?'
What were you like at school?
I was really academic at school, and I'm Indian and Nigerian so obviously [my parents] were like "Go and be a lawyer." My mum was desperate for me to be a lawyer. It's interesting because when I did my GCSEs, I got straight A's and A+s. When I did an Art Foundation [qualification], everyone was like, what?!
I didn't find anything hard. I wasn't a good student—I wasn't studious, didn't ever do any homework, I just talked all the time. I was actually really disruptive. I didn't take [sixth-form] college seriously, either. We'd go out on a Monday, Wednesday, Friday. We'd always go to McCluskey's on a Monday, which is in Kingston. It's now called Viper Rooms. I remember watching Kano there, loads of rappers used to go there to perform. And then we'd go to Shoreditch on the weekends, or Vauxhall. After all that pissing around, I was like, let's go, let's get it. I'm not so cheeky anymore, I've sort of grown up a little bit.
When did you know you wanted to make menswear?
There are parameters with menswear. I liked all the codes and rules. Men's coats button left over right, which means you undo it with your right hand. For ladies, it's the other way round because traditionally you're not meant to be able to do things yourself, so someone could do it for you.
You've cited your uncle and your grandfather as inspirations for your collections. What connects their fashion sense?
They've got a bit of naughtiness about them. My grandad owned a newsagents; I used to live above that shop with my mum. A customer would come in and he'd be like "Make me a cup of tea!," send them to the back, and they'd make him a tea. People used to always be like, "The man in that shop is so rude!" but he thought it was really funny. I just liked that personality. I'm lucky to have a massive archive of photos that show how they dressed and what they wore.
Did you shop a lot of vintage when you were younger?
I used to be a shopaholic. When I had my Saturday job at All Saints in Bentalls in Kingston, I was obsessed with buying stuff because I could get a discount. I liked shopping in markets as well—Peckham, Shepherd's Bush—then I'd go to East London for vintage shops. Whether they were vintage or high street, I'd buy a lot of them. Then I started to grow up and realize that I don't need all these clothes.
When was the needle drop moment regarding your ethos towards sustainability and social responsibility in your manufacturing?
Fashion, at the end of the day, is not a great industry to be in if you wanna do something positive for the planet. No one is gonna save the world through fashion. Do you know how fashion will save the world? Stop bloody making clothes. That's how.
I don't know how the world can be saved through clothing, but I think it can give power to garment workers. After Bangladesh and Rana Plaza, that factory collapsing, workers being forced to do sexual favours in return for getting their wages—all of that's disgusting. I think sometimes we can get a really Westernized view of how fashion is affecting the planet, but no one thinks about the people. No one thinks about how this affects people in India, Bangladesh, Singapore, China, Nigeria, Kenya, Sudan.
Tell me about your collaboration with adidas.
I'd won the H&M design award in November, and a week later, I got a call from Stacey [James, assistant to Caroline Rush] from the British Fashion Council, saying "You've been chosen by Pharrell to do a project with adidas". I remember being like, you're a liar. I actually thought that was a joke.
It was a shoe collaboration to redesign the SC Supercourt. But then it was like, "And we're doing a runway show, and we want your collection to go in the runway show, and the collection is in January." I essentially had a month to do the collection, do the shoe collaboration, also it's Christmas so everything closes down… It was mental! Pharrell was there, and David Beckham—he was lovely. Jonah Hill was there. The best thing was that I got to meet Yohji Yamamoto.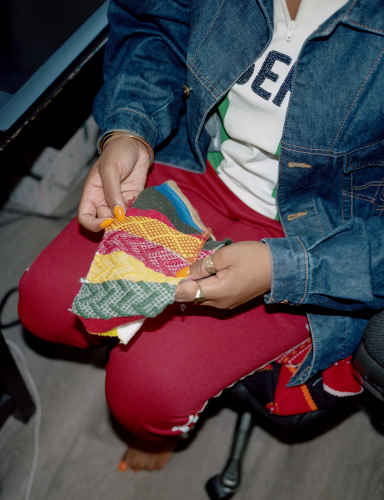 How would you describe the influence of London on your work?
I went to a girl's school. Everyone would graffiti on their bags with certain pens, and slick their edges, we'd all wear Wallabees [the shoe by Clarks], and then we'd all wear loafers. I like that tribalism. It was very London.
I have a theory. People still make an effort with their outfits, but they do it for Instagram instead of at school or in the club.
That's so true. Their priorities change. People feel awful if they go out and don't get a picture to prove that they were out. People are obsessed with Instagram. I am obsessed with Instagram, I can't lie.
I like looking at Instagram for makeup. Have you watched Euphoria? Firstly, it's crazy—I wasn't that naughty at school, fucking hell, they're mad. But the make-up in that is incredible. That's reinvigorated my interest in make-up.
This is another thing about being from London—I got my first set of false nails at 13. We used to go to Camberwell because they were £10 a set, and we'd be in a queue after school for an hour or two hours waiting, but it was like a social event. You'd wait and get your nails, and hair in Tooting. I've always liked to take care of how I look, but not in, like, a shallow way.
What items have you inherited that are particularly special to you?
I'm quite sentimental about pieces I'm not necessarily gonna wear myself. This is my grandad's blazer. I've re-modernized it a bit so it's a bit slimmer in the waist because it was so boxy. He got it made in Chandigarh. On my wrist, I wear these bangles; from a set that my nana had. I think she got them just after she got married, and she gave me these three on my 18th birthday. I like storytelling. Maybe I see a picture of my uncle Jas, who wears a certain type of jumper and I like that jumper or a knit pattern. It's a mix of me designing it and working with what catches my eye when I go to wholesalers. I'm always at warehouses rummaging through shit. It's spontaneous. I have to trust that I'm gonna find something.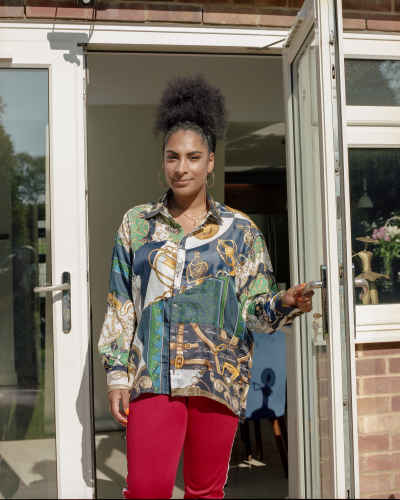 Simran Hans is a writer and film critic for The Observer. She lives in London.
Interview:

Simran Hans

Photography:

Ollie Adegboye

Date:

October 7, 2019