A$AP Ferg Gets His Nails Done
The Harlem renaissance man spruces up on the heels of the release of his latest EP to discuss fashion and taste—and where the two diverge.
Interview:

Ross Scarano

Photography:

Shaniqwa Jarvis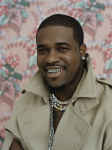 Off came the durag. Then the gray long-sleeve: Barney Rubble from the Flintstones flashing two thumbs up. Sitting facing the bright vanity mirror at Milk Studios in Manhattan, A$AP Ferg was now ready for grooming, wearing a clean white undershirt and Burberry sweatpants.
First, nails. But only a touch-up. The tips of his fingers already looked shiny and trim, as neat as his icepick sideburns and slight mustache. His goatee is eraser-sized (the rectangular kind kept in the pencil box, not the nub attached to the pencil). Nickia, the nail technician, who stood about Ferg's height, with short hair and a Pittsburgh accent a decade removed from the company of fellow speakers, began with his right hand.
Some shoes caught Ferg's eye.
"Are those Louboutins?" he asked in the direction of a long corner table where shoes, socks, and accessories waited, laid out like a banquet. The vivid, black-and-white loafers were turned over revealing their red bottoms. "Can we get these for real?" he asked. The answer was, "Of course."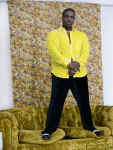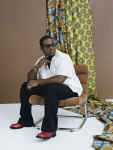 A few moments before, after arriving on set, he had introduced himself to the crew and chatted with the photographer, Shaniqwa Jarvis. As a member of Ferg's management team emphasized, the Harlem artist—a rapper, clothing designer, visual artist and, more recently, bicycle designer—handles all his own creative. Floor Seats, his latest release, is meant to be an exclusive look into his life, six years since his debut: the listener sits courtside while Ferg describes performing at Tiffany's, scratches left on skin during sex, and models pursuing him like the tragic doo-wop idol Frankie Lymon. Since his first album, Trap Lord, Ferg hasn't shied from incorporating his self-described "weirdo" interests into his work: reverent homage to dancehall legend Shabba Ranks folded into a '60s horror-movie sample, eerie crooning about crack houses over a gauzy beat. Floor Seats plays with Ferg's curiosity about electronic music—there's a sample from British big-beat outfit The Prodigy on the title track. He juggles the circus of his life with panache.
His parents, Darold and Sharon, bequeathed to their only child their taste. "They made me care about clothes," he explained. "They made it an event to get dressed and to celebrate through clothing." However, dressing is only an event when you have the confidence to experiment. You have to know yourself and your body. Anything less is creativity-deficient corniness and insecurity. Or as Ferg puts it, "I'm in the style game. Fashion is a fad to me: it's somebody who buys the whole mannequin; dresses like the mannequin."
Nickia pulled his attention back to his hand; she requested nail polish removal before going any further with her maintenance. Actually, that wouldn't work. "This is, um, what you call it," Ferg told her. "This is not polish. This is the other thing." They stared at each other for a second. "It's gel," he said, finding the word. "Oh, never mind," she chirped to the whole room.
"This gonna be a whole 'nother battle—you gonna need a drill," he said, laughing. No major renovation was possible, then; instead, the focus would fall on the details. He tilted his body back in the direction of the accessory table.
Besides New York-based designer Bode, a brand that specializes in one-of-one releases made from found fabric, there's nothing much exciting Ferg's fashion appetite at the moment. (He waved away the suggestion of reacting to a number of different brands, not wanting to drag anyone.) If dressing, as his parents declared, was supposed to be an event, the party has grown listless.
"You're cutting the skin," he said to Nickia, interrupting himself. Momentarily distracted, he looked away from the conversation sounding remarkably calm, given the disclosure. He has long lashes and doesn't always make eye contact, which makes him seem distantly serene, regal even: the only child as king.
His parents met uptown: "My father just hollered at my mom. Typical Harlem shit." When Darold Ferguson, Jr. was born, in late October 1988, his parents set out to spoil their baby boy. "I got every pair of sneakers I wanted—three times," he said, before launching into a list to rival the scene in Gatsby where Daisy raids Jay's closet. "My parents were very successful, so I pretty much got everything I wanted. Versace sweaters and Coogi sweatpants. Burberry Timberlands, custom made. Gucci checks on Nike Ups. Throwback jerseys when they was $400 dollars. Diesel jeans, 7 jeans. All the fly shit."
They didn't neglect their son's character, though. "I was spoiled with clothing but I had a lot of pride and morals," he said. His family was made up of hard workers and Ferg didn't deviate from that path. The freedom of bike-riding in the city, dodging cars and authority figures on two spinning wheels, and the possibility of visual art captured his attention at a young age; he continues to enjoy both as a man on the verge of 31. Those activities require focus in a way that tunes out the chaotic noise of celebrity life, something Ferg is increasingly mindful—and wary—of.
Recently, he put himself through three months of therapy. "Being an artist, it's hard to talk to just anybody, because they don't understand. But when you talking to a professional, their job is to understand," he said. "They'll break things down for you that you didn't even know needed to be broken down. And they can put things in perspective when you can't see it, because you're inside of it."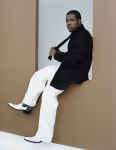 Letting himself trust someone else's read on his life posed a challenge. As he advances in the industry, Ferg has intentionally ignored more and more opinions about how his art should be—a lesson he's taken directly from the music business. "A lot of artists get pigeonholed into a certain sound because they've been successful with that sound," he said. "But artists want to express ourselves exactly as we are in the moment. People will say, 'You shouldn't be doing that because you're this type of artist.' But you know what type of artist you are. We can't allow fans to dictate who we are."
The daredevil he was as a boy understood that there's no time for doubt or worry. "When you're riding a bike and doing tricks, you don't think about accidents," he said. "Your mind is not like 'Oh, I think I might fall.'" This propulsive mix of self-confidence and heedlessness should apply to art making too; stretching his voice and gobbling up more genres to absorb into his body of work, it's just more tricks to land. The ever-growing crowd gathers to watch.
As an adult, he worries about the falls in other realms. Thinking back on the stress he felt before starting therapy, he realized that "this is how people start doing drugs. Some people don't weather the storm. They want the easy way out, so they take drugs and it fucks them up. They create a habit they don't want. I'm scared of that shit."
He continued, "Therapy helps manage [my] life. I have a manager for my clothing line. I have a manager for my music. I delegate with everything."
Eventually, Nickia took care of his left hand too.
Ross Scarano is a writer and editor based in Brooklyn.
Interview:

Ross Scarano

Photography:

Shaniqwa Jarvis

Styling:

Kwasi Kessie

Set Design:

Bradley Carroll

Styling Assistant:

K. Kahli Haslam

Grooming:

Jomo

Makeup:

Nickia Williams

Photography Assistant:

Carolina Isabel Salazar, Jordan Zuppa

Production:

Becky Hearn

Production Assistant:

Francesco Rizzo

Date:

October 4, 2019