Cathy Horyn
Will Say
It To
Your Face

There's No Fear In Fashion Criticism
Interview:

Haley Mlotek

Photography:

Adam Katz Sinding
"Shitty," answered Cathy Horyn, when I asked her how she was finding New York Fashion Week so far. It was only the morning of day three, but why hold back? As Horyn will be the first to tell you, most writers could stand to say more with less.
As a fashion critic, Horyn's words have always landed with considerable power, even under the constraints of house tone. When we meet for breakfast at a hotel restaurant in New York's West Village, she reminds me that she wrote for The New York Times when writers couldn't print words like hell or heck, and what must have been the most distressing of all for a writer on a beat just blocks from the Garment District, you couldn't write schmatta.
Still, Horyn knows how to work with what she's got. Currently, she's the fashion critic for New York Magazine, where she can use any words she wants. At the start of Paris Fashion Week she published a true scoop: an exclusive interview with Miuccia Prada and Raf Simons about their upcoming collaboration at Prada, the rare story that arrives straight from a fashion obsessive's fan fiction—the critic's critic talks to a pair of designer's designers. "Look at the similarities over the years between Prada, and the collections Raf has done at Jil Sander, Christian Dior, and Calvin Klein," Horyn emailed me from Paris a few weeks after we first spoke. "A serious design dialogue between two giants. It doesn't hurt to shake things up a bit."
Those are words to live by for Horyn. She became the second fashion critic at The New York Times in 1998, and stayed there until 2014, establishing the On The Runway blog and herself as a writer unafraid to call it like she saw it. She's had access to the most restricted ateliers and corner offices in the business, from Anna Wintour to Yves Saint Laurent. In the process, she developed long-standing and fiercely protective relationships with the designers and houses she cared about—Raf Simons being one such example—while also, at times, making her criticism a story itself. Horyn was famously banned from attending runway shows by Giorgio Armani and Hedi Slimane; in a dispute over a review in which she called Oscar de la Renta the "hot dog of American fashion," de la Renta responded with his own open letter in Women's Wear Daily, calling her a "stale three-day-old hamburger." Lady Gaga once wrote an essay for V Magazine suggesting that Horyn's work lacked a "modern" approach to criticism.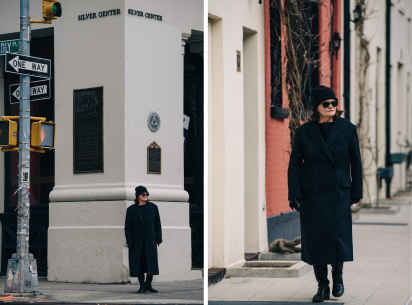 When she tells the story of her life, Horyn talks of characters. First there was her father, a journalist on the police beat in Columbus in the late 1940s. While attending Barnard College, Horyn worked for Diana Trilling, the opera singer turned anti-communist literary critic, a writer who taught her that sentences should have their own sound. Horyn then received a graduate degree in journalism which she bluntly describes as "worthless," except that it came at a time when degrees really did open doors for young writers—by which, she is quick to clarify, meant that she applied to seventy-five newspapers after graduation, and "heard from, like, three." One of those three was the Virginian Pilot, where she sat next to the fashion writer Cammy Sessa who partially inspired Horyn's decision to apply to be a fashion writer in Detroit. The Washington Post called in 1990, and Graydon Carter offered her a job at Vanity Fair shortly after that; in 1997, she tells me, the fashion critic for The New York Times, Amy Spindler, wanted to step down, and Spindler's boss came calling, too.
In the same way I am often surprised by Horyn's responses to a collection, I was taken aback by our conversation. She spoke about fashion in unexpected ways; but then, after reading her work for so many years, I should have known better. Horyn's byline comes with its own surprises, readers thrilled by the anticipation of what she'll reveal of her thinking as much as they are by the words themselves. Like the mentors she credits, Horyn's work comes paired with a challenge: if the fashion industry needs to be held to the highest standards, then the same is true of a formidably fair critique.
Seen on a calendar, the date since we last spoke would seem brief; in experience, it has felt endless. I emailed Horyn again right before we published this story, to see how she was taking care of herself during the global pandemic. She had gotten a puppy at the start of the new year, and taking care of him along with her yard, has kept her active. Times of crisis will change us all, she wrote, and she still looks to history as a compass while recognizing that nothing ahead of us is certain. There's one thing she tells me she knows: "You just adapt."
Let's start at the beginning.
I always knew I wanted to be a journalist. In that sense my path was easy. My father was a journalist, and he was a wonderful writer; I still have some of his clips. I started at the Virginian Pilot and sat next to the fashion writer, Cammy Sessa. One day I saw an ad for a fashion writer at a Detroit paper that read, Fashion writer: good reporting, good writing, no fashion experience necessary. I went with terrible clothing. I had no idea about any of that. I probably still don't know anything about that. But there were great retailers there, and I learned a lot. I stayed there until the summer of 1990, when I went to the Washington Post, where you really could write with a point of view.
A few years later I met Graydon Carter, and he asked me to come work with him. Then in 1997, The New York Times called. Amy Spindler was their fashion critic and a good friend of mine—we used to share a car together between shows in Milan, and I thought she was very feisty. She wanted to try different kinds of writing, and the Times was the place I wanted to be.­­­
I was surrounded by good mentors. The best advice my father ever gave me was: you should consider cutting your copy by fifty percent. Not because he felt like everything was too long, but as an exercise to get to the point. I think I was very aware of that—how to get into a story quickly, clearly, and move on.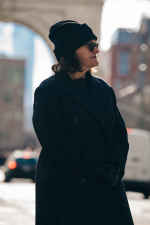 I did want to talk about how digital media has changed fashion journalism. On the one hand, there are fewer restrictions because of space, but there are other pressures to keep things as short or as visual as possible. Do you still think about staying concise?
Digital does loosen the language. I started the On The Runway blog at the Times in 2005, and I had no idea what I was going to do with a blog. Very quickly we developed this community of people, thirty or forty regular readers, names that I would recognize. It was challenging, to keep up with that conversation. I remember being home one day and someone asked me what Azzedine Alaïa's studio was like. I wrote 1500 words, like a stream of consciousness. People appreciated that it wasn't so structured.
I find that length is often considered synonymous with quality, and that's not always true. Writers need to know what length is for. You've mentioned that when you first started writing there was a pressure to get the sensory details right, because there were less images available. Now that we have so many visuals, the criticism centers around moods or ideas. Are there any finer material elements you still think need to be included, especially in shorter pieces?
I'm sure if I went back and looked at the copy I'd be like, I wrote that much detail about Ungaro? The writers then were talking to a devoted and sophisticated readership. As the whole digital thing opened up—and with it, social media—I became aware that I had shifted too much into the atmosphere. I would revolt and go back into the construction of clothes. You go back and forth when you've covered the same topic for a long time. Anyone reading your writing over a long period would find inconsistencies, but I think we always feel differently; fashion is about change, and wanting to escape tedium. The same is true of writing.
More recently, your criticism has focused on how many ready-to-wear designers are crafting luxurious essentials, and how the practical is dominating the industry. What effect does that have on more fanciful designers, or customers?
It's a turning point, I think, for so many reasons. We don't have a younger generation of designers who have the kind of creativity we saw in the twentieth century and in the early twenty-first. It's so driven by profile and big brand experience, but without a sense of risk. I think the audience doesn't have that quality of risk either. We live in a time where people want to be casual. They want certain sneakers or certain handbags. But there's a breakdown in the entire chain—without designers taking the risks, you don't have retailers who can explain risks to their customers, or magazines who can describe it to their readers.
I certainly believe in an evolutionary cycle, and it's important to remember that the history of fashion is only 700 years old. I think it's a long-term problem because the industry has always been influenced by a handful of people. Karl Lagerfeld used to say to me: it only takes two or three people a decade to make the thing move. We don't have that now. Maybe we will, fifty years from now.
The changes in media have also placed a huge burden on other types of cultural workers—fashion designers are expected to do so much, to be creative directors moving at a hyper-accelerated pace. How have those structural changes influenced the way critics and designers relate to each other?
It's funny, around the time of the recession, everyone was very nervous. This was coinciding with the beginning of social media. I remember talking to François-Henri Pinault and telling him he should make individual blogs for each of his houses. And he was like: why? Now when I look back on it, they've done that, but on Instagram, and not nearly to the extent they could.
I don't want to be an entrepreneur, but I like speculating. I like to fantasize plots about other people. That's why I was talking to Pinault. I remember telling Tom Ford once that he should do these spartan, sunny, little soft-porn movies, all the products embedded into a witty story with Billy Wilder-style dialogue. I was basically telling them to bypass the media.
To be honest, I'm surprised to hear this idea. I think of you as a writer who always fought for access in an industry that tries to keep critics at a distance.
As a writer, you can certainly immerse yourself in the field. There's a natural relationship between artists and critics, and often it's adversarial. I think critics are very curious about the creative process, but fashion is also a complicated business. That's why great fashion designers often have partners who handle the business: to keep two worlds. The difference is that other art forms don't have diffusion lines.
As a journalist, I always felt like I wore two hats. By the time I got to the Post, I could just walk into a designer's office. I would go to Oscar de la Renta or Bill Blass. It was a dream, in hindsight. A lot of the time I wanted to talk to the business partners rather than the designers because I learned as much—in some cases, more—about the work. There were times when I wrote a straight reported piece or times I went in as a critic, but I always had knowledge of both sides.
To be honest, Haley, I always wish I knew more fashion history. It's incredibly helpful to know what was happening in the 18th century. Everything is less spontaneous now. You don't have the same access. Karl was the last person who had an open door to a fair number of journalists. Now you gotta make an appointment, the PR person wants to be there, sound bites are all ready. I don't like to disparage the designers because I know too many people are asking for their time, but it does create a more manufactured sense.
There have been some pretty notable instances where you've had your criticism criticized by designers; specifically, Giorgio Armani and Hedi Slimane, as well as Oscar de le Renta. What has that experience been like for you?
Puzzling and funny. Back when, let's say, Armani banned me, I remember walking into the Gucci show and all these reporters asking for comment. I didn't even know yet.
Sometimes I think they're just wagging the dog a little bit. Certain designers like to blow off steam. I like that version better, when they just say it to your face. Oscar was like that, Donatella Versace is like that—all the obvious people. I've had designers call me and scream, but then they're nice to me the next day. They still invite me to their shows. I won't say it in print unless I'd say it to their face. I always stood my ground.
Do you think fashion critics and fashion designers have an equal amount of power?
"Fashion critic" is a relatively new concept. Fashion writers are not. You have them in the 1800s, and then the editors of the twentieth century who became very influential. I think that was the tradition for a long time, an editor bringing the designer's vision to the world. Then there are the English critics of the early twentieth century; I think of Kennedy Fraser at the New Yorker as putting a real stamp on the form, with a wonderful sense of humor and language and history. But fashion writers were not really called critics. Amy Spindler was the first at the Times, and she really lobbied for it. In the 90s, there were more critical pieces; I think we all felt the same way, that we wanted to break this industry down as a sociological phenomenon and with a straight review.
Many of the writers that you've mentioned distinguished themselves by taking on a fair fight, like Kennedy Fraser and "The Fashionable Mind," or Amy Spindler's critique of "heroin chic." They saw fashion as something that needed to be argued with in order to be understood. Is that what you try to do with your criticism as well?
I do. Amy was so fierce about that. She hated people lying to her, fashion executives especially. I do feel like I wag my finger at so many people. The fun reviews are either when you hate a collection or love a collection, you know? And you can write with as much passion and vigor. You want to show to the reader why it matters. And I think in the absence of creative passion, and the absence of people doing very challenging, weird work, you have less to argue with. Maybe that's a problem that's always existed. Maybe you had people who looked at Courreges in the sixties and said this is amazing, and then fans of Chanel would say are you crazy? I'm looking at what our standards should be. I think we should ask: is that going to move the needle?
I have one last question for you—at this moment in time, what do you think a fashion critic should do?
Cut your copy by fifty percent.
Haley Mlotek is a writer, editor, and organizer living in Brooklyn. She is the co-chair of the Freelance Solidarity Project, a distinct division for freelance digital media workers within the National Writers Union. Her work has appeared in The New York Times Magazine, The Nation, _ and_ Hazlitt , among others. She is currently working on a book about romance and divorce.
Interview:

Haley Mlotek

Photography:

Adam Katz Sinding

Date:

March 25, 2020