Keep it Light with Dsquared2, Salomon, and Feng Chen Wang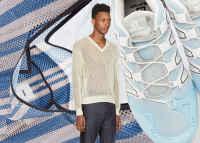 Open your windows, let some air inside. Keep it light, airy, even revealing—we can all use some levity, even in our wardrobes. Think: mesh.
Missing the abandon of your middle school soccer field? Throw this over your shoulder—in a mesh knit reminiscent of a scrimmage pinny, the Chem Tote will never lead you offside.

As much as we love a skirt moment, there's something to be said for long, flowing shorts: "Yes, please." Breathable mesh in delicate white makes for an elevated take on the seasonal staple.

Studying in London means this designer has a degree in Spring-showers—feel the breeze.

Take the synthetic technicality of mesh and make it raw—featured here in ecru cotton. For that 2020 vintage feel.
You won't get far with wearability if you forget all about breathability, but these sneakers have got it covered with perforated details and mesh panelling. In a powder blue to match the sky, there's no limit to how high you can climb in these.