Steve Lacy's Yellow Brick Road
The Internet Bandmate and Solo Artist on Mom's Approval and Forging Your Own Path
Interview:

Khalila Douze

Photography:

Aidan Cullen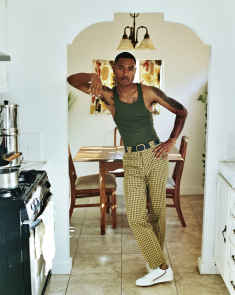 It's time for Steve Lacy to move out. When I enter the front door of his childhood home, parked on a corner where two quiet streets meet in Compton, CA, all I see are things. Clothes, bags, shoes and other miscellaneous items are scattered across the floor—some forming mounds—and the pegs of a family of guitars poke out from a corner across the living room. "I feel selfish. I want to give my mom her house back," the 20-year-old producer and singer-songwriter says when explaining that he's been considering an alternative living situation.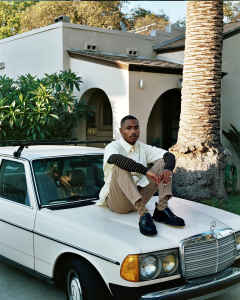 Getting his own place will be a new adventure, but Lacy's used to moving around and experimenting. In fact, he craves it. In high school, the young musician jumped between three different schools in search of a musical "purity" he experienced in ninth grade—one that could only emerge from being in a new place and from his receptivity to change. As a new student at Washington Prep in South Central, a school where he knew no one, he met The Internet's former keyboardist, Jameel Bruner, and was forced to accept his self-proclaimed identity as a band geek. Today, three years after he joined The Internet, and just two weeks after the release of their fourth album, Hive Mind, Lacy is much more comfortable in his skin, and still hungry for new challenges. His delicate, hypnotic melodies and effortlessly emotive chord progressions are what he's known for, standing out in both his solo project Steve Lacy's Demo and in his contributions to the band, formed by the enchanting singer-songwriter Syd and celebrated producer Matt Martians.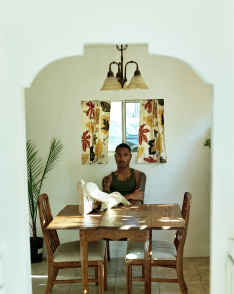 So far, Lacy's story has been pretty magical. At the behest of Bruner, Lacy started practicing with The Internet while still in high school, and found himself in an executive producer role on their Grammy-nominated album, Ego Death. Since then, Lacy's curiosity and eagerness to try new things—things that would fill any young talent with fear or anxiety—has led him to studio sessions with the likes of Kendrick Lamar, Ezra Koenig, and Solange, as well as a modeling gig on Virgil Abloh's Louis Vuitton runway, arguably the most important fashion show of the year. When talking to Lacy about all of this, he appears to be extremely discerning, pausing to answer questions and responding in a hushed voice. At other times, his position is fervent, immediate, and clear.
Khalila Douze spoke with Steve Lacy on an afternoon car ride from Compton, CA to Orange, CA, while he enjoyed his first meal of the day: a breakfast burrito and horchata. From Young Nudy to Theo Parrish to Prince, Lacy's eclectic playlist soundtracked their chat about figuring it out as you go along, Mom's approval, Joni Mitchell, and the importance of living in the present.
How does it feel now to have put out a second album with The Internet? It's gotten really good reviews.
I feel really good about it. I'm just grateful to be with people like this, family-oriented, and feeling-oriented. We're all pretty sincere, genuine people. It feels great to be in such good company. I feel like they raised me because I was like fifteen at the start of all of this.
What does a typical day look like for you now?
Things are pretty spontaneous. My day is probably like: [My friend] Alan comes through, we link up, go eat food somewhere. We make the small events big events, because that's all there is to do over here... going to Jamba Juice like, "Yo, we're about to get lit. Get these smoothies." The little events are monumental. Then, I might come back home and make some beats as he edits photos. I might go on a date. People think I'm living such a glamorous [life], but it's really normal.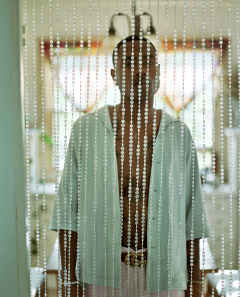 It was amazing. She's so sweet and so humble. She's open to letting me stretch. I know some artists are very controlling [with] the sound that they want, but she was very organic. I played some chords, she hummed, we sang together. Just really organic.
Have you had experiences with other major artists that are different? Or, is it always like that?
Yeah, for the most part. You just gotta find your place, like where you fit in. I try to blend [in] like a chameleon and see my spot in the painting, to fit in. When I'm working with artists, I don't try to make my shit completely theirs. It's a fusion. Whatever I make with someone is not the same as I would make with someone else, or myself.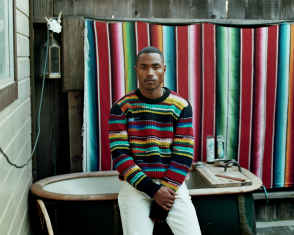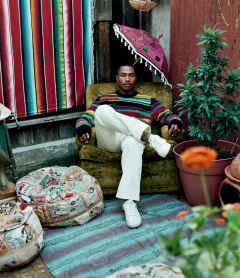 "It all comes down to Mom's approval. That's the only approval I really give a shit about."
Do you find that other artists come to you with something in mind already, in terms of what they want from you?
I would say that people come to me for my chord progressions and my guitar tone, maybe. And, probably just for weirdo shit. Steve Lacy is that dude.
Is there something from childhood that you can point to as a source of your confidence?
It all comes down to Mom's approval. That's the only approval I really give a shit about. Her approval always came down to if I liked it too. She kind of sculpted me into my confidence, and just doing whatever I felt I liked. I have a perfect example. I started to dress myself in 5th [or] 6th grade. I just started to put on my own clothes. You know it's all trial and error as a kid. You throw on some shitty outfits [until you] get to the point of like, "Wow I'm killing shit." I went through so many phases. I would throw on some crazy shit and be like, "Mom, what you think?" We do the same to each other. We're both honest. Sometimes, it would be too outrageous, but she [wouldn't] say like, "Boy, you look crazy. Take that shit off." She goes, "Yeah, if you like it, I love it."
Are you working on any more solo stuff?
Not now, but soon. Whenever I find some time for Steve Lacy, I'll make some stuff. He's too busy giving right now. But, it's okay.
Do you find that hard to balance? Do you have to check out from one to focus on the other?
Yeah. Now I'm focusing on giving—giving my inspiration and my creativity to others who it will inspire. This is my giving period. Then, when I get some time for myself that's when you can't get a hold of me. I'm working on Steve Lacy shit.
Is that how you are when you're working on your own music? You retreat from social activities?
Yeah, because it takes a while to... I call it "get into my groove." That takes days at a time of just being at home experimenting with sounds. I haven't had consecutive days where I had nothing to do in a while. Once I get into my groove, then I can kill shit.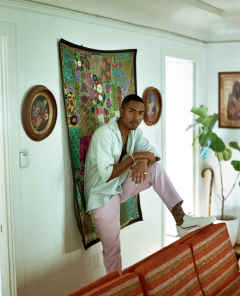 What inspires you to write? Do you still make songs on your iPhone?
I'm on my laptop now. I'm not broke anymore. What inspires me is living real life. Going through actual shit. It could be small things too. Anything, like good music, good art. I'm not blocked into one thing I'm inspired by. I like to fuse inspirations into one big thing.
What would you say the last most inspiring thing has been for you?
Joni Mitchell. Solange. I like to ask artists, "Who are you listening to now?" Solange said, "Lots of Joni." So I'm like, okay, let me check this out. [She] inspired me a whole lot. Like, my vibrato. I love her vibrato.
You also call your music "plaid." Tell me more about that.
In the simplest way to explain it, plaid is just a mash of inspiration. Going in weird patterns, but all in unison. My sound is just like a plaid shirt of different shit that I pull, and shit I'm inspired by.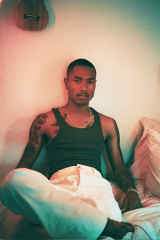 How was the Louis Vuitton show for you? It was such a big moment in fashion, and arguably the biggest show this year.
I never think about this. I live in the present always. So, it's a blessing and a curse. Every once in a while, I'll be like, "Whoa, that's crazy." But, it's quick and then I forget about it. I guess it was pretty big, though. I didn't expect opportunities like that. I'm a band geek at heart, so when shit like that pops up, I'm like, "That's cool. Sure. Let's do it." I feel like Jim Carrey in Yes Man, I'm just open to opportunities. It's gotten me into some pretty cool places, I think.
With everything you have going on right now—The Internet's Beats 1 show, the new album, performances, modeling—what part of your career is most exciting to you?
Creating. That's my favorite part. [Studio time]. That's all I want to do. Everything else is time-consuming and stressful, but I keep a happy face. I'm here. But, at the core of it, that's all I want to do.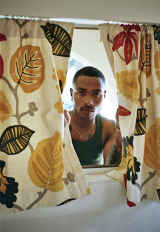 You told The FADER in 2016, "It's some days I wish I could go back to not knowing what I'm doing." I'm wondering if you still feel that way, and if so, what are the things that trigger that feeling?
I think it just comes down to the pure feeling of it being so new. I chase the feeling of newness. I think I would rephrase that to say, "I miss when it was so new." It's like you're finding treasure. Now, it's not new to me anymore.
It seems like your career so far has been this positive, kind of magical experience. Are there any challenges that you've experienced, things that have been less magical or obstacles that you've had to overcome?
I think just adapting to fame. It's weird. Being known, unexpectedly. People look at you like [you're] a perfect Barbie doll for them. It's a weird thing.
Yeah, because in my head I still feel nothing has changed and I'm still the same kid. I am, but the flip side is it's not. So, yeah it's kind of strange going to family outings and wanting that refresh. I'm with family, [and] I don't want to think about work or any of that. However, all they want to ask you about is shit like that.
Are there any artists who you look up to, in terms of thinking about where your career could go?
Yeah, very strong no. You just can't chase anyone else's path. That's just the wrong thing to do, any time. You can't look at someone else's path and be like, "That's what I want!" That's the wrong way to do anything. I'm trying to create my own yellow brick road.
Do you consider moving out and getting your own place as a sort of rite of passage?
Trust me, if I had space, I would still stay home, honestly. I like it, but yeah I just gotta go. I'll definitely still be there just kickin' it. It's still home, but I need a secondary place to put all my shit.
Khalila Douze is a freelance writer and tarot enthusiast based in Los Angeles. Her work has appeared in The FADER, Pitchfork, The Outline, and more.
Interview:

Khalila Douze

Photography:

Aidan Cullen

Styling:

Brittny Moore

Production:

Emily Hillgren