Paranoid New York with Rapper Dave East
The Rapper on Growing up Between Harlem and Queensbridge, and Nas's Cosign of all Cosigns
Photography:

Mark Whittred

Styling:

Ani Hovhannisyan

Grooming:

Tim Mackay

Interview:

Thom Bettridge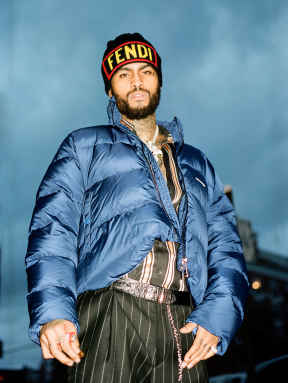 "The first thing I tell people that aren't from here is that there's a lot of different New Yorks," rapper Dave East tells me in the restaurant of the legendary Harlem jazz club Minton's Playhouse. The people around us are ready for a fashion shoot, but East has appeared fully iced out and two hours late. Slime-green Moncler puffer. Sequined Gucci hoodie. Black- and white-diamond eight-ball chain. Sitting in our booth at Minton's, he twists up and lights his second Backwoods in 15 minutes, sipping on a tiny bottle of juice called "Black Ghost" that he has purchased on 126 and Madison, on his way in from New Jersey. East was raised about ten blocks from where we sit, but he doesn't live in Harlem anymore. His face is now too recognizable to walk freely out on the street, but he is quick to mention that he's just over the bridge and comes to visit the neighborhood almost every day.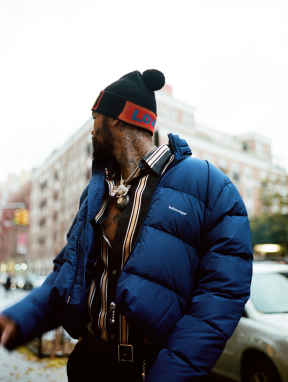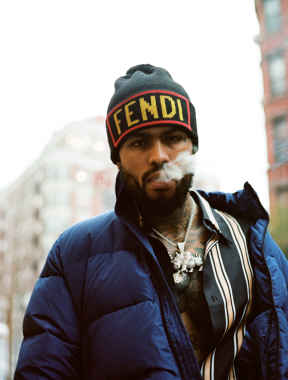 "I grew up in Harlem, but I also grew up in Queensbridge," East continues about the Janus-faced nature of Gotham, "I would get in trouble with my mom in Harlem, catch the train, and go to my aunt's crib. With my moms, I was under close surveillance. So Queensbridge is where I got into my street shit."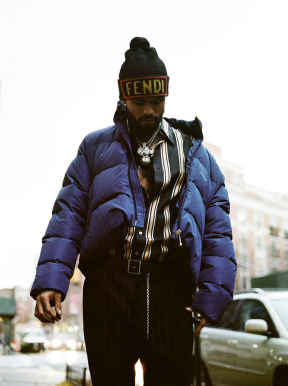 East is the type of "real rapper" that people nostalgic about 90s hip hop refer to when they lament that the genre has been ruined by skinny jeans and molly water. He himself still looks the part of one of today's rap rock stars, cutting a long figure at 6'7". As a teenager, he played on AAU basketball teams with the likes of Kevin Durant and Michael Beasley. "90% of my team went to the NBA, or at least Division I basketball," East remembers, "I thought I was going to the NBA. I thought I was going to be shooting guard for the Raptors or something. But I was playing at Towson and I got in trouble. It was the first time I got in trouble for real — I got caught with a gun and locked up in Baltimore City. So when I got out of that, I lost my scholarship. I went to University of Richmond my first year, but that didn't work out. I didn't want to have to deal with people judging and shit, you know? That's not like a normal thing on college campuses from an athlete. With rap, they love you for that more. But even now, I got to watch. NYPD can't wait to catch me with something, so I got to move real strategically."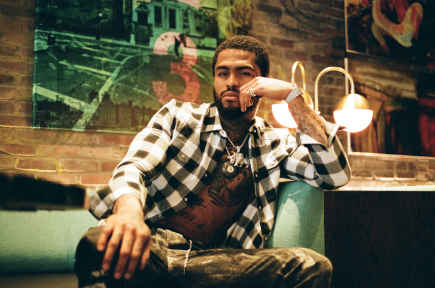 The fact that one can wake up and have their whole livelihood vanish — that something like bad luck with the cops can immediately derail a childhood ambition — is a trait embedded in East's personality and work. It's the other side of hustle, one that permeates his stories about making $12/hour folding towels at Equinox, immediately spending his whole check, wanting a bigger check, and then recording his first mixtape on a durag-wrapped mic in his neighbor's living room. Sitting in Milton's, he cycles through these stories with the fluid verbal cinematography of a classic New York rap song, which makes sense given the cosign that completely changed East's career: "When Nas's brother Jungle told me that his brother was playing my shit, I was like, 'Jungle is just talking shit.' But then he went on Angie Martinez's show and shouted me out. After that, shit has never been the same. It was the cosign of all cosigns."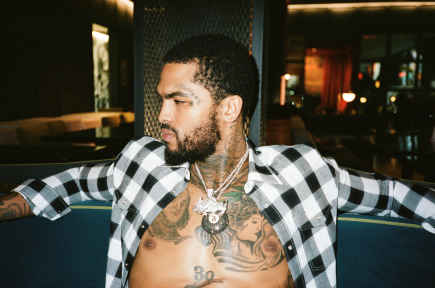 Yet despite the breaks he's gotten, East insists that resting on any kind of laurels — not constantly recording mixtapes, or having stylists scope Instagram for new looks — could immediately spell demise. His debut studio album, released earlier this year, is aptly titled Paranoia: A True Story. The beat for its hit song, "Phone Jumpin'" crossfades violently back and forth between the string section of Busta Rhyme's iconic "Gimme Some More" and waves of sound that resemble mutated sirens. It sounds like how being ripped into shreds by the city's chaos feels. "New York is a paranoid city," East reminds me, one whose glacial traffic and shoddy transit system gives its residents the sense of being cosmically fucked by an invincible bureaucratic god. In almost every industry, it is a metropolitan hub that is constantly inundated with new talent. New guards ready to overtake old: "You know how many people rap in Harlem? It don't make sense. I could get you 10 dudes right now that can rap as good as me. They can rap their ass off. But they just don't have a whole lot of shit. Do you know how many dudes on the scene could kill NBA players? But they didn't have the same path as the kid who went to the NBA. So I'm very vincible, you know what I'm saying. People can't wait to see this shit fall. That's what happens with any success. You have to get it, but then you have to get behind your shit."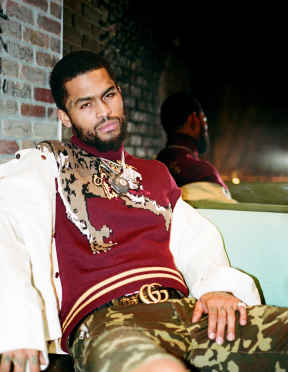 Amongst the challenges East has his eye on is the relationship between his lyrically heavy work and the increasingly mumble-inflected output of mainstream rap. He can't help but roll his eyes when mentioning his compatriots in the XXL Freshman Class, which included Lil Uzi Vert, Lil Yachty, and 21 Savage. "They hot. They hot as shit. But us making music together is a stretch, and my real fans know that. I just did a track with Uzi, but I'm not the biggest fan of the song, just because that ain't me. We all could get super high, get an Air BnB, listen to Metro Boomin, or one of these beats that's killing the club, but that don't really take too much. For an artist like me that's lyrical, that likes to write and do research on the dudes before me, I just really want to talk some shit and have you listen while the others are turning up. Future ain't popping 40 pills a day and drinking all that. But he's saying it – 'I'm on my 15th molly'—and the people that are going to go try that shit are going to end up in a fucking coma somewhere. I feel like when I grew up music was aimed toward the hustlers, the dude that was selling the drug, not the user. Now it's more the junkie. This is the clientele side! Before you wanted to be that dude who had it and was getting his money. Now it's the fiends ruling it!"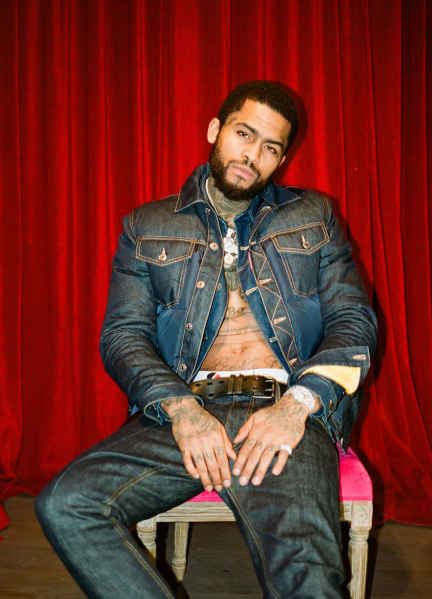 The sell-side — the paranoid side — of drug-dealing is a central component to the narrative of New York rap's quintessential rags-to-riches narrative. But the client side — the side of blissful excess and consumption — is a narrative that is much more relatable to mainstream America. We as a culture relate to things by buying them and clicking on them. We have Netflix for stories and trap music for head-banging in the back of Ubers.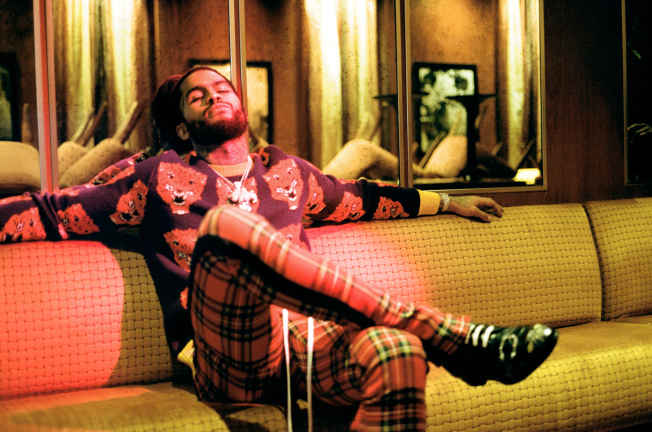 Where does the impulse to think our lives can become a story come from? Does it — as Busta Rhymes describes in the intro skit to "Gimme Some More" — come from a kind of mystical head injury that happens to us early in life? Dave East's commitment to the narrative potential of his music at times seems hopelessly old school, but when he speaks about himself the meaning behind it is unavoidable: "I've got so many stories! I want to tell stories about my upbringing, because I feel like a lot of people blame their family for the way they life be. But that's life. Everybody ain't blessed with cribs like the Huxtables. I had crackhead uncles, I had aunts that would rob me and shit. I ain't spoke about none of that because they're still alive, and I've got to deal with how that's going to affect them. That's my family. Shit, I still gotta see them at cookouts! It's a fine line, but I feel like these are stories that need to be told, because I know there's another kid somewhere that's going through the same shit and not understanding why my family has to be like this. You can still get rich. You can still be that different person in your family, regardless if your family is dysfunctional or whatever. There's a lot of drama I ain't even spoke on, you know what I'm saying?"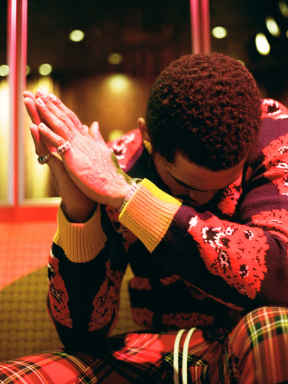 Stories, you could say, make sense because everyone has one. That, and something to be paranoid about.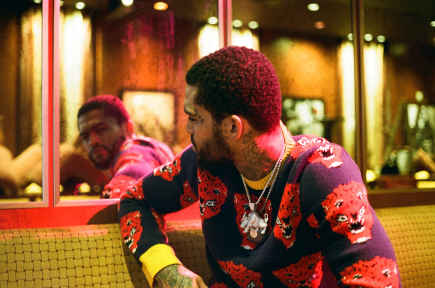 Photography:

Mark Whittred

Styling:

Ani Hovhannisyan

Styling Assistant:

Raymond Gee, Gabriela Rosario

Grooming:

Tim Mackay

Video:

Austin Nunes

Production:

Ani Hovhannisyan

Production Assistant:

Tim Mackay

Interview:

Thom Bettridge