with Marni, Kiko Kostadinov, and Pyer Moss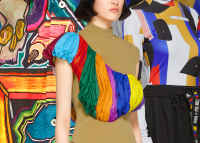 Can a person wear art, or just artifacts? What does one have to wear (and to where?) in order for it to be Artwear? From Impressionism to Cubism, we highlight some of this season's wearable masterpieces, from Kiko Kostadinov to Pyer Moss.

Calvin Klein 205W39NYC Multicolor Neoprene Skirt
Is that a garden through a steamy window, or is it merely the impression of one? Perhaps most revered for its accurate depiction of light, before photography, there was Impressionism. This neoprene skirt in "Poppy field/black" allows you to wear the impression you wish to have on the world.

Marni Off-White Venere Draped Skirt
Running the gamut from pixelated rendering, to Hellenistic cut-out, to blotchy watercolor, this draped skirt boasts a patchwork of prints celebrating nudes across the ages. A stringy, unfinished hem is an ode to the raw canvas in your studio. Wrap yourself in the material most conducive to creativity.

Paul Smith - Multicolored Tailored Short-Sleeve Shirt
In what can only be considered a crude homage to Picasso's portraits, this tailored short-sleeve ups its deadly factor with a nod to vanitas through its skull embellishment. It even goes a little further to include a tube of paint—making for meta menswear. A cubist vase on the back solidifies the referential look.

Kiko Kostadinov - Tan and Multicolor Gathered Bodice Insert Tank
Why limit yourself to patterns when you can embody an art form through wearable sculpture? With billowing pleats in cerulean blue, cadmium red, pthalo green, Indian yellow, heliotrope and ultramarine, this Gathered Insert Bodice Tank Top functions as both palette and painting.