Prepare for Lift-off in Prada, Panconesi, and Off-White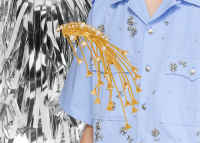 It takes temperatures of up to 1,300 degrees Celcius to create magma, and Simone Rocha's Victorian red earrings bring the heat to any 'fit while remaining lava-like in texture and hue.

No longer reserved for the Big Lebowskis of our tender world, bowling shirts have made their way back into our cultural atmosphere in a big way. However, this Prada bowling shirt shines brighter than the rest. The crystal-embellished appliqués against the powder blue poplin is reminiscent of the sky at dusk as the constellations reveal themselves star by star. As the song goes, catch a falling star and put it in your Prada pocket.

Featuring metallic fringed detailing in a silver-tone throughout, the pompom pouch is galactic cheer-gear for going from extracurricular to extraterrestrial. Now then, who's got spirit?

Seemingly pulled from the Mad Max: Fury Road prop box, these sunglasses are in fact equipped with 100% UV protection and a detachable leather trim in silver. As the earth heats at an alarming rate, it should come as no surprise to anyone that apocalypse-ready gear is on the rise as well.

Panconesi, a newly launched brand exclusive to SSENSE, is the brainchild of Florentine jewelry designer Marco Panconesi. Formerly at Balenciaga and Givenchy, Panconesi reimagines modern jewelry with an affinity for the ancient worlds. This gold single arch earring constructed with crystal-cut detailing cascades like a shooting star—make a wish!