High Time You Pinstripe Your Closet
Corporate Cosplay from Alyx, CDG, and Thom Browne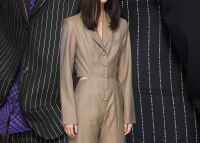 The pinstripe work suit was originally used as something of a uniform, to demarcate employees of London banks. These days, when the world's most notorious CEOs wear hoodies and pool slides, suit-and-tie professionalism feels more like costume than custom. Rigid social expectations of formality and the ceremony of business continue to disintegrate, and wearing a suit is now more of a game of dress-up than anything else. Here, seven pinstriped garments to have you participating in the corporate cosplay of the moment.

Materiel Tbilisi Beige Open-Back Jumpsuit
What's easier than a two piece suit? An elegant jumpsuit in a rare combination of pale blue and beige. With a lower-back exposing slit revealing a humble amount of skin, this is "business in the front, party in the back," and on the side, too.

Alyx Black Pinstripe Tracksuit Trousers
Remember when UFC champion Conor McGregor wore that pinstripe suit on which every stripe was actually the words "Fuck You," in tiny text? This is the same idea, sort of.

Comme des Garçons Black and White Stripe Wool and Poplin Shirt
In traditional CDG fashion, here's something that seems straightforward until you locate the kink. This appears to be a standard oxford shirt, but with a patch of dark chalk-stripe across the back that hides beneath your jacket. You're really special, underneath it all.

Wales Bonner Black and Grey Pinstripe Baseball
Grace Wales Bonner is the master of sportswear that feels luxurious and composed enough to somehow function as formalwear. And this pinstriped baseball t-shirt is no exception. This is the high fashion version of Kendall Roy's baseball jersey/bow-tie paternal tribute rap outfit.

6397 Grey Pinstripe Perfect Blazer
A simple, gentlewomanly blazer in an oversized yet tailored cut—just the kind of lazy professionalism the return of 90s minimalism beckons.

Thom Browne Grey Down Striped Bomber Jacket
Throughout his career, Thom Browne has continued to find cheeky ways to take the suit—that conservative, all-American uniform—and turn it on its head. Here, a sporty quilted bomber is cast in grey wool pinstripe in an update on business-casual more suiting to modern life.