Getting Hyper-Bright with Sies Marjan, adidas Originals, and Supriya Lele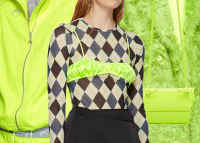 Fall doesn't have to mean sticking to drab neutrals. It's time for Fall Fluo. Leather and wool—cozy, cold weather materials—available in electrifying fluorescent. From Marine Serre to Acne Studios, here are the top picks to help you go with the fluo.

Here, a fluorescent take on texture. The Marine Serre moire jacket is convertible—its sleeves zip off, transforming it into a vest—making it versatile in both fabric and function.

If you've ever fancied wearing a giant scrunchie, Supriya Lele has something akin to a hair tie, for your body. Either a tasteful addition overtop of a long-sleeve, or a peek-a-boo detail under a gauzy top, fluorescent can be discreet, too.

Wool connotes a raw, muted shade of ecru, but forget what you think you know about wool, because it's been revamped for high visibility. Sometimes standing out must first be sought out.

There's something about the flow of fluo that suggests movement and intensity. A bright, building, velocity. Typically a hue reserved for high performance, these sneakers feel lit from below and above.

The beautiful thing about fluo yellow is that it is so nearly green. A suggestion (or remembrance) of spring. A synthetic, verdant momento. This bag will also jog your memory—just try forgetting something so bright on your way out the door.