Satisfy Your Urge with Sies Marjan, Gucci, and Burberry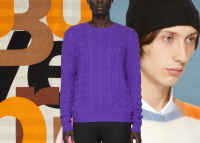 When it comes to cashmere, there's an element of luxury you won't experience wearing a plain wool sweater. Cashmere is as mysteriously lush-plush as it is lavish. The knit most likely to keep you cozy and classy. Here we round up our favorite (softest) offerings.

Contrary to popular myth, we actually only lose 7-10% of our body heat through our heads, but that doesn't mean there's a more perfect winter accessory than a cashmere beanie. Soft, subtle, classic.

Sherbet doesn't only have to be for the summer time—it can be a sure bet in the winter, too. In the lushest shade of watermelon, Sander Lak's technicolor vision stays vibrant in the cold.

This shade of antiquated magenta gives testimony to the idea that turtlenecks can be dressed up or down. A good turtleneck in the closet is worth two in the streets.

The most covetable element of the simplest garment is utilitarian in nature—versatility. This Blue Anagram Scarf lets you choose your blue. Robin's egg or denim?

For a purple that's perfectly Grimace in nature, pick from the Purple Label itself. Cable knit and cashmere, this imperial garment is the epitome of luxe.

This reversible check logo scarf treads the line between classic and contemporary, so that you can too. In a unifying hue of walnut, punch up your look with either heritage check or neo-bold.