Worn This Way: Whiskered Jeans Explained
From Britney to Balenciaga, the Facts and Fictions Behind Destroyed Denim
Text:

Christopher Barnard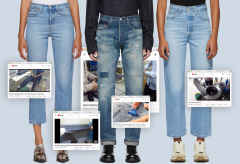 Lately, I can't stop watching denim get destroyed. Specifically, in videos where blue jeans, pristine condition, are put through a cadre of procedures that approximate wear or "whiskering," the industry term for the wrinkled lines at the upper thigh. Jeans are brought into factories around the world, where the distressing professionals then get to work on their indigo-dyed canvases. Watching this process provides the same kind of visceral satisfaction as watching ASMR or pimple popping videos, ending with a feeling of rightness and completion. After the scraping and washing, the thrashing and the cutting, the ultimate realization is: this is how jeans are supposed to look. Worn.
Whiskers approximate movement and time, the folds of a life. Whether on Hedi Slimane's haute bourgeoisie madame this season, or Tara Reid at the Chateau Marmont in 2002, the effect is intrinsic to our belief of what it means to wear jeans, regardless of the extravagance or primness of the current mood in fashion. Distressing denim embellishes its authenticity, evidence of work or life experience. But it also proves a rule about dressing that is as enduring as denim itself: fake it till you make it.
There are countless ways to rough up a pair of jeans: chemical washes, sandblasting, scraping using ruler-sized files, grinding with actual stones, and—via the latest technology—lasers. Sometimes these videos take place in larger production operations in China or Bangladesh, sometimes they are DIY videos explaining how to achieve different distressing effects by means of whatever sharp or corrosive instruments one has laying around the house. The factory clips are more compelling: the speed at which these master distressers thresh and pull the fabric repeatedly is mesmerizing, the proximity of their hands to the whirring machines eviscerating the cloth nothing short of jaw-dropping. How these videos have ended up online, purposefully documented, is somewhat of a mystery given their inadvertent demonstration of the perils of denim production. But the intricate technique and vast, resource-sucking manufacturing chains exist to supply a demand. A demand for denim that is intentionally and artfully treated so as to appear weathered, antithetical to the entire thrust of luxury fashion that demands the new, fresh, and flawless. Why then, when it comes to jeans, do we engineer such conspicuous degradation?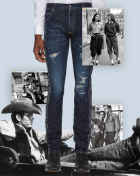 Denim fabric consists of cotton yarn that's woven and dyed. The material first became popular with soldiers and farmers in 18th century France and Italy (de Nîmes= denim, Genoa's=jeans), but the watershed moment in denim history was the 1873 patent by Levi Strauss and Jacob Davis. This gave us the riveted silhouette currently sitting in our bureaus. Strauss and Davis' customers were the gold diggers and farmers of the American West, imbuing the garment with a rough-and-ready quality. Further, the blue in "blue collar" originally referred to the denim shirts that laborers (mechanics, miners, farmers) wore. Along with durability, one of the fabric's virtues is its ability to disguise stains—especially in its raw, dark state. The original role of denim was to be utilitarian and soiled, bearing over time with the imprimatur of physical labor, far from what would be considered "fashion" (especially centuries ago). The fabric's resilience laid the garment and its wearer's life plain for all to see, dotted with badges of time and work.
By the 1950s, jeans, repurposed in films like Rebel Without A Cause or The Wild One, and "greasers" cribbing the style of mechanics, became desirable among teenagers. They haven't left our closets since. Through decades of hippie patches and embroidery, 70s punk slashing and 80s stone-washing, we entered the era of whiskering in the late 90s. Sometimes subtle, more often garish, streaky dashes spanned the groin, imitating the real lines of wear that reveal themselves over time. The style caught wind right around the same time as low-rise pants—McQueen's (crack exposing) bumsters, as well as the torn up denim by Galliano at Dior that appeared on runways as both campy and ingenious. Ripped jeans with substantial holes, studded in crystals. Denim that was shorn, washed and whiskered beyond recognition, paraded around by the pop sirens of the moment became era-defining. Paired with a handkerchief top, strappy heel, and jaunty hat, the whiskers bowing over the pressure of a Sidekick 4G on skin-tight pockets. Britney, Christina, and Keira Knightley, too, reveled in a craze for a set of washboard abs just above the waistband. A visual combination seared into the minds of a generation, electric and totally hot.
The decadent distressing of the late 90s and early-aughts (mostly) endures, seen at Celine, Balmain, and Junya. Off the runway, whiskered styles are the rule, not the exception, with unaltered pairs described as "raw" or "unwashed." Marketed as one-of-a-kind, and thus more expensive, which underscores the ubiquity of processed styles, the abiding popularity of artificially worn jeans prevails. The hands behind the YouTube videos call to mind the petit mains of Paris Couture houses, poring over seams and embroidery. While denim production is an assembly line endeavor, the idea that a different person, on any given day, would make a unique mark counterfeits an individual history upon the fabric.
In 2008, a pair of Levi's jeans thought to be from 1898 were found in an abandoned mine near Randsburg, California. Still intact, but steeped in the slow drip of centuries past. Worn by a miner before getting left behind, they were whiskered by earth in a way a factory could only dream to replicate (though over ten years later, they probably could). The pair sold on eBay for around $36k—the platonic ideal of distressed denim. Yet, I wonder if one could identify them in the street among other Levi's made in Guangzhou. Moreover, what does the allure of wearing pants that look like they've been in the ground for a century say about us? These Balenciaga jeans, along with the signature counterintuitive proportions of the current designer, Demna Gvasalia, are whiskered and worn in the same manner as 501s in 2002 or 1902. If it's true that Cristobal Balenciaga said "elegance is elimination" then, perhaps, when applied to the label's denim, elegance is also evisceration.
Christopher Barnard is a writer in East Village, NY.
Text:

Christopher Barnard

Date:

October 24, 2019