Sacred Waves with Surfer Ha'a Keaulana
The O'ahu-Based Athlete and Photographer on Activism, Disconnecting, and Why the Ocean is Her Medicine
Interview:

Matthew Dekneef

Photography:

Josiah Patterson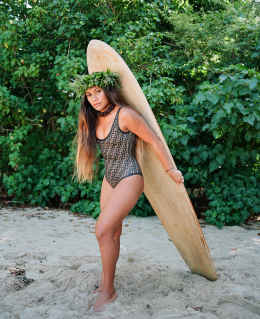 The following piece is part of the Great Outdoors, a week of stories dedicated to the ways we interact with the "outside" world.
Imagine a single road. An uneven, man-made ribbon, asserting itself like a spine. To the right, ridged mountain peaks trace the contours of what natives describe to be a pregnant woman's profile; looking left, a sparkly-skinned sea. Eventually the road terminates at the island's most western point: a lip of rock where its first settlers believed the departed leapt and ascended to the afterlife. The living, dead, all of it carved in stone. The road is the only way in and the only way out. Imagine never wanting to leave.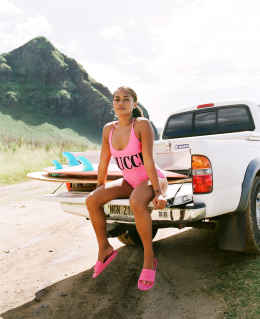 This is the highway that courses through where Ha'a Keaulana [pronounced Hah-ah Kay-ow-lah-nah], the surfer, ocean photographer, and Hawaiian influencer, was born, raised, and still lives: O'ahu's west side. There is a whispered, natural beauty to these parts, but one that is too impartial and forlorn to be mass produced on postcards. "It is not the vibe you find in Waikīkī," the 27-year-old tells me with a hint of pride. The ocean's presence, its factualness and pull, has followed Ha'a all her life. Asking her to isolate her earliest memory of the ocean is like asking anyone else about their earliest memory of air. "As kids, I remember barely playing in the streets or the park because our dad would always let us play around in the shorebreak," she says of her home base, Mākaha Beach. "The waves were our jungle gyms." It became her training ground for riding nearly every kind of surfcraft known, from alaia, the handsome slabs of koa wood that Hawaiians rode for sport centuries ago, to a beast called a Supsquatch, a hysterically large standup paddle board that can seat up to 14 people. When she wants to feel most unencumbered she discards them all. "My dad always says don't ever let any piece of equipment define the type of surfer that you are," she says. "To be honest, bodysurfing is the purest form of surfing anyone can do—that's the most connected you can ever be to reading a wave."
Her family tree, the Keaualana namesake, is rooted at Mākaha. Her grandfather, the larger-than-life surf hero Buffalo Keaulana, was the beach's first lifeguard and heralded for sailing with the original 1976 crew of the Hōkūleʻa, the deep-sea voyaging canoe that relied only on their knowledge of the stars to reach Tahiti. Its success disproved long-held theories that the first wave of Polynesian discoverers found Hawai'i on a fluke, and became a catalyst for the Hawaiian Renaissance, an era of cultural renewal for the native Hawaiian community. His son, Ha'a's father, Brian Keaulana, followed in his footsteps as a lifeguard before revolutionizing surfing as a pioneer of tow-in surfing and breaking into the Hollywood stunt industry as the leading authority on filming big budget movie scenes in the water.
This year sparked a shift, most apparent in what Ha'a decides to post online these days: activists arrested for blocking access to undeveloped lands from corporations; Hawaiian flags waving upside down as signs of indigenous distress; human hands held high in the shape of triangles, metaphorical mountains of solidarity. Her advocacy around Mauna Kea on Hawai'i Island, where thousands have been protesting the government-approved construction of the world's largest telescope on a summit that natives consider sacred ground, is disrupting the grid of ocean scenes she's become synonymous with. "We have done such a horrible job of giving tourists this false perception of what Hawai'i is," Ha'a says, as an enticing and secluded paradise. Instead she sees that all land in Hawai'i contains a veined lineage, strewn with ancient knowledge lost and found again, and a lightning rod for an awakened consciousness.
Matthew Dekneef
Ha'a Keaulana
I'm from town, so I feel like my day to day isn't as swayed by the natural environment. Because it's denser and more urban I don't feel the same sense of freedom that I do on your side of the island. How do you describe your hometown?
I like to say the word "raw." Raw beauty, raw people. It's real. That just defines this side. A lot of us might not have material things to give, but people are genuine and authentic here. You're judged by your character over what you own, and that's why I love this side so much. And, of course, it's self-explanatory how beautiful it is out here, from the beaches to the mountains. I can walk a minute to the beach and I get the raddest sunsets every single day.
And the water is just different on this side.
Yes, it's so healing. The ocean is my medicine. Being out here really grounds me. No matter where I go in the world, it really makes me so appreciative to be where I'm from. I'm really, really close to my family—we're a big surfing 'ohana (family)—and they taught me to have really strong values rooted in my culture. Surfing for me has always been my connection to being Hawaiian. The beaches are our safe haven. This whole coast just has so much mana (power) and special memories.
That you use "safe" to describe that relationship shows how trusting you are of the ocean. Because it can be an unpredictable force, too.
Mākaha Beach, it's my pu'uhonua, my sacred place. The ocean was something that I was raised in from when I was a very, very small child so I know how to handle situations that are usually dangerous for most people. I know for a fact that if I go into the mountains, I have no business there, I don't feel as tied to it. But once I get into the water, everything starts to calm and slow down. You're forced to feel the flow of the water and the current, because if you don't, that's when things can take a turn. You have to stop and listen. When you go surfing there are so many different scenarios that could possibly occur, so you have to feel the surfboard under you and its connection to the wave in order to just go with it.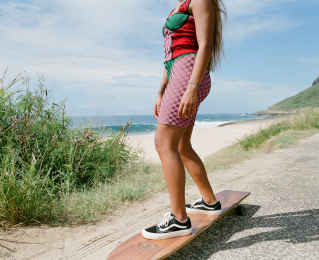 "It's weird how connected you are when you disconnect."

That reminds me of my favorite Gerry Lopez quote about his earliest surf memory: "The wave did everything."
I get what he's saying. You never 100% know what a wave will do. Surfing is about that respect and relationship. It's a love language for me, too. Literally, because my boyfriend and I both surf. I'm very lucky because he loves it just as much as I do. We might have other plans, but when the waves are so perfect, of course we're going to drop all of that to go surfing together instead.
The best part is that you can't paddle out with a phone either.
Right? It's weird how connected you are when you disconnect. Because when you're in the water, it turns everything off that isn't necessary, your mind doesn't have space for all those everyday life problems. For a moment it kind of just goes away. With the work I do in social media and marketing, it's such a weird, hard balance. Because I like to be genuine and authentic in that space, but sometimes it's just too much. Who I am is because of the 'āina (land), because of the ocean, because of my family, because of our culture. Honestly if Instagram crashed and everybody lost all their followers and whatever and it's just gone, I'm going to be fine because I've still got my home.
You grew up with this lifestyle, the beach in your backyard. How is your link to the land evolving as you age?
Since Mauna Kea this year, it really, really, really changed. Radically. Something about the day that the kūpuna (elders) got arrested, that hit me really hard in my na'au (gut). I couldn't get that bad feeling out of me until I went up there to engage with it in person. It reawakened something that I felt was always inside of me. And I knew I could do something through social media and my ocean community to educate people about it. Just because it's in the middle of Moku O Keawe (Hawai'i Island) doesn't mean that we are not connected to that place. Our mountains are connected to the ocean, and this issue helps us to remember that.
What was your first day there on Maunakea like? Did you find a role in the movement?
I cried so many times up there. Seeing all the kūpuna, their strength and sacrifice, and understanding what they did for us, for our land—that really changed something inside of me. The most recent time I went we were being briefed for a possible encounter with law enforcement. It's so messed up that we had to get familiar with something like that because of our reality, that this is really happening to people in Hawai'i for just being Hawaiian on their land. I got really close with the girls who mālama (take care of) the kūpuna there, so every time I go back that's kind of my position. We had to receive training on how to take care of them if they get tear gassed or pepper sprayed. That hit me real hard. I know that I would throw my body in front of one of them to protect them if that happened. I'm just ready for the next kāhea (organized call). I literally have a carry-on packed for the mauna (mountain) for when it happens.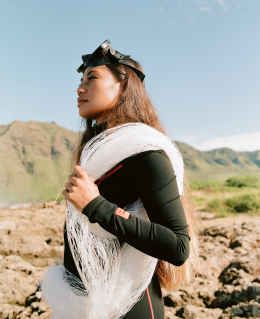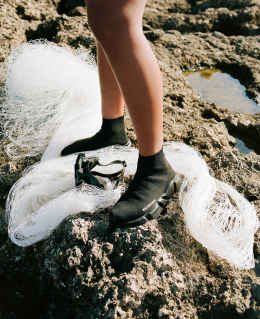 And you've been vocal about what you stand for on social media.
If you say you love Hawai'i so much, and you claim Hawai'i so hard, how come you do not show your support for this matter? At the end of the day it's all related. If you want all these places to stay pristine and beautiful, then make that part of your purpose as an influencer. Instead of take, take, take.
The land isn't just a backdrop.
Yes. Instead, try to do something for the 'āina, do something for community. Because I'm not seeing that from a lot of people with larger followings than mine. That's what kind of really gets me, like, I get it, you love to use the land for your own self benefit and to make you look cool in photos. But, you should also use your leo, use your voice, to show what's actually going on in Hawai'i.
That brings me to the subject of storytelling through place names, which is prevalent in Hawaiian culture. It's like the landscape is always insisting on being remembered in some way.
It gives you a greater appreciation knowing the original name of a place. That understanding is humbling and comes with a certain respect. And there are so many different kaona (hidden meanings) in any Hawaiian word about a place. Depending on the spelling, Mākaha can refer to the chief, it can mean "fish gate," it also means "fierce." I like the fierce one because that is a perfect explanation of the place, the people, the wave.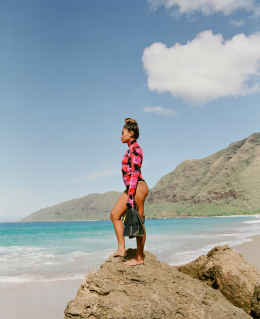 Can you share the story behind your name?
My whole entire name is actually Kaiha'ale'a. My dad had me named by Ka'upena Wong [a master Hawaiian chanter] the day I was born. They didn't know what I was until I was born, so they called him up and said, "Hey, it's a girl. Will you name her?" So, Ka'upena walked the shores of Mākaha Beach the morning I was born and saw that the waves looked very playful. That's how he came up with my name, which means "joyful dancing sea." You know, my mom is a hula dancer and that's her connection to her culture, but I picked my dad's, which is surfing. I tried hula for a hot second, but the waves were more important. [Laughs] But! I do feel like it is a dance when you surf. In that sense, my name ended up being my dad's and my mom's joys put together through me.
It is. I grew into it without even meaning to.
Matthew Dekneef is a writer and editor in Honolulu.
Interview:

Matthew Dekneef

Photography:

Josiah Patterson

Hair and Makeup:

Kaʻohi Medeiros

Production:

Juice Aguirre

Photography Assistant:

Ulu Ana

Date:

December 10, 2019