Presenting Photo Legend Nobuyoshi Araki's Latest Masterwork
Miwa Susuda of Session Press on Araki's Impact and Introducing East Asian Photography to America
Interview:

Keenan McCracken

Images/Photos Courtesy Of:

Session Press/Dashwood Books

Photography:

Keenan McCracken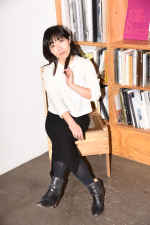 Nobuyoshi Araki is a sort of living specter. A polarizing figure of 20th century photography, his influence has been felt across generations, continents, and divergent media. His hyper-sexualized, diaristic work is mythological in stature to some, while others see him as little more than a heavy-handed voyeur. In perhaps her most ambitious project to date, Miwa Susuda's Session Press—in conjunction with Dashwood Books—has just published Blue Period/Last Summer: Arakinema, a seamless translation of Araki's experimental film projects into book form.
Originally staged using slide projectors to create a succession of images folding into one another, Blue Period and Last Summer are two distinct films that Araki intended to be seen as a set. They serve as the most striking examples of his experimentations in doctoring his own images, using chemical bleach to strip back photographs in the case of Blue Period and painting on them in the case of Last Summer. Working from 142 original slides used in the projections, Session and Dashwood, along with designer Geoff Han and color specialist Sebastiaan Hanekroot, have created a publication as true to the original spirit of the performances as possible.
Since founding Session Press in 2011, Miwa Susuda has quickly became one of the most vital, prescient eyes in the world of contemporary photobooks. She has been among the first to publish the likes of Momo Okabe, Ren Hang, and Daisuke Yokota outside of their home countries, all to swift critical acclaim. In the busy run-up to Arakinema's release, Keenan McCracken stopped by the Dashwood store, where Susuda is a full-time photobook consultant, to find out more about crossing the divide between East and West and presenting the lesser-known work of an iconic photographer.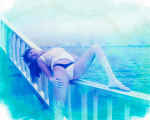 Keenan McCracken
Miwa Susuda
What is it about Araki that made you want to publish him?
Araki is basically synonymous with Japanese photography, and his work had a huge influence, either conscious or unconscious, on photographers working in the 80s, 90s, and aughts—Nan Goldin, Viviane Sassen, Juergen Teller—who in turn had a massive influence on many of the photographers I've published. So, publishing Araki is a way of coming full circle. I don't think the work of Momo Okabe, or Ren Hang, or Daisuke Yokota would be possible without Araki having done what he's done, and revisiting his work is a way of reminding all of us where a lot of contemporary imagery comes from.
He's published upwards of 400 books. What about this particular work felt different?
He's working at the intersection of three media—photography, painting, and film—and Araki himself considers this among his most important works. I agree. I think you can feel that sense of play and experimentation. He's obviously pushing himself here, and it's great when the artist is challenging themselves as much as the viewer. Not to mention that the work is just stunning, and very few people have been exposed to it.
"I'm just attracted to work that's challenging and sincere."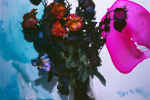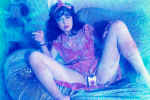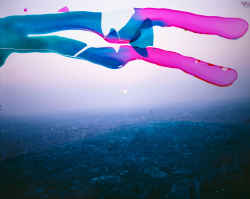 Are you naturally drawn to work that's transgressive in some way? I'm thinking of Momo's interest in gender, Ren confronting sexuality in modern China, the formal innovation of Daisuke's work.
Well, I didn't choose their work for publication based on subject matter, but you're right, I like artists that strike me in a certain way and that challenge me. But I don't think their beauty comes from a deliberate attempt to try something new. Their work is honest, and true to who they are. I'm just attracted to work that's challenging and sincere.
It's easy to forget to what extent Araki challenged people. We take these kind of hyper-sexual images for granted these days.
My friend studied Art History at Columbia University, and he took a class with a famous critic who's an expert on American minimalism. The professor despised Araki's work and didn't think it qualified as art. I totally understand where she's coming from, but she just doesn't have the experience or interests that allow her to appreciate his work, and in that way I think she doesn't know her own limitations. "Art History," at least the kind she's preoccupied with, is the development of a discourse relying on certain intellectual mechanisms that are only applicable to Western art.
Araki's suffered a lot of criticism that comes from that kind of institutionalized thinking, but the West's relationship to sexuality is something totally different. It's my job to make his work communicable to viewers in the West.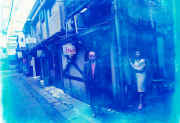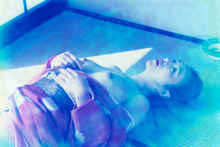 You mentioned that Ren's work might not be possible without Araki. Was the fact that Ren's work has a lot in common with Japanese photography partly what drew you to him?
Ren really struck me. His work, like Araki's, is very simple on the surface, and people can be dismissive of it, but I noticed that there's a very dark undertone. As an Asian I totally get that sensibility, so I was drawn to it immediately. Just like Ren, I recognize that I have a pretty dark side and can feel self-destructive at times, and am often uncomfortable with myself, feelings that I've carried with me since birth. Hopefully I'm not being too negative by saying that, but it's just a fact of my life. I bet it's a feeling that a lot of people identify with, and one that Ren was able to translate to his work, which is why I think it became pretty popular.
That kind of dark playfulness seemed to really reach people.
Definitely, and the fact that he made work that was affecting but didn't take itself too seriously. I remember when Ren was shooting on a rooftop during a freezing winter in 2015 for our first book, New Love, and being totally shocked by his spontaneity. Ren asked his models to put on red nail polish right before shooting, and when a part of his camera broke he used the discarded shipping tape in a garbage can to fix it right away. As a Japanese person, this kind of spontaneity is impossible. We prepare everything to perfection before the actual event—no haphazard accidents are allowed. Japanese people tend to think less of preserving the passion that goes into creating something and focus much more on perfecting the final result.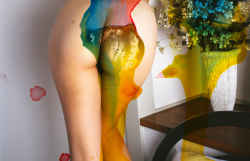 Araki's work also feels pretty spontaneous and informal…
Yes, and that's part of what made the work of him and his peers so explosive. But despite the pushback from artists over the years, Japan can still be a pretty restrictive place. That's why Session Press feels especially Japanese in nature, since I have a lot of boundaries compared to other American publishers. English isn't my first language, I'm not perfect looking, and I'm not young, but I notice those restrictions and disadvantages are in fact the things that set me apart as someone working in the photobook world in New York.
I think it's healthy to have points of difference.
Yeah, and for that reason, I deliberately chose to work with non-Japanese team members. I need their perspective to help round things out. It would be arrogant of me if I expected a Western audience to understand Japanese photography just by showing it as is.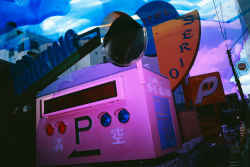 "My hope was to carve out a small but important space within the photobook world that allows voices that are usually absent to be heard."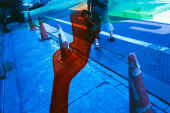 You had been at Dashwood for some time before you decided to start Session Press. What made you realize you wanted to start your own thing?
I decided to start Session after I realized that I hold a pretty unique position here at Dashwood, in that I have a great chance to meet with photobook collectors in person and build up sincere relationships that are sustainable in the long term. The online stuff is of course effective for sales nowadays but from my experience, I can say that having a physical presence makes for a deeper client relationship. I wanted to establish a direct line to people through my work at Dashwood and position myself as a kind of ambassador to Japanese photography. The essence of the photobook is in its physicality, so direct communication is important. You're never fully appreciating a photobook when you see it online.
Had you always planned to work with photobooks?
I was very young when I decided I wanted to work with art, and I was really searching for an ideal field for a long time. I picked up photography and photobooks since I knew that Japanese photography's been well received in the west but that there aren't many publishers that have it as a serious focus here, especially that are Japanese-born. My hope was to carve out a small but important space within the photobook world that allows voices that are usually absent to be heard.
Keenan McCracken is an artist and writer whose essays and interviews have appeared in BOMB, Music & Literature, The Brooklyn Rail, and more. He lives in New York City.
Interview:

Keenan McCracken

Images/Photos Courtesy Of:

Session Press/Dashwood Books

Photography:

Keenan McCracken