Calm Within The Chaos: A Mumbai City Guide
Kanika Karvinkop Takes SSENSE to India's Maximum City
Interview:

Durga Chew-Bose

Photography:

Vikas Vasudev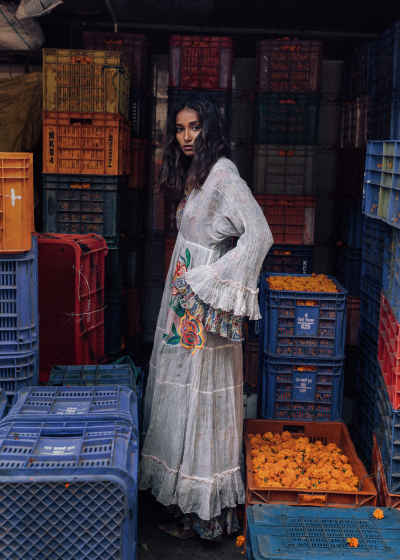 Stylist and owner of the roving vintage and concept store, No Borders, Kanika Karvinkop gets inspired on the go. "A space can bring so much to a shoot," she says over Facetime, from her home in Mumbai where she's lived for the last seven years since leaving Bangalore. "I choose my location first and then I think of the outfit." Karvinkop, who splits her time between Mumbai and New York—with plans to bring her store to Brooklyn this summer where she'll share her mix of vintage discoveries with Indian designers—characterizes her styling as an intuitive medium for situating India beyond whatever outmoded imagery and perceptions still exist of her country.
While she's inspired by older generations and actresses like Parvine Babi and Rekha, Karvinkop is motivated, too, by unlikely silhouettes that push against and reimagine conventions; that pair what's familiar, like a pattern, a cut, a color, a fold, with what might come as a surprise or redirects the eye, like a lungi worn with a blazer. "People from outside of India should know what comes from India," she says, referring to Western designers who might copy the techniques—the hand-embroidery, the beading, the batik—yet rarely acknowledge her country's long-history of craftsmanship. "But they should also know, in terms of fashion, that it doesn't have to be worn one way. It doesn't have to be traditional."
Here, Karvinkop takes us on a small tour of Mumbai's hectic streets—"It's literally like a set"—sharing her favorite spots and where she draws inspiration for her store.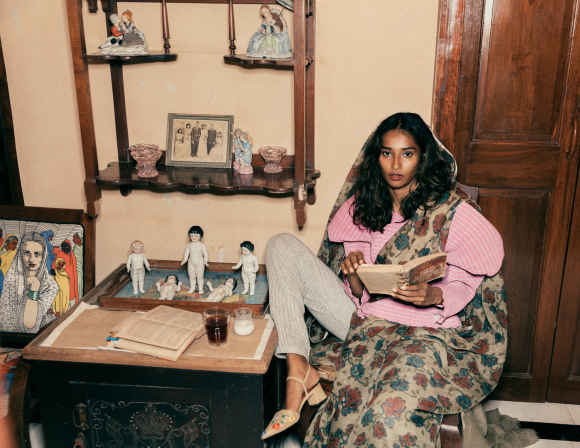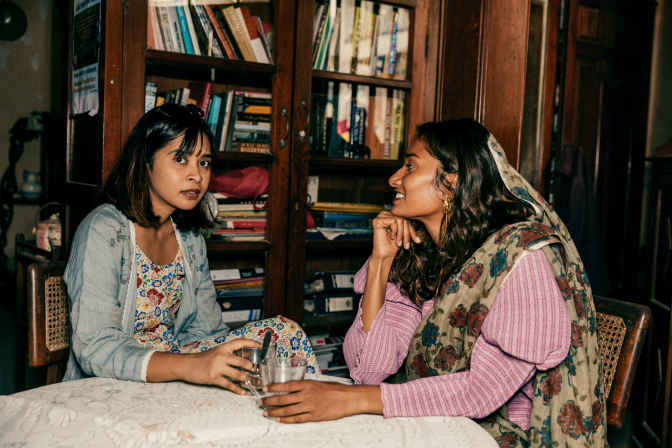 He's a designer who's been designing since the 1980s and he lives in his ancestral home, which is in this small heritage village called Khotachiwadi in the heart of the city, in South Bombay. So you get into this small lane, and it's this cute, quaint little village. His house is one of the biggest houses there and his place is part house, part museum, part studio. He's maintained it amazingly and has furniture that's nearly 200 years old, and art that's been in the house for years. My store is actually upstairs in the studio and we're working on a café together as well. Recently the government has helped revamp the whole area and do up the whole village and [Ferreira] has worked really hard to not letting anybody tear it down. You enter the village and you don't even feel like you're in a city. You feel like you're in Goa or Pondicherry. And since Bombay's crazy, people come there and experience its peaceful aura.
The Coconut Stall
These stalls are always near the bazaars. Near crowds of people. By the beach or near the joggers' park, waiting for people to finish their workouts. The man in this photo, with his gold chains and sunglasses was wonderful. He came over and started singing and smiling for the camera, and the man at the stall gave him a free coconut. He was solid entertainment for nearly 30 minutes, and it's stuff like that that just happens when there's so much chaos, so much to look at.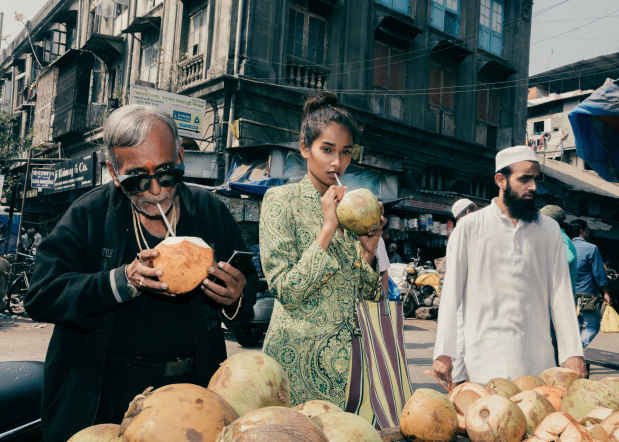 Kabutar Khana
It's probably 80 to 90 years old. It's a structure that was built to feed 3000, 4000 pigeons and is considered a holy, peaceful place, surrounded by a Hanuman Temple and a mosque. That morning, the pundits were there, feeding the pigeons. It's literally in the middle of traffic. It's crazy. I wanted to shoot there because when I was growing up, there were these Bollywood movies where these guys would feed pigeons. I remember that one movie "Dilwale Dulhania," set in London, and someone is feeding pigeons in Trafalgar Square, and I don't know why but that scene always stuck with me. When I came to Bombay, I saw Kabutar Khana, and I thought of London. They actually wouldn't let us shoot in there. We were only allowed inside the gates for 3 minutes. These men chased us out, saying that this is a space for the pigeons only. They're very respectful to them. Every day at 7am, the men from the temple come in, shut their eyes, and feed the pigeons. What I found really interesting was that there were no other birds. The crows and the sparrows stayed outside. Just pigeons. The other birds knew to not come in.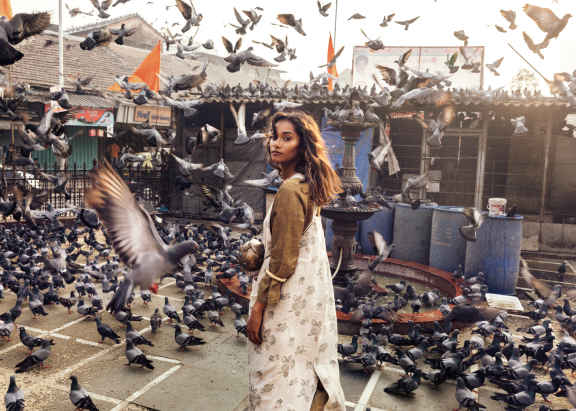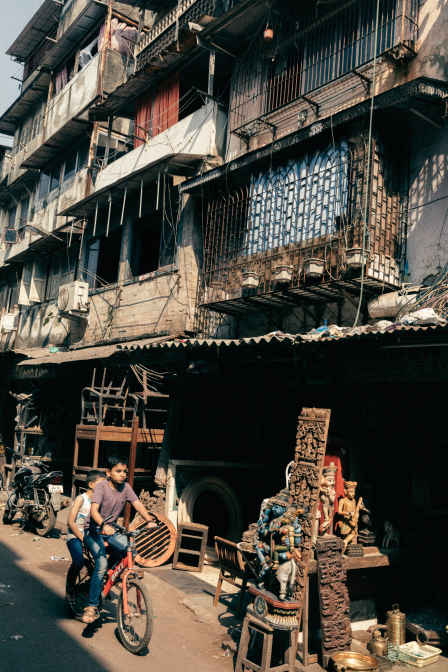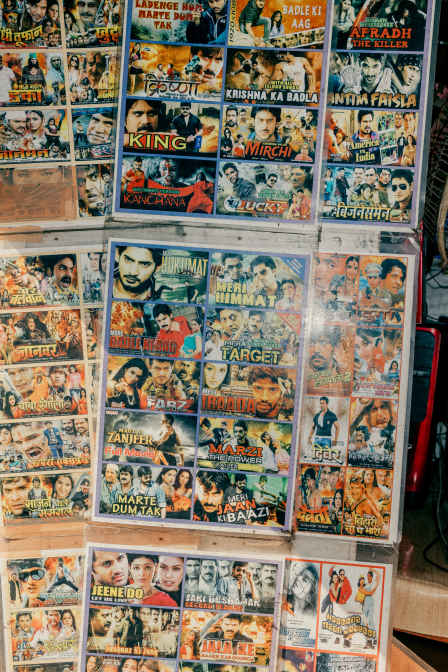 Chor Bazaar
One of my favorite places in Bombay. There's this street called Mutton Street where they sell antique goods, vintage goods, electronic goods, a lot of furniture. Not really clothes. There are a lot of sections, but where we shot, it was the antiques section. There's this one store called Mini Market and the owner has collected Bollywood posters from the 50s and 60s until now. All the originals, and all these pictures of movie stars. In color and black and white. Posters of kings and queens in Jaipur, Rajasthan. Matchbooks and coins. I could spend hours in there.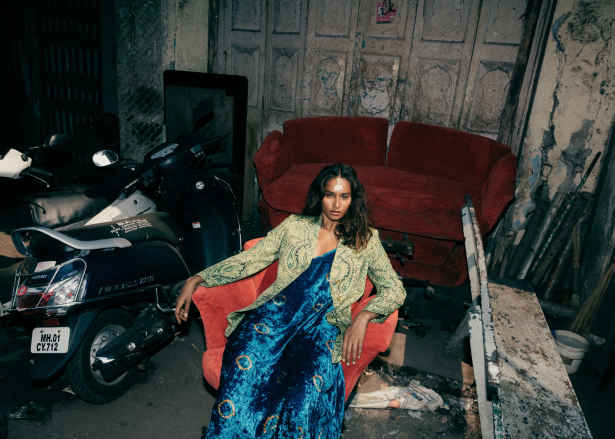 Dadar Flower Market
It's the most beautiful at 6am. The color, the chaos. It's in the middle of the city, in this huge compound, and there's an inside space and an outdoor area. There are hundreds of stalls, selling chrysanthemums, roses, white jasmine, lilies, marigolds, and outside, there are men threading the marigolds and making garlands. I really love the vibe of that place. The floors are covered with water, flowers, stems. Even though there's a fish market next door, it smells amazing. I remember going once and there were these women dressed in saris, all mismatched, stripes with floral patterns, and polka dot sari blouses. The way they mixed it up—and just to go buy flowers—I found it…I don't know, very inspiring.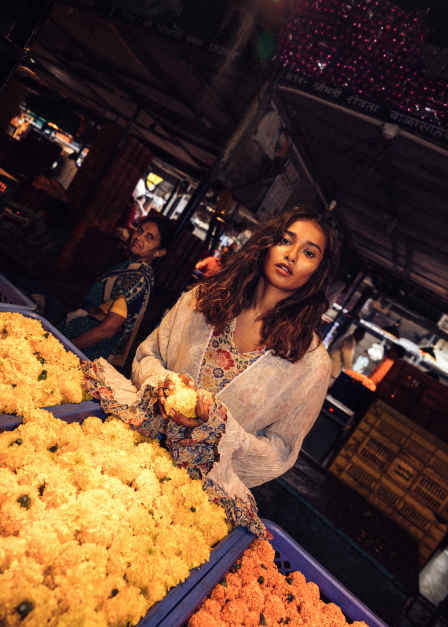 Durga Chew-Bose is a Senior Editor at SSENSE.
Interview:

Durga Chew-Bose

Photography:

Vikas Vasudev

Styling:

Kanika Karvinkop

Hair and Makeup:

Sandhya Shekar

Model:

Nidhi Sunil