The Norwegian-American Musician, Model, and Co-Star of Joachim Trier's 'Thelma' On Connecting, Control, and Being an Introvert
Text:

Durga Chew-Bose

Photography:

Kevin Amato
Four miles southwest of Oslo, on the northern tip of a peninsula shaped like the serrated point of a shark tooth, sits the suburb of Nesoddtangen. Reached mostly by water taxis and ferries, the tapered cape juts out into the Oslo Fjord. In pictures, the calm cobalt water looks as I imagine it must feel: very, very cold.
It's there that the 27-year-old Norwegian-American model and musician, Kaya Wilkins—who performs achy-soulful, moody songs as Okay Kaya and who's played alongside PJ Harvey and toured with Tobias Jesso Jr., while also sharing a producer with King Krule, Sampha, and The xx—grew up with her mother and five brothers.
As a result, proximity to water has become a determining factor for where Wilkins chooses to call home. Having moved to New York nine or so years ago to pursue modelling—in 2017 alone, Wilkins walked for Off-White, Balenciaga, and Marc Jacobs, to name a few—she's currently based in Greenpoint where she's focusing mostly on her music. "You can't really jump into the East River but just being near it is essential for me," she says. "It's like the only way I can survive living in New York." That and, Wilkins notes, the potential safety of returning to her home country if things don't pan out. "Norway has a good support system to be a human in. You can study for free, you have healthcare, and all that stuff," she says. "The reason I've been able to do what I want here is because I have the perfect plan B to go home and study. It enabled me to not feel fucked." To dream, take chances, and be ambitious, she adds. "Most of my friends who are creative, have jobs on the side. I consider modeling one of those jobs."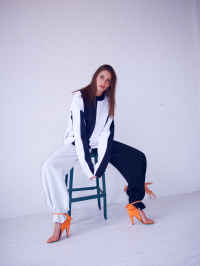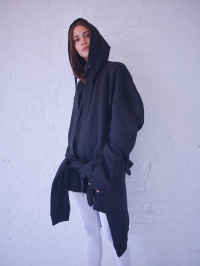 We're walking down the High Line on a balmy afternoon in October, weaving through the elevated Manhattan park's crowds. Wilkins tells me how she was actually born in New Jersey and then six weeks later, moved with her mother to Norway. Her father, she says, is "somewhere in America." I point in the direction of the Hudson River: Hi New Jersey! we say instinctually, waving our arms. "I'm a Jersey girl," says Wilkins laughing, before slipping into an exaggerated impression of a Norwegian accent; one she admits is all but gone. "It's a choice," she says of her decision to lose the up-and-down staccato intonation of her native tongue.
"My hypersensitivity to my surroundings connects me to the world but it also takes a toll."
Later that evening, Wilkins will attend the U.S. premiere of her screen debut. Thelma, directed by critically acclaimed Norwegian director, Joachim Trier (Oslo August 31st, Louder Than Bombs), is part of the New York Film Festival's main slate as well as Norway's official Oscar entry for Best Foreign Language Film. Beautifully shot in crepuscular shades of green and grey, Thelma is a nightmarish, genre-bending coming of age film that tells the story of a young woman (the film's namesake) played by Eili Harboe, who leaves the confines of her strict, religiously fundamentalist family in the countryside to attend university in Oslo. There she falls in first love with a new friend, Anja (played by Wilkins with enigmatic, seductive poise), while also contending with the emotional, somatic windfall and discord of her newly found independence. Thelma, it turns out, is in possession of or possessed by—it really could be either—terrifying powers brought on by seizure-like fits. The film's portrayal of her awakening, so to speak, considers the effects of exposing the limits of control and how they interfere with or even wreck one's chance at human relationships. Both themes—connection and control—are ones that Wilkins returns to throughout our conversation, speaking with her hands as though contained in the space between the tips of her long fingers exist whatever words or meaning she's trying to conjure.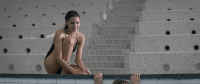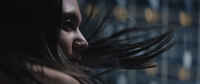 "I like how the movie explores how your body will respond if you choose to suppress trauma. It's real and it's physical," says Wilkins. "The difference between when Thelma is suppressing herself—what her powers do to her—and then when she accepts herself. It's her blessing and her curse. It's really wild."
Wilkins, a self-described introvert who "somehow manages to sing on stages and act in movies," who's more familiar with the solitary, island-like isolation of creating art ("I usually spend eight hours a day in my bedroom recording,") found that while shooting her first film was a vitalising experience, it was also an adjustment. "Being on set around a bunch of people, and then being super open, was thoroughly exhausting for me. My hypersensitivity to my surroundings connects me to the world but it also takes a toll. After each day of shooting, I'd usually go home and sleep."
"The goal is to be able to relate without shame. It's the only thing that makes me feel somewhat connected."
I ask Wilkins if she hopes to continue acting. "I enjoy showing my sensitivity and sensibilities, and my taste in art with different mediums," she says. "But some actors have these tools, how they discover their characters." Wilkins mentions her co-star, Harboe. "Eili is pragmatic and puts a lot of energy and research into figuring out how to, like, properly have a seizure on screen. She learned about seizure therapy. She's able to create a character that has little to do with her. I don't even understand how you can do that. That's magic to me. There are many ways to be an actor, all perfectly good. But the only one I know how to do is to turn inwards. Turn inwards then out."
We exit the High Line at Gansevoort Street and meander toward the Westside Highway, in search of a bench to sit by the Hudson and enjoy some quiet and shade. Wilkins, whose first full album is finished—though she's awaiting label-related matters as well as finalizing the details for a video element that will accompany each song—characterizes this next Okay Kaya project as one that was self-healing. "I've been a lot more introspective," she says. "The goal is to be able to relate without shame. It's the only thing that makes me feel somewhat connected." She pauses. "I wish it wasn't that uncommon to have real conversations about sadness."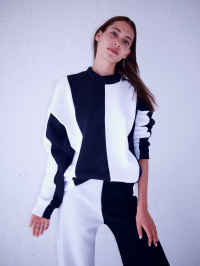 Wilkins describes the visual concept she has for one of her videos. She plans on shooting it with director Adinah Dancyger. "It's actually going to be all about how it would look if trauma became an actual physical embodiment. A clone. Like a limp clone that I have to drag along with me," she says. "Don't you sometimes feel you're actually carrying around this weight? This baggage?"
Her music, which has a hymn-like quality, slowly rising and atmospheric, echo-y, too, as though it was recorded in a tin can telephone, explores topics like heartbreak, loneliness, and the self-deprecating practice of letting go. Some songs sound like daybreak. Others: overcast. Plaintive music for accompanying you as you stare out the car window on the way to the airport, or choose to crawl back into your head when faced with a swarming room of strangers. Angsty-lite. Sweet and surrendering, with a hint of longing and mischief. "I have one song in Norwegian on the album," she tells me. "I always try to sneak one in there." While she's decided on a title for the album, she's not yet ready to share it. "Don't tell anyone," she says, lifting the sleeve of her t-shirt. Tattooed on her upper arm is a small word inked in simple, unfussed-over lettering. Like a friend might have merely taken ballpoint pen to her skin. The permanent yet somehow—I can't explain it—impermanence of how it looks suits Wilkins casually thoughtful manner. She's deep in her head, yet always looking for an approach up and out. For some lightness, a laugh.
"It's weird to be reminded constantly that I have a body."

So where does the name Okay Kaya come from? "Kind of many different factors. I really like the word, 'Okay,'" she says. "It could mean so many things. But I guess for me at the time, it was like, 'I'm barely hanging on.'" Later, when we're on the topic of her sometimes-modeling, Wilkins returns to the question of her stage name. "With modeling, the whole gig is hurry up and wait. And when they're ready, they're really ready. And they're like, 'Okay, Kaya, let's go. Let's shoot it! Okay, Kaya, we're ready for you now!' And then it's a bunch of flashes in my face and sometimes, depends on who I'm working with, we're listening to really cool music and having these inspiring conversations, and the pictures look amazing because it's a warm thing. And then there's the exact opposite where it's all fake. And people are talking to me in the third person, like, 'She needs to do this…' It's weird to be reminded constantly that I have a body. It's fun, though, too."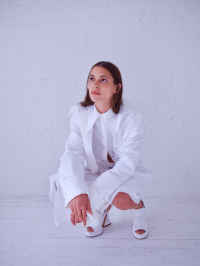 Wilkins stops for a moment, trying once more to summon her thoughts by staring at her hands. She starts to laugh. "I feel like it could be hot to be objectified sometimes. When it's in the right setting," she says. "Making shapes with my body. Movement. I identify with dancers in that way. Most days I feel like I have a body because I'm, like, grinding my teeth and my jaw gets locked! I'm just super sensitive. Other people wouldn't be sad about not being seen. But I wanna see and be seen. Again, it's essential to how I connect."
Durga Chew-Bose is a senior editor at SSENSE. She recently published her debut collection of essays, Too Much and Not the Mood (Farrar, Straus and Giroux).
Text:

Durga Chew-Bose

Photography:

Kevin Amato

Images/Photos Courtesy Of:

The Orchard

Styling:

Eugenie Dalland

Hair and Makeup:

Casey Geren / B&A