Found Objects: Artist Maia Ruth Lee's Downtown Dream World
The Eckhaus Latta Model and Director of Non-Profit Organization Wide Rainbow talks Community, Symbology, and Intuition
Interview:

Stephanie LaCava

Photography:

Heather Sten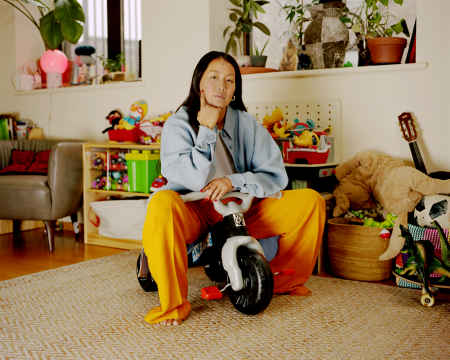 Although she'd deny this, there's a cult of personality around Maia Ruth Lee, the Lower East Side artist, mother, partner, and educator. I've known Maia since before she gave birth to her now 2-year-old son, Nima. (While pregnant, she walked the runway for Eckhaus Latta at New York Fashion week, unintentionally creating one of the most talked-about moments of the season.) Along the way, I had my son Jack and we shared not only the difficulties of parenting but those of making other things meanwhile.
In 2017, Maia received an unexpected call. The man on the line told her she was the recipient of the Rema Hort Mann Grant—a prestigious award given to emerging artists in New York City. "I almost hung up," she said of her disbelief. A year later, she'd have a solo show at Jack Hanley Gallery and be included in the 2019 Whitney Biennial.
Maia's art hints at a life of upheaval with a deep respect and interest in her homelands. The daughter of Korean missionaries, Maia moved around a lot. Her parents would go on assignment every couple of years as Bible translators and linguists. One mission sent them to a small village in Papua New Guinea, but Nepal remained home base for most of her childhood. She moved to New York in 2011 after meeting her husband Peter Sutherland—an artist, photographer and pillar of the NYC skate community—during an overseas photography workshop she put together for local children.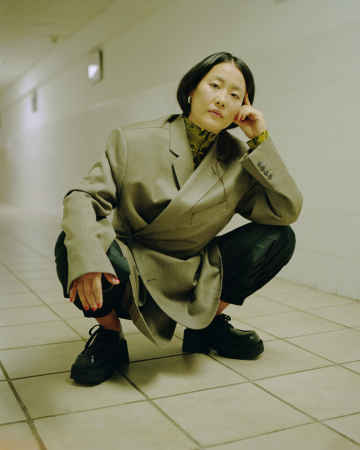 Maia's sculptures bring to mind her peripatetic childhood: replicas of luggage seen at the Kathmandu airport made of plaid or check printed tarps, fades of colors tied up shibari-style with thick ropes on all sides. There are also assorted wrought metal shapes or "glyphs"—as seen in this year's Whitney Biennial show—an automatic alphabet of found symbols salvaged from a metalworking shop, the help of only fire and welder. "The idea is that the pieces guard and protect households and spaces," she said of the objects in an interview with The Creative Independent, "but it's also about barriers as well. Conceptually I was really into the idea of working with a physical structure that protects but also divides people." Aside from a video edit room or foundry, most of Maia's work is made at the 36-year-old's studio in Gowanus, Brooklyn.Aside from her art practice, Maia is also the director of Wide Rainbow, a non-profit that helps local girls in the greater New York City area learn about the visual arts alongside working female artists (past participants have included Jamian Juliano-Villani, Anicka Yi, and Tau Lewis) and guided museum or gallery visits.I met with Maia in Tribeca in late November to talk about her childhood in Nepal, her intuitive approach to work, and using luggage as a medium.
Stephanie Lacava
Maia Ruth Lee
What's your earliest memory of engaging with language and images?
Up until I was seven, it was utter confusion. Creativity came a little later for me. We moved a lot: Papua New Guinea, Singapore for a year, then Nepal. We were a really tight-knit family. Until then, I'd been homeschooled and only spoke Korean. I remember it being international day at school and you were supposed to come in costume and carry your country flag. I didn't understand the assignment and no one could find a Korean flag, so I paraded with the Swiss one.
This makes me think of your video that was at Jack Hanley Gallery last year— "Access to Tools," 2018.
That video specifically is about memories and motherhood. The writing that I edited into the video spans over 10 years, then jumps to all the different stages of pregnancy and then after I had Nima. The video is an old survey video of Nepal that my dad shot in 1988 as our family trekked through the Himalayas and he narrates the mundane details. I appropriate pseudo subtitles to go with the pace of his speech, but it has nothing to do with translation.
Koreans will know instantly that it's not a direct translation. Otherwise, the viewer will think the speech is being translated into subtitles that are my writing, but in actuality, it is not.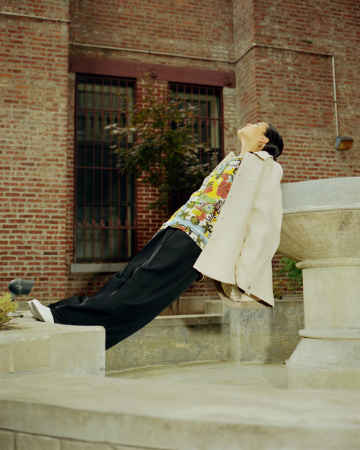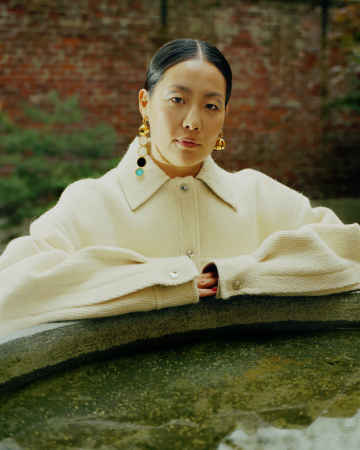 The cognitive dissonance you create is like the feeling of your childhood in a way…
And also the separation between me and my parents, between religion and culture, their lack of understanding, but also my lack of understanding of them. The video talks about my fear of being a mother. Growing up I never wanted to be a mother. The text is from a journal of notes to myself that I wrote long ago to my future child, things that I wish my parents had told me, "tools."
Like your wall of "glyphs" at the Whitney Biennial, for example.
The glyphs are discarded metal scraps from fences and windows that I gathered all over New York in different boroughs and metal shops. If you think about it, they are parts of structures, about safety, protection, but about boundaries too. I'd put them together to make these symbols. It was very intuitive, everything made on site. The welders give me 15 minutes to compose them. There are no sketches.
I was a trained painter. Painting in Korea is all about perfection, hyperrealism is considered a good painting. Abstraction wasn't a thing, contemporary art was not part of the curriculum at all. Handling metal is so refreshing because I have no idea about the context surrounding it or welding, for that matter. Symbols and signs obviously relate back to language and this compendium is almost like a dictionary of tools. The meanings that I assign them come afterward.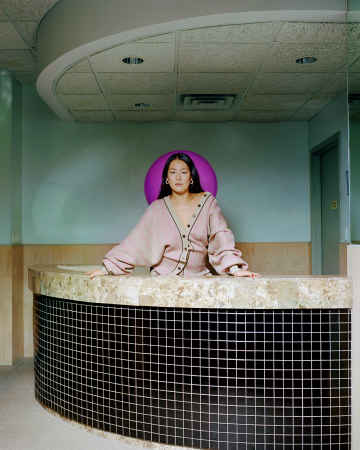 Talk to me about the title, "2020=Year of Self-Defense," which was part of the key to these glyphs that was available on the wall.
It's like a pamphlet you get handed in Chinatown. There's a bit of humor, pseudospin. It comes in many forms: astrology, psychoanalysis, offering an aspect of self-preservation. There are nine out of ninety-eight tools that I put on the key.
What I loved most about your work at the Biennial was the sculpture. You also experimented with sculpture for your show at Jack Hanley Gallery.
"Bondage Baggage" is the title for that series. I had been documenting luggage over the course of six years at the Kathmandu airport every time I went back to Nepal. Most of Nepal's economy is driven by migrant labor, a lot of young men work in the Middle East, for example. When they return to Nepal they use these bags (I'm not just specifically talking about Nepal, but a lot of developing countries pack their luggage similarly). The reason is security, to protect their stuff. The airport is infamous for taking things out of luggage. I'm sure this goes for a lot of developing countries. I had hundreds and hundreds of images of this luggage. Documentation is one thing, but I felt like the physicality of it is what is very impressive to me. I got the same materials, the rope, the tarp, the boxes, string, and fabrics to recreate some of this baggage. It's about family, migration, labor, diaspora, about boundaries, but also self-preservation.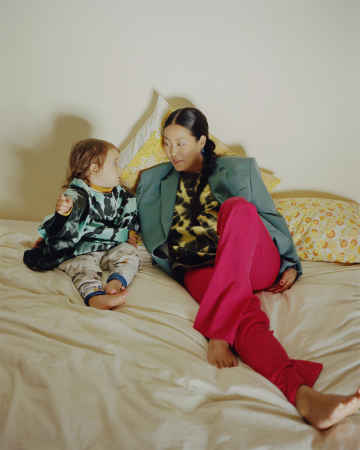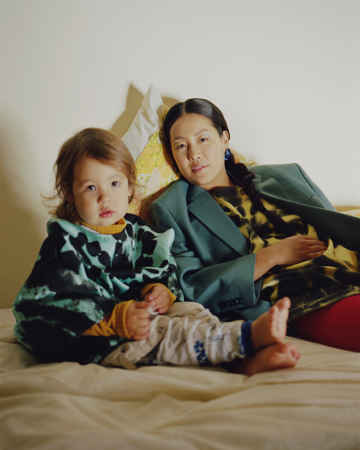 It's so wonderful what you've built, this extended network that also helps raise Nima, in a way. Just last weekend, Jack and I came to his second birthday and were blown away by all the people that showed up in the community garden.
I'm always surprised and very humbled by it. Peter has always been a part of this downtown. I was like that back in Nepal. Peter and I are similar in that way. What's most shocking of all is that Nima is as well. People wanted a child, this sense of joy or humor, whatever it is. There were people I didn't know at the party who know Nima.
Does being an educator also inform your art?
I think I've always been interested in education first, not about didactic works, but about learning. Art for me is about learning, there is a takeaway, some kind of launching pad for a thought process or a segue into learning new concepts, ideas, people, or things. Wide Rainbow is natural and organic to me because that is how I interact with art anyway. Children should always be the main audience for art, to share that with the next generation only makes sense to me. In the video, I put this message to my own future self, I wish I was taught these tools as a child and want to make sure I pass them along to Nima. Art is a tool. As an adult, it's really about preserving that feeling of being a child.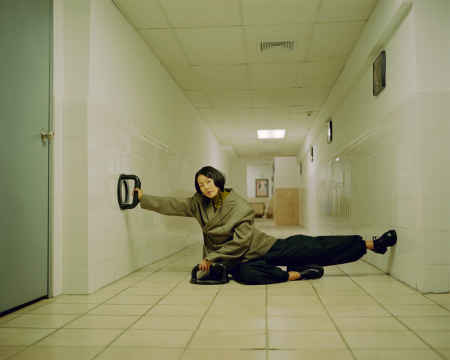 Stephanie LaCava is a writer based in New York City. Her début novel The Superrationals will come out next fall from Semiotext(e.)
Interview:

Stephanie LaCava

Photography:

Heather Sten

Photography Assistant:

Justin Wee

Styling:

Jessica Willis

Hair:

Kristian Kanika

Makeup:

Mimi Quiquine

Date:

December 2, 2019