Art Criticism's New School: Meet the White Pube
The 24-Year-Old Critic Tandem Is Turning Storytelling into Art Interpretation
Interview:

Akash Chohan

Photography:

Ollie Adegboye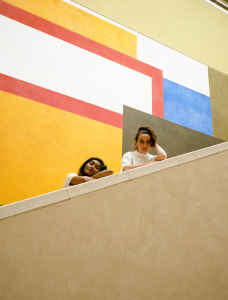 It began as a connection between two students born a week apart: Gabrielle de la Puente and Zarina Muhammad, both now 24, who met studying Fine Art at London's Central Saint Martins. In 2015, The White Pube—a rip on the well-established London Gallery, The White Cube—was formed as a clapback to the alienating language used to describe art. Disappointed with the overwhelming white maleness and inaccessibility of the art world, they formed their collaborative identity, reviewing gallery exhibitions and degree shows in their own digital spaces where they were free to be honest and unflinching in their critiques. Their writing is full of inside jokes and reads more like a string of texts received from a friend than something published in Artforum or Modern Painters. "It's always been about the relationship we have with the art," says Zarina. "We say this all the time: TWP is subjective. Beyond subjective." Their criticism verges on storytelling, and not only makes art approachable but offers a refreshingly current model for interacting with it.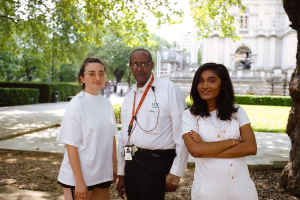 In addition to their weekly reviews, TWP host a monthly, online residency in which an artist is given free reign over a page on their site. They are building a crowdsourced library of art-related texts submitted by readers. There is also a section of their site called Accounts, on which they publish all of their commercial interactions with art and media entities. "There's the public part of TWP, and then there's what's going on in emails, which a lot of the time is us negotiating how much we're getting paid for a job, or if we're getting paid at all," Gabrielle explains. The ledger offers not only a peek into the practical realities of operating as freelance art professionals, but an account of TWP's ever-growing audience and reach. Their speaking engagements, for instance, are increasingly far from home—in April, they spoke at the Rhode Island School of Design.
TWP has a biomorphic completeness to it, evolving intuitively. Zarina likens it to an "elasticized waistband that accounts for any shapes or lumps that appear." Sitting in a dimly lit Kerala restaurant in Hackney, talking with Gabrielle and Zarina over the last segments of a banana bhajia, it's clear that the bond between them is what makes TWP possible. And it is deeper than words.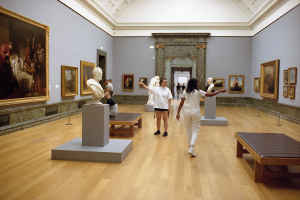 Akash Chohan
Gabrielle de la Puente (G) Zarina Muhammad (Z)
I feel that with most writing that's devoid of character, the writer seeps out in kinda insidious ways. Whereas your voices are so open that readers gain a familiarity with you both. At what point did it occur to you that what you were doing is different in terms of transparency?
Z: I don't know if it did. With the writing specifically, we never had any power. We kinda just said shit about people because we didn't realize. And then we met an artist called Jesse Darling, who we had interacted with before. When we met them, they said, "You gotta keep doing this honesty thing, this is really valuable. Even if you make friends in the art world, still say shit. Be honest about your mates' work."
G: A few months after that, I went to see a show of Jesse's and felt completely apathetic about the work they had done, and then had this moment where I was like, this is quite a big artist who has loads of followers on the internet and is quoted in essays all the time. And I'm interested in them and I admire them, but I don't feel anything from this show. I remembered what Jesse had said, and admitted that in the review. The last line of the review was, 'This exhibition was like a stomach settling.' And then Jesse tweeted: 'Not facetious or ironic, this might b the harshest most true review bc @thewhitepube channels somatic currents not jus fuxxin w dyscourse.' I think that confirmed the transparency of our reaction to art, settled in writing. And, yeah, it was satisfying and it meant that we were on the right track.
Z: That tweet was the moment we realized that, first of all, we had a style of writing. Before we were just writing as we talked to each other, not realizing that that was a thing, just doing it and putting it out there. It took an external viewpoint to affirm what we were doing was valuable.
Sometimes it takes an external voice to tell you that what's in your constructed little bubble is real.
G: Because we have completely made this up as we've gone along, it's been so amusing to us and interesting to figure out how you can make something like writing into your own job. You can do talks at universities, you can go to different countries, meet artists, and make this something concrete. Because of our one foot in the art world, one foot out of it, we've spoken about the developments of it as we've gone on—I don't wanna be one of those people that does it all without saying how they did it.
Z: I think that's part of our transparency, as well. We are very aware that this is a weird job to have, it's a weird industry to be in, and neither of us necessarily look like an art critic. Neither of our families look like the kind of families that would have an art critic living with them. It's weird—we stick out. But I think we're quite keen to spread the news, and pull other people up with us.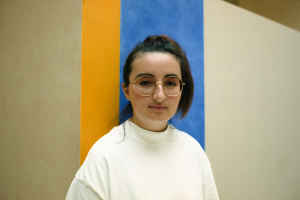 "Neither of our families look like the kind of families that would have an art critic living with them. It's weird—we stick out."
Do you feel working as a duo has protected you up to this point?
G: The only person that I can read at any point of the week, at any time of the day, is Zarina. Because I enjoy it that much. When do you ever get to work with someone you get that experience with? From the beginning, we haven't had to ever run tweets by each other. It's to the point where even my boyfriend is like, "Which one of you tweeted this?"
Z: It's a really nice, affirming thing. When I wrote about criticisms of us being too racialized, and Gab texted me to say well done, I felt so glad I'm friends with this kind of person who has my back. It was nice when we were at the beach in Dublin, and you were like, "Oh, when shall we leave? Maybe an hour?" Yeah! In an hour. We're very in sync in that way.
G: Zarina said, "You're such an easy person to travel with," and it's not that I'm easy, it's that we want the exact same thing.
Z: You know how people talk about meeting your soulmate? What if it's you and not a boy? OMG.
This is actually the crux of the whole interview.
Z: I feel this is the crux of TWP.
I think people can see the honesty you have between each other, and that's what makes them believe you're honest with your audience.
Z: The one constant is each other. I think that's why both of us object so much about getting other writers on board. I think it'll always be us two because we can't account for other people the same way we account for each other.
A friend of mine recently quit being a DJ, and one of the first things he said to me afterwards was, "I feel like I'm finally starting to enjoy music again." Could this apply to critiquing art?
G: TWP has helped me enjoy art more. When I used to go to exhibitions, I didn't know what to do with myself. I knew I wanted to say things but I didn't know what i was supposed to be saying, or what language I was supposed to be saying it in, or what mode, tone, blah, blah, blah. And I feel really equipped and confident when I'm in a gallery now. I used to think the gallery was above me—it's not anymore, we're on a level. I don't feel much fatigue with it, even though we've got this constant pace of a review a week, because our lives are so full outside of this, and obviously we're quite young people. It always feels quite new to have these experiences within a gallery and write about it.
Z: TWP has made my relationship with what I do as an artist a lot better. The ecology of making things as an artist, when I felt it shift, it felt really uncomfortable. Realizing that I'm an artist sporadically, and whatever slips through the cracks of TWP that can't be processed there, those little fluff objects, that's what my practice has always been. Those weird moments that I pick at like a scab? You can't make that wound—you've gotta wait for that wound to appear before you can pick it.
"I used to think the gallery is above me—it's not anymore, we're on a level."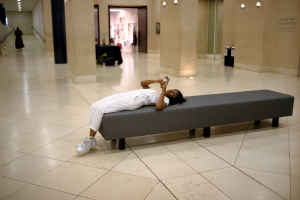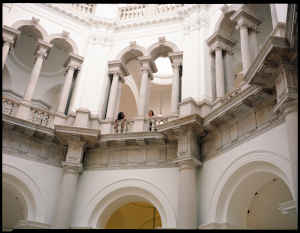 Akash Chohan is a writer whose work often revolves around music. His writing has appeared in The Fader, Red Bull Music Academy, and Dazed Magazine.
Interview:

Akash Chohan

Photography:

Ollie Adegboye