Don't Ask Billie Eilish To Smile
The 16-Year-Old Singer Is on the Cusp of Stardom and Unapologetically Herself
Text:

Rebecca Haithcoat

Photography:

Christian Werner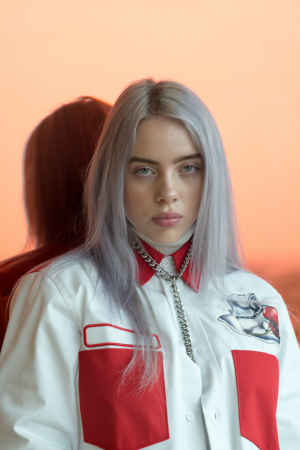 Billie Eilish is slumped in a booth at Canter's Deli on Los Angeles' Fairfax Avenue, the underage set's 2018 version of the mall. Her Nikes issue DIY warnings in black Bic ink: "LOL U AIN'T SHIT," "HA HA BITCH," "FUCK U." She peers out from under the brim of her hat with a cornered-animal glint in her eyes, her lips parted as if she might spit if you come any closer.
One of music's most watched ones-to-watch, she has a huge fanbase—nearly 700,000 followers on Instagram and growing—scrutinizing her every step. Since posting the gauzy dream-pop song "Ocean Eyes" to her Soundcloud in early 2016, Billie has collected millions of plays, collaborations with artists like Vince Staples, and co-signs like a recent Charli XCX tweet that read: "manifesting that billie eilish, sophie and cupcakke become the biggest artists of 2018." At 14, Billie signed a record deal with Interscope, and last August she released her debut EP, dont smile at me. She spent the end of 2017 studying for midterms while churning out seven songs in a month with her older brother and producer Finneas, some of which might appear on her debut full-length, due out in later this year. She's currently zipping around the world on her first tour, most of which is already sold out.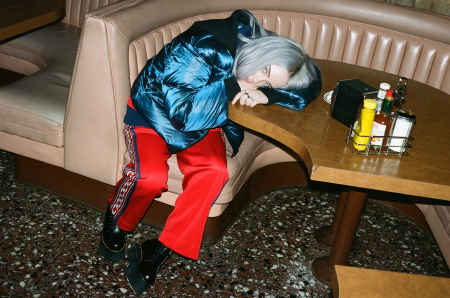 Zap yourself back to 16, then whip the blessing-curse of budding celebrity into that hormone mix. It'd be weird if she weren't a little surly, right?
"My EP is called dont smile at me for a lot of reasons, but one of them would be when [someone tells you], 'Smile. Why aren't you smiling? It's so much more beautiful when you smile.' Everyone's taught to smile," Billie says, then corrects herself: "Girls are. 'Look happy, look like you're having fun!' I'm not gonna look like anybody except what I am. I want to impress myself. "
When I slide into the booth beside her a few minutes later, however, she does smile—sheepishly.
"I've been so salty today, I apologize," she says. "If I've insulted you at all, I'm sorry."
She hasn't, I assure her, and I mean it. Not at all.
"I'm really glad. I don't know. Something rubbed me the wrong way this morning. I was fine and then I wasn't," she says. "I'm good now."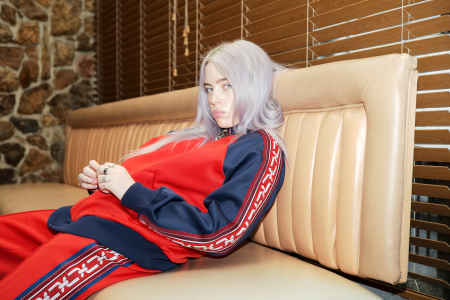 I smile at her, and to myself, in recognition of the emo rollercoaster ride of teendom. Being a teenage girl pre-social media was hard—being one in 2018 seems almost impossible. When I was a teenager, there were no famous sister-models my age, never mind two (three, if you count Lisa Rinna and Harry Hamlin's girls) sets of famous sister-models. No one I knew was shooting up their lips with Juvederm, getting boob jobs as graduation presents, contouring their faces with kabuki-complicated rituals—trying to will themselves faster into adulthood. Billie, though, seems content to be just where she is, and that feels like a kind of rebellion.
"Blending in, I have never understood that at all. Why would you want to be in a room of people that look exactly like you? I don't know. What's the point of dressing like someone else? They're already dressing that way. Do your own stuff," she says. "I've always known what I want and who I wanted to be, what I wanted to wear and who I wanted to be seen as."
At a photo shoot earlier, she was splayed on a hotel couch, draped in eye-popping colors and swimming in silhouettes that gave the impression she'd been playing dress up in her dad's closet. Her style seems to simultaneously say, "Look at me!" and, "Don't you dare look at me." Asked who influenced her aesthetic, she names Tyler, the Creator.
That individualistic streak shone through early. "She always had that voice," says her mom, Maggie Baird. "Never the American Idol voice. And very brave. At five, she said, 'I'm gonna enter this talent show and sing '"Tomorrow"!' Oh, great, just the hardest song to sing. Next year: 'I'm gonna sing "Happiness Is a Warm Gun"!'"
Perhaps that gutsiness is her birthright—her unofficial middle name is, after all, Pirate. Named after her mother's dad, Billie Eilish Pirate Baird O'Connell remembers an idyllic childhood with her "built-in best friend" brother and actor parents who left New York to settle in a now-hip, then affordable, thus artist-friendly, neighborhood in L.A. Maggie homeschooled Billie and Finneas.
"When I see movies set in summertime, that's what my life was like all the time, but it doesn't mean I didn't learn," Billie explains. "My mom would cook and she'd be like, 'How much goes into this?' And that's how we learned."
Homeschooling was crucial partly because Billie deals with auditory processing disorder—it's hard for her to listen and absorb meaning in standard ways—but it had the happy side effect of sharpening her sense of self. "I never went to school, so popular was never a thing for me. I don't understand peer pressure," she says.
I'm curious, though: What do teenagers do these days?
"Drugs," she says matter-of-factly. "I don't, but everyone else does. JUULs"—a trendy e-cigarette that looks like a flash drive and has flavors like crème brulée—"that's what they do. I don't do anything like that, which is weird because everyone in the freaking world does except me. It used to be like, 'Oh my god, you smoke?' And now it's like, 'Oh my god, you don't smoke?' It's stupid."
Is it easy to get drugs?
"It's insane how much access there is. I don't even want it and it's there all the time for me."
Where do they go? Can they get into clubs?
"I can. I'm not supposed to, but I'm really not doing anything bad at all," she says. "I just want to dance around, and there's no place to do that anymore."
Dance is what sparked Billie's career. Songwriting is a relatively new endeavor—she began at 11—but her love for tap and Shirley Temple bloomed early. Gradually, she moved into hip-hop (her favorite genre and biggest inspiration) and contemporary classes, which is where her dance teacher heard her humming "Ocean Eyes." Billie and Finneas had already posted a couple songs to Soundcloud in 2015, so when the teacher asked if they'd record "Ocean Eyes" so he could choreograph to it, they did, and added it to their page. Billie tore a plate in her hip only two days into the teacher's "Ocean Eyes" choreography, but making a track that blew up with no radio push, nepotism, or behind-the-scenes label manipulation was some consolation.
Since then, Billie's been on a metaphorical, if not physical, tear. In contrast to the cotton candy wisp she wove with Finneas on "Ocean Eyes," don't smile at me is spiked with slithery electro-pop and edgier lyrics. "Watch" opens with, "I'll sit and watch your car burn/With the fire that you started in me" and builds to, "When you call my name, do you think I'll come running? You never did the same/So good at giving me nothing."
There's a ferocity to many of don't smile at me's lyrics that isn't in "Ocean Eyes." On its first half, Billie is reactive, tossed to and fro—she's crying, scared, falling. Billie says those first set of tracks were born from an unhealthy relationship: "I was 13 when it started and 14-and-a-half when it ended and it was the beginning of my career, so all this cool stuff was happening but I was so oblivious to everything."
Back in the 90s, Jane Pratt's Sassy and Jane magazines carved out a space for girls who didn't feel like they fit in with Seventeen's perfect-10 demographic. Sassy writers were dry-witted, irreverent, and blunt, like the cool older sister you wished you had, and Billie is exactly the kind of celebrity they crushed on. She's the kind of pop star that young girls—hell, all girls—need, giving the world a masterclass in what it looks like to be unapologetically yourself.
"You just crossed the line, you've run out of time/I'm so sorry, now you know/Sorry I'm the one that told you so," she sings on "Copycat," her spun-sugar soprano contrite. "Sorry, sorry... I'm sorry, sorry."
A beat.
"Sike."
Rebecca Haithcoat is the former assistant music editor of LA Weekly. Her writing has appeared in The New York Times, GQ, The Guardian, Playboy, Billboard, SPIN, and Pitchfork, among others.
Text:

Rebecca Haithcoat

Photography:

Christian Werner

Styling:

Samantha Burkhart

Makeup:

Robert Rumsey

Hair:

Joseph Chase / Exclusive Artists

Production:

Emily Hillgren

Location:

Mondrian Los Angeles and Canter's Deli