The Junglepussy Experience
The Rapper/Actress on Her Name, Healing, and the Gentrification of New York
Interview:

Maya Binyam

Photography:

Eric Chakeen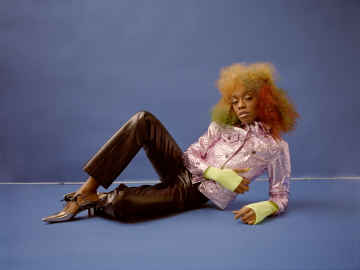 Like any natural comedian, Junglepussy laughs at her own jokes. It's difficult to recreate a conversation with her, in part because the tone of her speech belies its content, a quality typically ascribed to sarcasm but better described, in her case, as a generosity of expression. Her quips, like her lyrics, exceed their form. She makes dick desires rhyme with dick jokes ("feelin' the dick," she coos on "Long Way Home", "all up in my armpit") and gives old threats new life as praxis––in "Stitches," released in 2014, she raps, "If you fuckin with my man, Ima leave yo ass in stitches"; on "I'm in Love," released this past year, she switches it up: "I'm in love with your nigga/I be on the low, singin' songs with your nigga."
In 2013 she released her first two tracks––"Cream Team" and "Stitches"––and one year later her mixtape debuted on Vice. Since then she's released two studio albums––Pregnant with Success, in 2015, and JP3 in 2018. In August, she made her acting debut in Andrew Bujalski's Support the Girls, a role for which she won the Indie Memphis Act of the Year award. In September, she made her TV debut in the season finale of Terence Nance's Random Acts of Flyness. In December, we talked about her moves, literal and figural. "It hasn't stopped," she told me. "Even if I die, you know it's gonna be lit."
Your first album was called Pregnant with Success, your third and most recent, JP3, was titled by your mother, and you've compared the anticipation of an album release to the moments before going into labor. So I'm interested in beginning this conversation by talking about your mother. To what extent has she facilitated these creative births?
My mom is a huge part of all of this. She gave me a long leash, and was able to do that because she made the sacrifice to deal with corporate America. By giving us stability, she made it so that I could go and explore whatever I wanted to explore in life. That's essentially what all parents want for their kids; that's why they migrate here. I thank her for that every day, because I know that not everybody's parents are as supportive, or are able to support them. I always tell her, "I don't think I'm successful, because you still have to go to work and deal with these stupid people in corporate America––I won't be successful until you don't have to deal with that." And she's always like, "This is my journey. It has nothing to do with you––you go out there and do you."
I feel like a lot of parents who immigrate here have an idea for what they want their kids to do for work—or at least that's true for my dad. Was that true of your mother?
Definitely. My father's side of the family is Jamaican, and most of them are here. But most of my mom's side is back in Trinidad. My grandparents played a large part in getting the family up here back in the day. They bought a multi-family house in East New York, and everyone would come. The family that came up here are all nurses, lawyers, real career women and men. Even my friends that I went to school with are all lawyers and doctors. They'll always be like, "We can hang out Saturday at 11am." And I'm like, "11?!" But everyone's job is important, and I don't like when people try to make other people feel less than because of what they do or don't do.
And your family was supportive of you making music?
I kept it a secret. I went to FIT for merchandising, so they always knew I was artsy––they thought I was going to be a designer. In high school I did this internship, called Sweat Equity. Marc Ecko had started it, and it lasted all four years of high school. Each of us made samples for our design portfolios for college. We learned how to make tech packs, how to send them on to factories, edit them, send them back, get them sampled. We made a bag, a coat, a shoe, a watch, a hat. So my parents always knew that I did that, and that I was super creative. When I was starting to make music, I'd always say I was just working on fashion and art. I didn't want to tell them, because I didn't know what it was going to be. I was literally just on the internet sharing shit.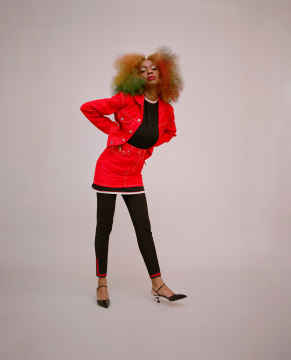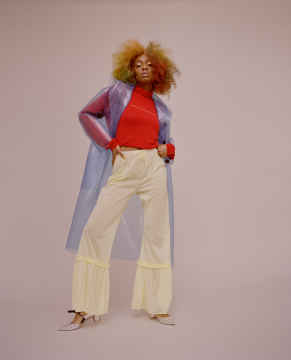 I imagine it'd be difficult to communicate that to parents who probably aren't even on the internet in the same way.
Right. I'll never forget, one night I went out to Westway, this party that used to happen on Tuesdays, and I see this text on my phone from my mom like, "Where have you been? Are you stripping?" And I'm like, "What? Stripping? Why would she think I'm stripping?" That was the only time she ever pressed me. She's always sending these revelation texts––like she just caught the spirit––and a year or two later, she texted me, like "I just realized there's nothing wrong with the word Junglepussy. If anybody ever tries to come for you, you better stand firm and let them know there's nothing wrong." It was this whole preachy text. One moment she's like, "What are you doing?" and then the next she's like, "There's nothing wrong with it!" And now if I have a show or something, she's like, "Get that money." My approach with my parents was always like, "Let me just do you a favor and not tell you about my music. But if you must know, I guess I'll tell you."
I first saw you perform in 2014 at Transpecos in Ridgewood; the crowd was sizeable, but felt together, like a neighborhood, and you performed with friends. When I saw you perform again, this past October at Elsewhere in Bushwick, the crowd was probably six times the size, but somehow the set still managed to feel—
Intimate. Because it was only me.
As your digital and IRL audiences have grown, is maintaining intimacy with your listeners important to you?
I feel like I haven't been intimate enough. I mean, I be telling y'all stuff, but I don't really be telling y'all stuff.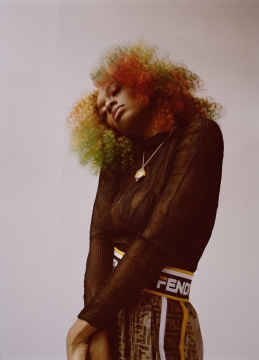 I guess I don't mean intimate in the sense that you're sharing personal details, but in the sense that you talk to your audience. Your set in Bushwhick felt like live music obviously, but you were also giving us lots of advice.
It's a convention: The Junglepussy Experience. [laughs] I just have to make sure that I bring all of my gifts to the stage. That's what I learned with this tour––like, these people want to see what they know about me from the internet, so I need to make sure that I carry it over to live shows. I can't just rap the whole time; we gotta talk. So I just be talking and laughing, like we're hanging out just us.
Does knowing that people expect something specific from you based on your online persona make it difficult to try new things?
It doesn't make it difficult. I'm just like, y'all be changing and growing downwards, but I'm trying to grow upwards. So if you mad, it's whatever. I never think, "Oh if I do this will they still like me?" Everyone is so fickle anyway––I might as well just do whatever I want. Y'all like some nasty, disgusting shit. So whatever I'm doing, I know is not gonna be that wild. Contrary to popular belief.
Satisfaction Guaranteed and Pregnant with Success are typically placed in opposition to JP3—the first two are often described as angry, and sometimes vindictive, while your latest is more introspective—
I healed––I'm healing. When I first started doing my own music, I had just gotten out of a relationship. So that was all the smoke. But then I was like, if you think I'm going to dedicate my third album to a bad relationship, that's real boring, bitch. So for JP3, I knew I was going to be more open.
But how does that change happen? A lot of people just stay angry.
It happens when you're tired of being angry. The music wasn't fun to perform anymore. I was doing a lot of shows, and I was like, "Why am I saying this?" But people loved it. They love "Stitches." But I'm like, nah, I'm never performing "Stitches." It wasn't fun anymore, and I felt like it wasn't reflective of who I really was; it was reflective of who I was getting over.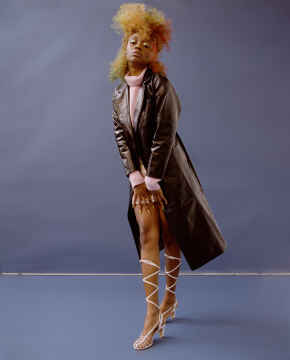 I imagine something that's difficult about being a musician is that your music sometimes outlives your mood. Maybe you make music that's particular to a specific time in your life, but then people keep listening to it, and keep wanting more of it.
Low key, I knew that people wanted me to keep being mad. They still do; they loved me when I was, and it's what they expect of me as a black woman. With a name like Junglepussy, they just assume I'm aggressive.
You've said before that when people take issue with Junglepussy, as a name, it doesn't seem to be the word "pussy" they're having problems with, but "jungle."
It is. There's a band called Black Pussy; they're white men. They're just chilling.
Damn. What kind of music do they play?
You think I gave them a stream? [laughs] But that's why I'm like, Junglepussy is the one. Imagine if my name was "Blackpussy"––I'd be so wack. The name came to me when I was going to FIT. I was thrifting a lot, and I got this black sweater with fur leopard patches. I just made this video and was like, "Junglepussy." That was it. It was literally two seconds, and it all came from there.
You often play multiple characters in your music videos, and in the videos you post to Instagram. How does playing a part—for yourself, in service of your own music—feel different from the kind of acting you did in Support the Girls and Random Acts of Flyness, where you're reading from a script and collaborating?
It's different because they're not my words––they're someone else's vision. And because I'm surrendering to someone else's vision when I do that stuff, I'm serious. I'm dreaming about the words––looping them over my head, talking to myself in my sleep. When I do my stuff, I be cracking up. I'm more flexible. I'm testing things out. But when it's someone else's vision, I'm like, "I'm here to work for you, master. Tell me what to do." I really like the discipline. It helped my music, too. When I was doing Support the Girls, I'd go back to the hotel after break, and work on finishing JP3. Before I left to do the movie I was like, "I'm done with this album," but then when I was acting all day, I'd be like, "I got this fire line." I came up with so much stuff for my music. It was cool to just forget about certain things, and then come back to them with a fresh mind.
Are you still living in East New York?
No, but I shot my last video, for "State of the Union," there. All my family is still there, but I'm not.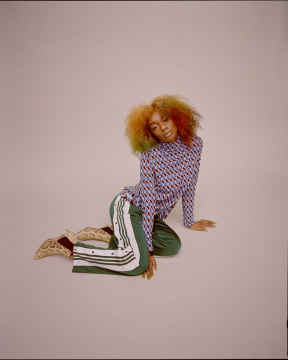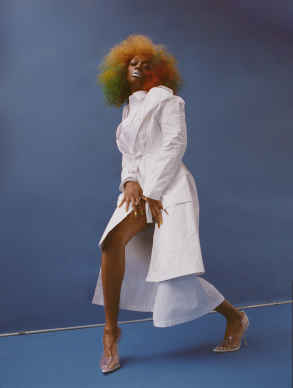 Has it changed since you grew up?
Absolutely. I didn't think they were ever gonna gentrify East New York, but they're going to Starrett City, the most untouched part of New York. It's like, can you leave those people alone? That really broke my heart. I'm gagging at how they can't give up. I feel for the earth. I'm always like, "Sorry bitch, I don't know why they keep digging you up." Like, what's going on? Can we stop digging, or are we just waiting for the Amazon employees to come? Instead of bringing these new buildings, can you bring me some new niggas? That's the only thing that needs to be coming.
I don't think the Amazon employees—
I know. I'm not trying to date no Amazon employee unless he bringing me my packages at the end of the day. But yeah, when I'm driving around the block looking at these buildings, I'm just thinking about the plumbing. When I see buildings, I see bugs in walls and dust. It's nasty. I don't like seeing it.
And most of the buildings are ugly.
They're so ugly! But they're trying to make them cute. They're like, what can we do? Let's make the windows yellow, make a balcony that you can't really enjoy. I'm like, this is a joke! But people are about to start leaving, that's the thing. They can't raise families here. They're going to leave us, and then we're just going to have all these buildings.
But I don't know. I always think the city will be empty, but people always come from somewhere. I remember when I was in high school, I didn't realize gentrification was happening. All my teachers was 20-something NYU students. We called them by their first names, we got to go out for lunch, and I was like, this is lit. But that was gentrification. They weren't from New York, and they was taking the L train to get to school. I didn't realize it; I was like, "Oh, it's so cool, they care about us, they're teaching us holistic learning." In gym I did yoga and capoeira. That was gentrification! I thought it was cool, and now I'm like, it was cool, but damn. Even getting that internship––it was all presented as opportunity, but it was just gentrification.
I often hear artists talking about how taxing the non-music work of being a musician is. Do you like doing all the labor alongside the music? Even interviews and photoshoots like this?
Yeah, it's all a part of it. One of my friends this summer asked me, "You know this is a service industry job, right?" Y'all tricked me, but there's no turning back now.
Maya Binyam is a writer living in New York. She's a senior editor of Triple Canopy and an editor of The New Inquiry.
Interview:

Maya Binyam

Photography:

Eric Chakeen

Styling:

Miyako Bellizzi

Hair:

Andrita Renee

Makeup:

Raisa Flowers

Photography Assistant:

Jordan Zuppa