GoldLink Never Leaves D.C.
The Rapper on Keeping Quiet and Championing the District

Interview:

Erika Houle

Photography:

Hannah Sider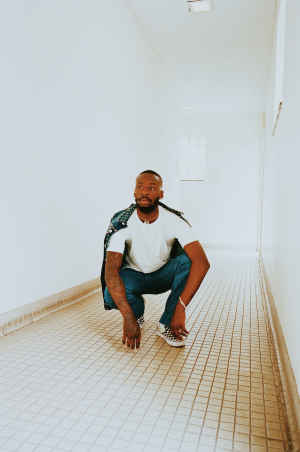 If you're ever looking for D'Anthony Carlos, you might find him in Georgetown — the D.C. neighborhood with a cultural history as intricate as its cobblestone streets and Federal-style architecture. A landmark of the DMV region himself, the 24 year-old rapper better known as GoldLink encapsulates the idiosyncrasies of his hometown's music scene with his latest album, At What Cost.
Through a collection of percussive go-go rhythms and carefully selected features including DMV natives Wale and Mya, he creates an aura completely unique to the sounds of the District. GoldLink takes a similar approach to style — often dressed in vibrant colors and text-emblazoned attire, enticed by individual pieces and the eclectic stories behind each of them. Kicking off his biggest tour to date, he's hesitant to leave his inspiration grounds. GoldLink doesn't fit the mold of a typical travelling performer — emphasizing his home turf loyalty in the face of tour fantasies. As a self-described "quiet and aggressive perfectionist" with secretive projects (like a publically restricted web store) underway, he's mastered the art of letting his work convey its own message — "for the DMV to reign for many moons."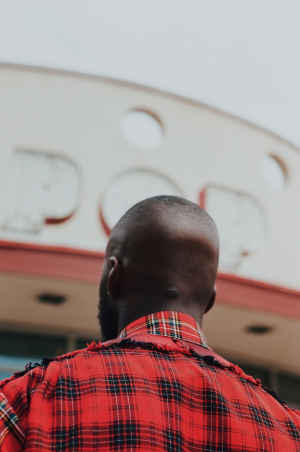 You were born in the DMV and you're still deeply rooted there. Do you have any favorite memories growing up in the area?
I had a moment last night when I was driving and I was like, this is the D.C. I know — it's summertime, it's quiet outside, it's a Monday night. I can't really pinpoint one thing, there are so many memories I've had growing up here. I might see a landmark and it will just trigger a certain emotion or a certain memory.
Where do you like to eat or just hang out?
Georgetown is cool because it's a vibe, it's different. I don't really like U Street that much because it's not my vibe, but it's a good vibe, too. There are Carryouts everywhere, but Carryouts are normally in impoverished neighborhoods. It's a new gentrified D.C. that changes so fast I can't even tell you, "Oh, this is a great place to eat," because I'm not really sure. I eat in Georgetown, but it gets old after a while. There are so many hole in the wall spots.
Those tend to be the best. D.C. was also the heart of At What Cost. What did the process of making that album look like?
Yeah, I went home and channeled my inner city childhood. I just surrounded myself with people from D.C., and I stayed there the entire time. I didn't go anywhere. I did my research — I was out, I was about, I was seen, I was everywhere. I kind of triggered the emotions out of myself and I got into a really solid place. I got a lot of people I felt understood it, which is only D.C. people, really, who can understand my sound. And then, we went for a full 10, 11 months straight into it and created emotion more so than sound. We started playing with analog sounds and certain things, trying to grab a lot of textures that don't really exist in today's music to mimic the unique layer that D.C. has. We tried to create a lot of things that people didn't traditionally hear on records.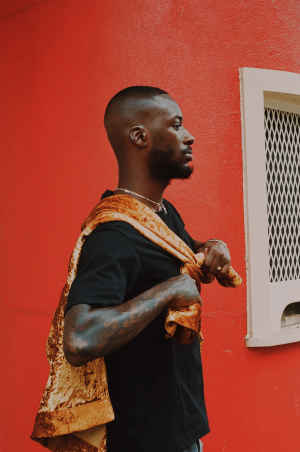 A lot of the songs evoke this dichotomy between a party beat and a realness in the lyrics — they speak to your upbringing and the darker parts of the District. Is it a weird feeling to know people are jamming to some of your struggles?

The album also has so many collaborations. With this generation, that seems to be a bit of a loose concept. I'm wondering what the word collaboration means to you?
Collaborating is two minds coming together to make one thing. You get the best of what that one person does, and you give the best of what you do, and then you bring it together and make it something that syncs. I never really want to tell anybody what they should and shouldn't do when they collaborate with me. Like, "I reached out to you for a reason, so you do what you do best and I'm just going to try and do what I do best and hopefully it works out." That's why the "Crew" record worked really well.
The video for "Crew" is crazy, the style is so good. How would you describe your style?
It's genuine. The thing about it is that I feel like a lot of people now are just told what to wear. They follow a trend, I don't do that. I feel like I have an attitude, so I dress like I have one. [Laughs] I don't like the word punk — I don't like 2017's definition of punk, but I really do that.
I went home and channeled my inner city childhood. I just surrounded myself with people from D.C., and I stayed there the entire time. I didn't go anywhere.
What's your version of punk?
For me, punk is just not conforming, not compromising or agreeing with the system and dressing to rebel against it. That's what I do, I really genuinely do that.
You've said that you came up with the name GoldLink while watching American Pimp. Does that kind of flamboyant aesthetic appeal to you? It seems like its own way of rebelling.
Not really. I always liked that stuff because I grew up in drug culture. Not doing drugs, but drug dealing culture, streetwise. They're very flamboyant people. That's what I think was always so cool, to see some dude come with a fucking mink on, the hat, some fucking loafers and shit. That shit was fire. But that's not me, I just appreciate that.
Do you have a favorite piece of clothing?
I have so many good pieces now, I don't have a favorite. There's these Undercover scabs, they were the original ones that I got from my homie Kel. And the Undercover claw shirt is fire, it's so sick. It's yellow.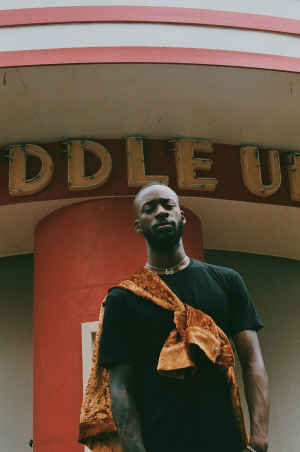 Aside from Undercover, are there any designers you're really into?
No, I'm a piece guy. A piece-by-piece guy. I don't really stick to one brand, but I love a lot of pieces. I love the Watanabe collab with Comme des Garçons — I love that shit. I love old Undercover from the 90s. I love some old Comme des Garçons from the 90s. I love old Dior. I just love pieces, very interesting looking pieces. I never really catch the buzz of a brand.
It can be more fun that way. Do you do a lot of vintage and thrift shopping then?
Yeah, but I'm more into consignment because it's more of a one-on-one thing. Learning the history about things is really cool to me. I'm starting to get into that now. My homie Kel works at Horror Vacuo, it's his consignment store. Every time I get a piece I'm like, "Man, what's up with this piece?" He's like, "Well, this is Rick Owens, it's from his show in 2004." You know what I'm saying? He's like, "Back then, he only gave out 500 of these, this why this is awesome." That's why I think I'm a piece guy, I love learning about them.
There's a "shop" link on your website, but you need a password to access it. What's that all about?
[Laughs] Okay, maybe it's something we'll know more about in the near future?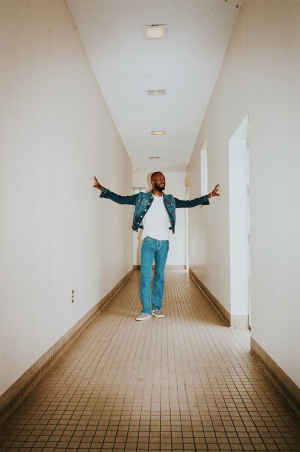 You're going on tour soon, are you looking forward to that?

Yes and no. I would love to show the world how I hear my album. But, I hate being away from home. I just don't like being away from D.C. in general. It's good for me though.
It's good for everyone else, too. You shine a light on your community for the people to feel like they can also do different things, with music or with anything. Is that something you want to keep doing?
Yeah. I just want to help those who want to be helped, and keep leading by example. I'm trying to be a walking testimony for somebody that's actually living what they're talking about, sticking true to what they do.
If you could give somebody like that a piece of advice, what would it be?
Be so good at what you do and be so confident in your craft that you don't let anybody tell you otherwise. It's easy to get caught up in trends, to get swayed. It's very easy to be like, "Alright, so-and-so has this many fans, so I've got to go do what so-and-so does." Stay true to what you do. People will respect you, and that's what lasts longer. Take the slow road, don't take the fast road. That's what I would tell anybody in life.
Interview:

Erika Houle

Photography:

Hannah Sider

Styling:

Ronald Burton

Grooming:

Alana Wright