Every Day Begins with Koffee
An Official Toast to the Award-Winning Reggae-Pop Star
Interview:

Khalila Douze

Photography:

Daniel Regan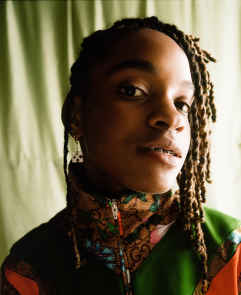 Music has a powerful effect on our perception of time. Radio hits soundtrack our waking lives; personal favorites sculpt our memories. With each year comes a crop of songs readily embraced by the masses—contenders for "song of the summer" or Record of the Year. More than that, 20-year-old Koffee's "Toast", an undeniably feel-good, reggae-dancehall-pop hybrid that makes anyone and everyone smile and shake hips, casts a bright light upon the darker experiences of living through the anthropocene. The young artist from Spanish Town, Jamaica, provides a hopeful lens through which to track our collective history.
In 2019, The IzyBeats-produced track and its accompanying video (now with over 100 million views) propelled Koffee, born Mikayla Simpson, into fame's spotlight. And the industry has welcomed her with unbridled enthusiasm, from an appearance on Barack Obama's 2019 summer and year-end playlists, to a delightful rendition from the Chinese Military Band (she's watched it many times). Her most recent achievement, a win at this year's Grammy Awards for Best Reggae Album, makes her the youngest and first ever woman to win the award. Koffee was shocked to even be nominated: "I didn't expect it," she says. "Whatever I do with this recognition is what's gonna be important."2The energy of "Toast," with its radiant rhythm and conscious reminders to give thanks and count blessings, is matched by its writer and performer. The first song Koffee ever released, a 2017 tribute to Usain Bolt entitled "Legend," went viral, catching the eyes and ears of major league music execs and revealing her passion and raw talent. On her 2019 debut EP, Rapture, Koffee maintains a positive outlook and down-to-earth songwriting approach over the more traditional reggae sounds of "Raggamuffin" and "Blazin." Celebrated for her lyricism, Koffee is a thoughtful student of roots reggae, making songs within a tradition that unites generations whilst simultaneously pushing the boundaries of the genre, refreshing it for new, global audiences.In person, Koffee is as gentle and gratuitous as her poetic lyrics land. From the surface, her reservedness could be mistaken for shyness, her positive perspective as naivete, but in conversation, Koffee is cool and calm. I meet her on set in Los Angeles, just two days before the Grammys, where she takes slow drags from a vape as she explains the source of her confidence: a deeper knowledge that her music serves a purpose outside of herself. Despite her small stature and quiet presence, she possesses a stoic charisma—the stuff leaders are made of and an essence that shines through her crowd favorite track, "Rapture." As many of her young contemporaries are dominating the charts with a more nihilistic, cynical edge, Koffee's success speaks to the timeless power of reggae music—its spiritual potency as relevant as ever.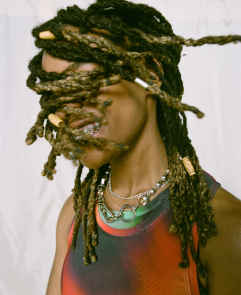 How did you get the name Koffee?
In Jamaica it's very hot. So, when I was about 12 years old, in September, which is really hot still, it was lunchtime [at school]. All my classmates and other students were having water, soda, juice, and I had a hot cup of coffee. At home I wasn't allowed to drink coffee because of my religion. So, when I went to school I was like, "This is the time." It was on the menu so I tried it. And then one of my classmates decided that she was gonna call me Koffee, and it stuck.
What role did music play in your life as you were growing up?
I grew up going to church every week. My denomination—the Seventh Day Adventist Church—is a very musical denomination. We would sing together as a church and we studied music. That allowed me to fall in love with music at a very early age.
Can you tell me about growing up in Spanish Town?
Spanish Town is a small-town vibe. It's quiet for the most part. Most people know everybody. It's a very simple, laid back kind of life.
How do you think people at home feel about your success—your friends, your family, your peers?
From what I've seen and experienced, everyone is pretty proud. I think me doing positive music and being a positive character in the industry has a lot to do with that. I think old people look up to that. Young people look up to that.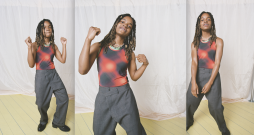 You've talked in the past about writing music from your heart. What is that experience like for you?
Whether I'm listening to a track or I'm feeling an instrument or I'm just vibing on my own, it has to feel natural for me. I have to tune into myself and ride this wave that allows me to express things that are true to myself.
When you were getting ready to release "Toast," did you know that it was going to be a hit?
I had the least confidence in it out of all the songs on my EP. I started out doing reggae, reggae, reggae music. My first single was "Burning," which was almost like a roots reggae kind of track. I remember expressing to my peoples that, "This is a nice song for me, but I want to hold the Caribbean and Jamaicans who take it," because sometimes they will say that you crossover and then you sell out, and you start off on this and then you jump on the next wave, you know?
How did you find your voice as a lyricist?
I went to high school in Kingston. It was a big transition for me. The students I was mixing with [were from] different backgrounds and I got distracted. When I started high school, I wasn't doing my work. I was skipping out. In ninth grade, I was like, "Yo, I have to do better than this." I started listening to some really positive music like Sizzla, Protoje, Chronixx, Lila Iké, Leno Banton, and Runkus. I think it set me apart mentally. I was inspired by Protoje to start playing songs on my guitar. I would practice his songs and then, based on the track, I would try to write lyrics around it for myself.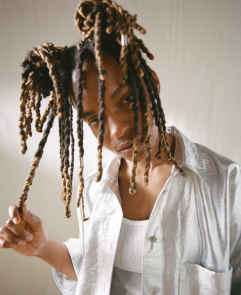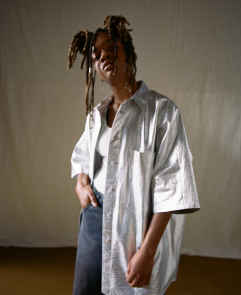 What do you think changed in ninth grade for you? How did you come to this realization?
To be honest, I do consider myself to be a fairly mature and conscious person. My mom wasn't happy about what was happening. Obviously, my teachers weren't happy. It wasn't a good look.
Many things are changing in your life right now. That can be a difficult experience. How do you remain positive?
I try to stick to my roots. For me, that means relying on the things that I grew up on. Spirituality is one of those things. I used to go to church, but not as often anymore. So, now I try to read my bible. I grew up with my mom, so I try to stay connected with her. And just reaching out to my family, trying to not get caught up in stuff that takes me away from my roots.
You've said before that there's a lot more room for positivity in reggae and dancehall music. What do you mean by that?
Well, not reggae because reggae's based on positivity. I love dancehall as well. If dancehall says "buss gun," me nah gon necessarily buss a gun, but you have younger people who are more impressionable who really idolize this kind of music. I think the world would be a boring place if it was all about positivity, to be honest. Like me nah gon say it shouldn't be. I try to be realistic. I think you have to have a good mix and different kinds of entertainment that different kinds of people can gravitate towards, because there's different people in the world. I think what is good is a balance where it can put a bit more positivity in it. So, not to exclude what you're used to or what you enjoy putting in your music, but just drop a couple of positive tunes more time and try to unite the people.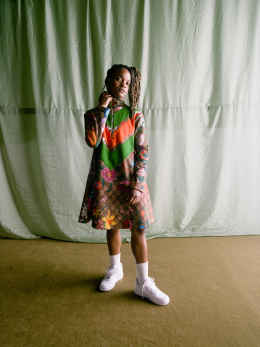 I love "W" with Gunna, and I just heard the new song with J Hus. How do you choose who to collaborate with?
I'm not a very political person when it comes to that.
I have to ask if you've made music with Rihanna yet.
Well, I really hope to soon. 2020 looking bright and stuff. Everybody's positive, all optimistic.
What's next for you? Are you working on an album?
I'm working on my first album. It's going how I want it to go—slowly but surely.
Khalila Douze is a freelance writer and tarot enthusiast based in Los Angeles. Her work has appeared in The FADER, Pitchfork, Dazed, i-D and more.
Interview:

Khalila Douze

Photography:

Daniel Regan

Styling:

Rita Zebdi

Hair and Makeup:

Nadia Baraz and El'Leon Melendez

Set Design:

Kelly Fondry

Production:

Carlye Burke

Photography Assistant:

Larry Burns

Styling Assistant:

Michelle Torres

Date:

February 28, 2020