From Gucci, to Converse, to Nike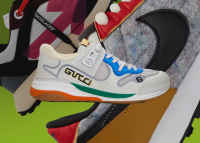 Forget a "new you," what's the best thing about a new year? New shoes, duh. It's time to make space for 2020's latest drops, 'cause if there's one thing that's certain about the future, it's sneakers.

Go anti-gravity with Gucci. Climbing mountains is easiest when there's nothing holding you down, and these Ultraspace sneakers will have you bouncing to Mars faster than Elon Musk can say "satellite."

"I WANT" and "I CAN" decorate the sides of these sneakers, the perfectly punchy mantras to carry you into the new year, new you.

These daybreak sneakers mimic the color of a sunrise—warm gold, burning scarlet, and fluffy marled cloud. Swoop in for the kicks you can slip into every morning.

Complete with trademark zip tie, X marks the spot on these multicolor sneakers. With accents in fluo and fuschia, the arrow on these proves that the only way to move this year is forward.

Zebra print gone askew, these Spike runners are a new spin on a sportswear stalwart. Arty or animal kingdom, there's no reason why you shouldn't be kicking up dust.

Put your best Chuck forward in a hue that seems to symbolize the frosty time we have to wait until the first green appears. A subdued and subtle rendition of one of the most iconic sneaker silhouettes—green is something you can't help but notice.

Purveyor of everybody's favorite Dad sneakers, New Balance delivers the 574 in a new colorway. A classic style in navy, gray, and turquoise.