Go Poolside With Fendi, Ashley Williams, and Off-White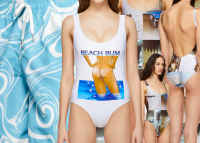 In planning for vacations, we often pack for an idealized version of ourselves. Books, fits, too many shoes—all of which will most likely go unread, untouched, or crumpled in a suitcase. Swimsuits, however, provide a fun solve for our packing woes. They are summer's unlikely statement piece. Big patterns, bold colors, weird cutouts. Whether you need a swimsuit to stand out by the pool or indulge in a staycation, or blend in with the elements—or you know, actually swim—here's a strong (and not so subtle) variety.

Off-White — Multicolor Camo Sleeved Bikini
A scuba top is no stranger to the beach, but the style feels refreshed in camouflage with Off-White's bikini. Beach camo isn't limited to ocean blue or sandy brown—a healthy palette of sunshine yellow and summery orange recasts camo as something you wear to stand out, not hide.

Bather — Blue & White Marble Swim Shorts
Throughout the 60s and 70s, David Hockney's swimming pool paintings were heavily inspired by the intangible movement of water. These Bather marble swim shorts take a cue from Hockney's painting but with psychedelic undertones. Ride the wave...whatever the trip.

Ashley Williams — White 'Beach Bum' One-Piece Swimsuit
Surely you've pre-scheduled your out-of-office auto-reply! Are your vacation hours approved? Let's go! The next logical step is packing the Ashley Williams 'Beach Bum' one-piece. As the saying goes, dress for the job you want: Beach Bum requires no LinkedIn recommendations.

Fendi — Black Snake Bikini Bottoms
The kaleidoscopic snake pattern of these Fendi bikini bottoms begs the question, is that a snake in your briefs or are you just happy to see me? Barely-there, these tight bottoms playfully reduce tan lines (no thanks!) while keeping you perfectly...cool.

Serapis — Multicolor All Over Mavros One-Piece Swimsuit
This printed Serapis one-piece bathing suit illustrates a tale of two summers. The stretch-jersey graphics straddle the nostalgia of summer camp (ping pong, canoeing) with the sterile scenes of industrial power plant sites. This is a bathing suit marked by dualities. Pick a side, any side.