Wild Life: Putting the Camp in Camping
Upstate Virtue, Designer Gear, & Manufactured Discomfort
Photography:

TORSO

Text:

Ana Cecilia Alvarez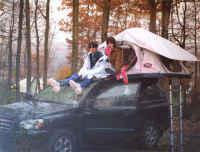 Before the outdoors became great, they represented, at least to the colonizer, a threatening chaos to be conquered. But to the industrialized souls of 21st-century urbanites, nature became an antidote to modernity's confining comforts. Great effort went into finding new ways to undergo the hardships that had finally been avoided. New technologies of exceeding superfluity were developed. Whole industries profited from this kind of delusional farce—I thought, hiking along—that made it somehow attractive to play house outdoors. I could hear Sontag listing off the defining qualities of camp in my head: "artifice, frivolity, naïve middle-class pretentiousness, and shocking excess."
The appeal of a backpacking trip, for the initiated, is self-evident: endorphin-fueled exertion, elevated perspectives, remove, silence. No work but the repeated production of your essential needs: food, water, shelter. Ample time to think. And yet, during a long stretch of clear trails and unrestrained reflection, a dozen miles into some hike somewhere in the Sierras, it occurred to me just how comically ridiculous it was. Finding pleasure in the physically demanding activity of carrying your weight in food and water across miles of changing elevation was one thing—that made sense. A kind of euphoria often accompanies such borderline-masochistic feats of physical effort. But then there was the irony, at least a century old, of finding respite in "nature."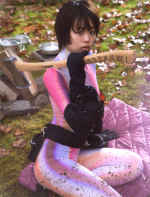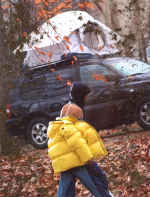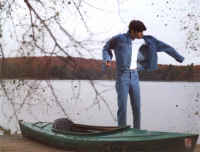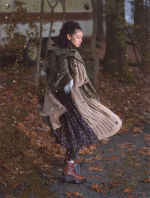 A lover of the great outdoors loves (expensive) gear. This is one of the first things I learned when I began to backpack in earnest. You will first need to purchase:
-proper hiking boots
-warm-yet-breathable clothing
-sun protection
-thick socks
-rain gear
-a lightweight jacket
-a lightweight tent
-a warm and compressible sleeping bag
-a compact sleeping pad, a headlamp
-outdoor-friendly toiletries
-a first aid kit
-a water container
-a water filter
-some sort of stove to cook your food
-your actual food
I probably forgot something.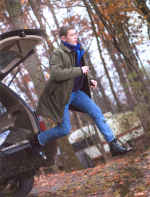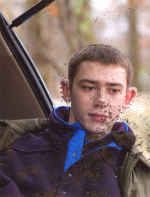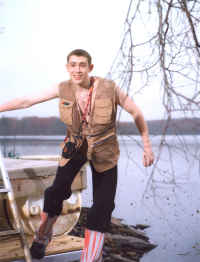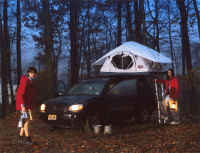 This is for your streamlined, stick-to-the-basics backpacking trip. Glamping (glamorous camping) introduces a whole new facet of surfeit. It turns the re-creation of a domestic space within an inhospitable environment into a luxurious experience. Rather than escaping into a fantasy of bare-boned resiliency, glampers indulge in the laborious reproduction of urban comforts, "experiencing the outdoors" from inside, preferably with air-conditioning and wifi.
Outdoor wear—thick boots, warm jackets, knit hats—has the utilitarian draw of normcore, the idealized comfort of athleisure, and, as anyone who has been indescribably drawn to a Patagonia fleece will attest, an "enduring appeal." What is the "enclothed cognition" outdoor wear produces? Perhaps its aesthetics connect its wearers to a certain desire for a kind of environmental consciousness in the face of climate change. Looking like you spend time outdoors might help you to care for them. That used to be somewhat true—in the early 20th century, outing clubs paired recreational activity with environmental advocacy, the Sierra Club being the most well-known example. Today, green consumerism promises that we can buy our way out of climate collapse, and perhaps the appeal of outdoor gear lies in the kind of virtue signalling it, and other "green" products, emit.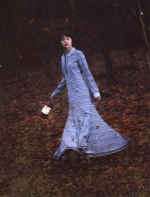 Photography:

TORSO

Text:

Ana Cecilia Alvarez

Styling:

TORSO

Hair:

Cheeky Ma

Makeup:

Yui Ishibashi

Models:

Ion, Maria, Mimi / No Agency, Sebastian / Midland

Production:

Alexandra Zbikowski, Andrea Lazarov

Styling Assistant:

Ruth Gruca

Date:

December 13, 2019