Virgil Abloh: Artist in Residence
The Designer and Hype Idol Turns his Office into Art for SSENSE Montreal
Text:

Olivia Whittick

Photography:

Rebecca Storm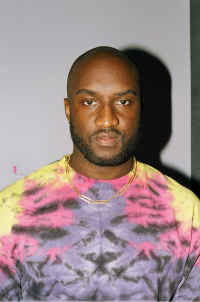 It is the 1st of July, there is a heatwave, and the city of Montreal has just upped the alert level from EXTREME to INTERVENTION. It's hot, humid, sweaty, messy. At 418 St. Sulpice there is a line-up of young men waiting to catch a glimpse of Off-White designer and newly-appointed Louis Vuitton Artistic Director of Menswear, Virgil Abloh.
His new installation, "CUTTING ROOM FLOOR," won't be open until tomorrow, but they don't care. They are eager to keep their place in line, even if it takes sitting in a folding camping chair for 24 hours amidst criminally uncomfortable temperatures. How is it that Virgil has come to mean so much to these kids?
The next morning they are still out front, but now there are more of them. It's 36 degrees celsius, and it feels like 45 with humidity. I spot about three girls in the line-up—the rest of it is made up of boys and in some cases their parents. One dad frantically licks a Fudgesicle as it disappears from its stick, his pre-teen son standing wide-legged and all attitude with his AirPods in and a head-to-toe mélange of Off-White, YEEZY, and Stone Island. Luckily Off-White's signature stripes and arrow crosses work like safety gear so the kids don't get hit by oncoming traffic as they spill out into the street. There is something sort of church-y about this and I approach with the skepticism of an atheist.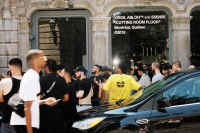 Inside, Virgil has had all of his Chicago office, supposedly unedited and without intervention, shipped over and re-erected at the SSENSE space. There are papers, notes to himself, highlighters, Off-White prototype eyeglasses ("FOR READING"), plans and swatches for his Louis Vuitton show, design books, and a scale architectural rendering of the MCA Chicago complete with a floor plan for next year's retrospective on everything Virgil-designed. There are Post-Its, a manual for a walkie-talkie, a topographic model of Denali (née Mount McKinley) in Alaska (North America's highest peak), maybe a couple thousand dollars in cash. Some objects have been duplicated and are available for sale. It's sort of a typical office space, an IKEA table covered with the usual organizational detritus, but it's a window in. Virgil is calling this his "literal brain on display."
When we sit down to talk, I notice Virgil's light denim jeans are appliqued with overlapping ornate crosses. His arms are tattooed with angels. I remember that he attended a Catholic high school. So did I. My desire to make sense of him and to find depth in his work feels neurotic. His voice is slow and calm but the rest of him tenses and untenses constantly, his fingers curling, his feet kicking out and twisting. He seems eager to stand up, physically restless, although by contrast he is impressively present mentally. He makes eye contact, he listens. Interviewing him makes me feel like a fly continually hitting against a window. I don't think I get inside but I bump against the surface over and over until I get tired.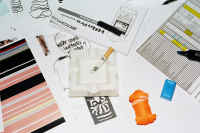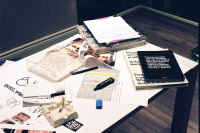 I ask him about the money he is selling at value, plus tax, one of the more provocative objects from the installation available for purchase. "I DJ a lot and I get paid in cash sometimes and that was just sitting on my desk when we decided to do this project." His answer is more straightforward than I had hoped. What does someone do with Virgil's money? Do they take it home and frame it? Do they spend it only when they become desperate enough? What do they spend Virgil's money on? I press him, he laughs. "It's like having an estate sale while still being alive." Just what I had thought! The installation feels in-memoriam, like a posthumous showing of an artist's workspace. Is he commemorating himself? Canonizing himself? He says it all amounts to what he calls "a happy artist coincidence" wherein the interpretation wasn't intended, but is a bonus after-the-fact. "There's all sorts of great coincidence in art after you put something there. It doesn't mean it wasn't the intention, it just wasn't foresight. It adds depth and then you sort of post-rationalize, like, 'Oh, I meant to do that.'"
What did Virgil mean to do? What of his work is intentional, and what is post-rationalized? "Intellectualizing the mundane is one of my favorite descriptions of my own work. I can sit there and I can stare at something to the point where I can bestow value on it." This points me towards what I've secretly been hoping he would say the whole time—that he's kind of trolling everyone. Although, in the end, I'm not sure he is. He just loves functional objects. He refers to his brain as an object. Words are objects to him. His project then becomes a study of desire—he holds up something ordinary and asks, "Do you want this?" If you do, and are willing to pay a lot of money for it, that's more about you than him. He seems to propose that absolutely anything in the world—like, say, a toilet—could be worthy of appreciation (and a bonkers price tag), which I agree is a fun game to play.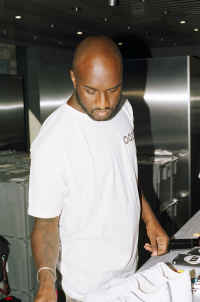 Virgil is interested in being disruptive, certainly, and he's interested in doing it by gaining access to the high-art/luxury fashion sphere and then making it accessible to all the people it has been historically inaccessible to. "And that is in large part the ethos of my work, not to be disruptive for disruptive sake, but to be disruptive for an expansive sake. To diversify the community that makes design. Don't leave it for a selected few that cross their arms at someone who doesn't come from the right school or the right family or the right city."
If his goal is to make art more populist, perhaps in doing so he also highlights how much rhetoric the art and fashion worlds involve, and how little technical ingenuity. "Native to my work is the idea that you could literally do it, too. That's the whole trick. If you can't afford it, go to your local screen-printer and make your own version." At the same time as he is self-aggrandizing, he is humble, hinting that his genius is attached more to work ethic than any divine gift. As with his collaborator, IKEA, his designs come with the instructions attached.
He affirms that his ultimate goal is to be an educator, a "go-between," to turn kids interested in rap and sneakers onto fine art and architecture. "I love that a kid standing outside that can't name any sort of fine artist—Van Gogh or da Vinci might even be a stretch—would look at a poster and be like, 'Why is everyone mentioning Lucio Fontana?'" Although the issue is sort of that no one did mention Lucio Fontana, whose work is referenced quite explicitly in the poster for the installation. Or Paul McCobb, whose designs Virgil's IKEA collaboration was a bit too inspired by. Regardless of how you negotiate authorship, ownership, or creative copyright, Virgil isn't slowing to join the conversation because he's too busy carrying his torch, and the moths to the flame are innumerable.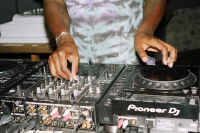 And anyway, the name of the game in fashion is recontextualization, for better or worse. In an era where originality is impossible, ingenuity is defined by the ability to place two radically incongruous things together and make it feel harmonious. Or to take from a cultural sphere and feed it to a disparate one that may not be in the position to recognize the source. Virgil does whatever he wants and he doesn't regard the rules, and this I can appreciate. He operates in everything he does with a machinic momentum and uncomplicated confidence and that leaves me whirring with the desire to complicate him, to find profundity. But the recipe is simple: make a lot of stuff.
We touch on the Wizard of Oz, after I ask about the motif in his debut Louis Vuitton collection. Why that story? "More than anything, it was the idea of Dorothy in this mythical world. Escaping from reality into a new world was the emotion that fit with that collection." But that's not what I wanted him to say. I wanted him to say, "I am the Wizard!" because I want to see him as the Wizard. A regular guy obscuring himself just-so, invested with a mythical power that allows him to work as a funnel for desire, a humbug deity towards which people make pilgrimage in order to have their voids filled, using his silk and straw gifts to stuff the empty heart's cavity.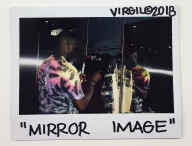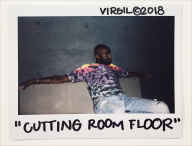 Olivia Whittick is an editor at SSENSE. She is also managing editor at Editorial Magazine.
Text:

Olivia Whittick

Photography:

Rebecca Storm