Market Research: Moncler Genius' Simone Rocha "Red Down Darcy Jacket"
Juli Weiner And The Case Against Problematic Flourishes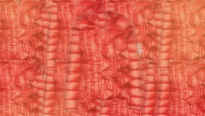 Think about the last 10 things you bought. Were they pieces you were already familiar with? Or were they dazzling new discoveries that demanded immediate acquisition?
The last thing I bought was a Solange Azury lips ring, which looks less like a pair of lips and more like the couch Dalí designed to look like a pair of lips, specifically the swollen, unsmiling pair belonging to Mae West. Had I been aware of the ring's existence, I would have purchased it earlier. Presumably, if more people were to find out about Solange Azury lips rings, more people would buy them. If you're Solange Azury, the hurdle is ignorance and the solution is awareness.
But if you're the manufacturer of a certain varietal of omnipresent basic—the Chanel Classic Flap bag, Converse sneakers, Ray-Ban aviators—awareness isn't the solution, it's sort of the problem. Your customer base has already a) bought the item in question or b) decided against it. Moncler coats are exactly this sort of omnipresent basic.
Obviously, "basic" is a relative term. Some—for instance, 99.999999 percent of Earth's population—might not consider a $1,500 puffy coat an essential. But among the outdoorsy and moneyed, Moncler has become de rigeur, like Vilebrequin, the genetic ability to differentiate between racquetball and squash, and awareness that the word "estate" can be a verb (as in, "The Newport house and the villa in Lyford Cay were estated in the aftermath of Astrid's fatal yacht accident.") It's a uniform, one generally favored by people whose actual school uniforms are also status symbols—essentially, it's an Andover sweatshirt to wear over your Andover sweatshirt.
In that way, it's a basic and a statement—a basement, if you will, which you won't, because "basement" is already a word.
If you can afford Moncler—coats start at around $1,000, and it's a steep climb to the Alpine summit from there—then you are aware of Moncler. And if you haven't purchased a Moncler coat, it isn't because you haven't seen one, it's because you're consciously disinterested in owning one.
That would be me. More accustomed to navigating the slush of Soho than the slopes of Gstaad, I've always thought of Moncler as something worn almost exclusively by schools of slow-walking European families, delaying me one sidewalk-blocking selfie at a time as they trudge from flagship to flagship down Prince and Spring Streets. The weaker the Euro, the better shot I have at punctuality.
A puffy coat always seemed like a silly way to spend nearly $2,000, though not an infuriating way to spend $2,000, like donating $2,000 to Jill Stein or fulfilling one's duties as a bridesmaid. I've certainly spent more money in much stupider ways—the stupidest of which is the time a friend and I were at a party at Paul's Baby Grand in the Tribeca Grand Hotel and booked a hotel suite upstairs instead of taking a cab 10 blocks home because "it was snowing."
I just… didn't want a Moncler coat.
And if you're Moncler, that presents a significant marketing challenge: How do you appeal to customers who've already decided not to purchase a Moncler coat?
The answer is: you don't. You sell them something that's not a Moncler coat. You sell them this:
It's called the Darcy. It's not clear why it's called the Darcy. My assumption is it's some sort of reference to the Jane Austen character, only because it'd be strange to name anything "Darcy" without intending to reference the Austen character. On the off-chance you couldn't tell just by looking at it, it's "a play of heft and waves that harmoniously blend with functional details typical of Moncler." Does it, though? Does it harmoniously blend with functional details typical of Moncler? Because this blending does not strike me as particularly harmonious.
The Darcy is a piece from the brand's recent collaboration with Simone Rocha, the spectacular Irish talent whose fondness for puffy sleeves makes her a natural fit for Moncler. Please note that Moncler x Simone Rocha is not to be confused with Moncler x Pierpaolo Piccioli, which featured conical coats in cheery pastels that looked like limited-edition Easter Bugles; nor Moncler x Kei Ninomiya, which was, as you might imagine, all black; nor Moncler x Craig Green, which you may remember as the party responsible for Skepta's buckle-bisected onesie— an outfit which provides us with the answer to the question, "What would the Michelin Man wear if he ran a sex dungeon?"
In the past year, Moncler has also launched Moncler Grenoble (preppy plaids and Liberty-ish patterns), Moncler Palm Angels (après ski for après the apocalypse), Moncler Hiroshi Fujiwara (collegiate athleisure with a Thom Browne bent) and Moncler 52 (I genuinely can't tell what this is going for and judging by Moncler's own description—"nodding to Pop art and the shimmering lights of the city"—neither can they.)
In any event, these collaborations represent some of the splashiest Italian-French-Japanese alliances since World War II. Obviously, Moncler is more than welcome to use that quote in any marketing material.
The eight (8) partnerships are components of a new marketing campaign Moncler is calling Genius, which, according to C.E.O. Remo Ruffini, "has been conceived as a hub of exceptional minds operating together while at the same time enlightening their personal take." So... it's a bunch of capsule collections aiming to reinvent the puffy coat.
"The brand has become the Ed Sheeran of Italian outerwear: conspicuously, strategically collaborative."
The brand has become the Ed Sheeran of Italian outerwear: conspicuously, strategically collaborative. "End Game" isn't an Ed Sheeran song—it's a Taylor Swift song featuring Ed Sheeran. I don't like it because he's involved, I'm willing to tolerate his involvement because I like it.
For the Moncler skeptic, the Genius pieces aren't Moncler coats—they're Kei Ninomiya coats or Palm Angels coats or Simone Rocha coats featuring Moncler. Per Ruffini: "Each project fits together with the Moncler soul, creating a new identity that is truly authentic." In other words: you don't already have—or already hate—this coat, you need this coat.
Although perhaps not this specific coat, which, much like Ed Sheeran's hair, is not my favorite red.
The ruffles—so flouncy and romantic in the photos—were flaccid in person. The pink sequined flowers on the sleeve wouldn't survive a tumble down a bunny hill. Rocha's spiky femininity suddenly seemed stuffy, bookish, indoorsy. And compared to the healthful bounce and shine of other Moncler coats, the wrinkled adornments looked particularly sad and saggy, and I felt sad and saggy looking at them.
The execution of sequins and beading was flawed, and so was the concept itself, which just didn't seem very modern. It reminded me of the floral patterns slapped on the soccer shin-guards of my youth, so designed because girls' sports equipment of the late 90s was just boys' sports equipment with Problematic flourishes, to use today's parlance: for the boys, black, grey, or white; for the girls, peace signs, flowers, or splashes of pink. The Moncler woman doesn't need flowers to prove to herself and others that she's still a woman. Who were these flowers even blooming for? And why?
Perk up! You're $1850!
And the kicker is: It didn't even look like a Moncler jacket! The only "functional detail typical of Moncler" that remained consistent was the price tag. No one I encountered while wearing the coat said anything like, "Whoa, since when did you have a Moncler jacket?" I felt a little disappointed not hearing anything to this effect, and then felt ashamed I had felt disappointed.
I eventually started wearing the coat as a middle layer between sweater and more attractive coats. As a sliver of MAGA red peeking out from underneath a Tibi shearling, the coat provided some punch. (Here I am ordering something complicated from a suburban Connecticut Starbucks, never feeling more like myself.)
What's the point of spending Moncler money for Uniqlo anonymity? The Row gets away with it, but only because The Row creates perfect articles of clothing.
And so does Moncler—in its own way. The Darcy just wasn't one of them.
Mere hours into my adventures in coat ownership, I found myself browsing Moncler's website, strangely drawn to the sporty simplicity of the classic models and resenting the ruffles of my own winter-wear. Guess what? I now want a Moncler coat. Everything else just looks so sloppy by comparison.
Keep in mind that at no point in this 1,500-word review of a $1850 winter coat did I mention whether it was warm, and at no point did you expect me to.
Bravo, Moncler. That's genius.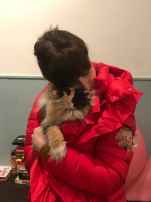 Juli Weiner has been a staff writer at Last Week Tonight with John Oliver since 2014. She's written for The New York Times, Vanity Fair, and instagram.com/juliweiner. She lives in the East Village with her cat Pajama, fiancé, and Moncler jacket.