Jan-Jan Van Essche's Guide to Antwerp
The Belgian Menswear Designer Invites us Into His Close-knit Community in Antwerp North
Interview:

Adam Wray

Photography:

James Giles
Light spills sideways into Het Bos, illuminating the faces of menswear designer Jan-Jan Van Essche and his business partner Piëtro Celestina. "That's Antwerp light," says Piëtro. "Low and very yellow this time of afternoon." Jan-Jan and Piëtro are showing me around the city on a late November Sunday. Het Bos is our third stop. It's the sort of multi-purpose, communal space that becomes the nucleus of an alternative community—we're here for the weekly breakfast club, co-run by a good friend of Jan-Jan and Piëtro's. As we eat, we talk about the history of Jan-Jan Van Essche—the label—which is deeply woven with their own relationship and with the city of Antwerp.
Jan-Jan and Piëtro met at the Royal Academy of Antwerp. Though Piëtro quickly left the Academy to begin working—doing casting for Jurgi Persoons and Raf Simons—he and Jan-Jan remained in touch, and first worked together on Jan-Jan's third-year collection in 2001. They would soon become partners in both business and life. While Jan-Jan designs collections, Piëtro runs their boutique, casts and shoots the label's lookbooks, and serves as support in innumerable other ways. "We are amazingly compatible," Jan-Jan says. "Everything I'm really bad at is a talent of Piëtro's, and the other way around."
For all its charm, Antwerp faces the same pressures almost every city does. As we stroll through his neighborhood, Jan-Jan laments new condo developments in the old harbor, the current right-wing municipal government, and gentrification in his old neighborhood of Zuid ('South'). "When I was eight, Dries Van Noten was the last shop on Nationalestraat, and from there on it was only grocery stores. And then it started creeping up towards the ModeMuseum, near where the Ann Demeulemeester shop is. That took 10 years. When that happened, all the immigrant families sold their houses to mostly Dutch people, who were investing. Now, it's nice, but to me, it's too clean. I ran away."
From there, Jan-Jan moved to the northern part of the city, slightly removed from its gorgeous but touristy center. This is where he and Piëtro keep their apartment, their atelier, and their boutique, where I first met up with Jan-Jan.
Jan-Jan and Piëtro's boutique is located about five minutes on foot north of Antwerp's magisterial Central Station. "The place came to us," Jan Jan explains while preparing coffee. "The owner asked if we knew an architect who wanted his office here, and when we saw it, we knew we had to do it. We've had the space since 2008 and started really working in it in 2009. I started the brand in 2009 with just one t-shirt and one sweatshirt, and it gradually became what it is now."
At first, Solarshop was a shared work and exhibition space, home to not only Jan-Jan's studio, but a painter's, a jewelry maker's, and an architect's, as well. The space hosted art shows and pop-up restaurants. "We did that for three years, and the last year we did 12 projects," Jan-Jan says. "New decoration, new opening hours, new everything."
Now, the space is dedicated solely to the boutique, which sells Jan-Jan's work, as well as a few other independent labels', and a mixture of vintage and contemporary objects sourced mainly from Africa and Japan—I left with a cubic bronze paperweight made by an artisan in Nagoya. This is Piëtro's domain. "I'm very sensitive to atmosphere," he explains. "It's about being aware of who's visiting you. Anybody that comes in, I remember. I feel honored when someone comes in to visit us."
The shop's name was inherited. "There was a guy living and working here who made his own solar panels," says Jan-Jan. "We just put the prefix of 'Atelier' on the sign. That's often how we work. There's something on the table, like a nice sign—what can we do with it? The first three years of redecorating, we did without a cent. We improvised everything."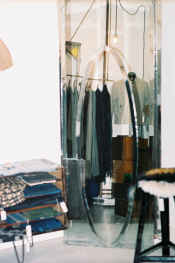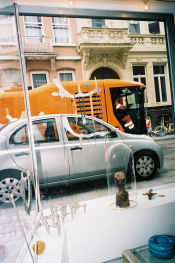 Jan-Jan and Piëtro's home and atelier are just a short walk from Solarshop. The neighborhood is commonly referred to as 2060—it's postal code—or Seefhoek, or Antwerpen-Noord. "The neighborhood is a typical station area where you have so many nationalities," Jan-Jan says. "It's people's first stop before they find their place in the city." Solarshop's immediate neighbors include African barbershops, small electronics stores, and a food bank.
This "multikulti" vibe is a big part of what Jan-Jan loves about neighborhood. He explains: "There are a lot of new Iraqi and Syrian, and Afghan people. Congolese, of course, though they go to Brussels more because they're Francophone. There's now a Senegalese shop on the other side. There's a Guyanese shop. There's a kind of Moroccan high street. Moroccans are the biggest immigrant group here. They're third generation already—they came in the 50s. If you go a bit further, it's more Turkish. And now there is an Ethiopian community, and they're starting to open their restaurants and their corner stores. It's really nice to see how it grows. If you ask me what Antwerp is and where I go to shop, this is it. I don't go into town so much. I love to cook, and you can get so many nice ingredients and inspirations from everywhere."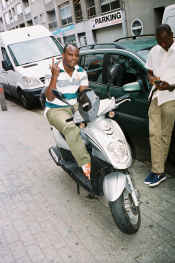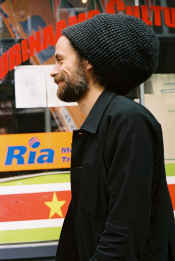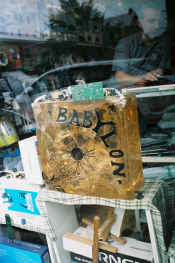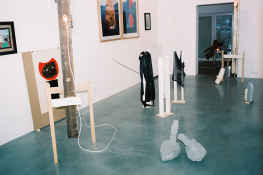 Jan-Jan and Piëtro's Atelier
About 10 minutes north of Solarshop is the atelier where, until recently, Jan-Jan and Piëtro both lived and worked. "We moved out a week ago," says Jan-Jan as we enter the high-ceilinged workshop where he designs his collections. "Right now, it looks like a mouth with some teeth missing. In the end, it was just two of us living here, but before we lived here with four people, and worked with nine. It was really intense. There was not a moment in the day that I was alone."
Bolts of fabric line one of the walls, and work-in-progress sits atop design tables. I'm drawn to one of Jan-Jan's paintings of reggae singer Keith Hudson. A second room, bright thanks to a large skylight, contains plastic drums used for indigo dyeing. Further back, there is a storage room of completed work ready to be shipped.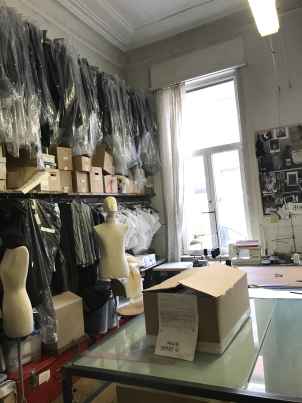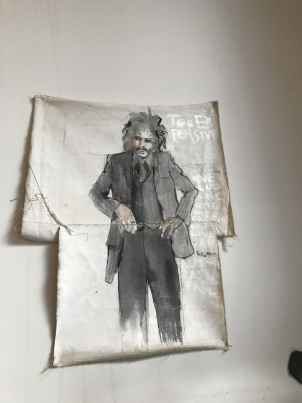 From the atelier, we walk northwest towards the old harbour. We arrive at Het Bos, stepping through an entrance covered by vertical strips of plastic—so you can ride your bike straight in. Het Bos is multi-use space occupied by a bunch of different groups, including audiovisual collective De Imagerie, coffee roaster Cordon Coffee, and others. "These people used to have a squat on the other side of town, but they were evicted, and they found this building," Jan-Jan explains. "They have a concert hall, an exhibition room, a theatre room, and then a cafe and a restaurant. They do artist residencies. For me, it's a really inspiring place. It's kind of my social life. Sunday mornings I come here, even if it's only for an hour or two, and you always meet somebody, or get to know somebody."
Jan-Jan tells me how the teenage barista came to work at Het Bos, and the anecdote seems to represent the spirit of the place: "One day, this Moroccan boy walked in. You don't expect, in Belgium, that a Moroccan boy, 17, would just have come from Morocco—you always assume he'd have his base here, he'd have family here. He was doing an integration program where you learn Flemish at the same time as how to find a job, and he asked Koen to print out his CV because he was looking for work. And Koen said, 'Why do you need your CV printed? You can work here.' Then he brought a friend. And now there are three or four guys. One of them has his barber shop here sometimes. It's really nice—they work in the most alternative place in Antwerp. One day it's a dub concert, the next it's a metal festival. Everything that doesn't find a place in Antwerp finds its place here."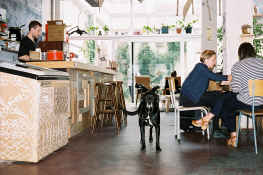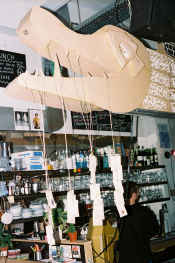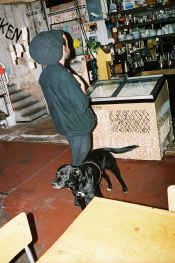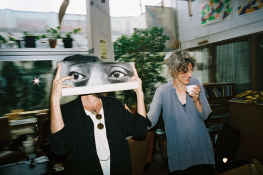 Haecken En Oogen / Clay Club
Jan-Jan and I walk further deeper into the harbor before curling back down past the red light district and towards the city center. We make stops at an art gallery and a ceramic atelier. "Haecken En Oogen is run by Larsen Bervoets. It's a fairly new project space showing great exhibitions. Clay Club is the initiative of Sigrid Volders and Joke Leonare De Smet. Sigrid is a make-up artist, and Joke started her own record label collective called JJ Funhouse. Both places represent to my opinion some of the new, positive energy that moves Antwerp forward."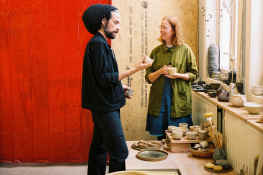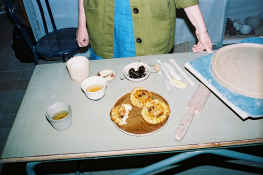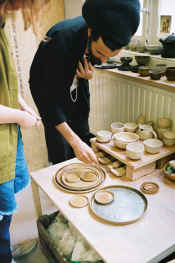 Our last stop is a vintage bookshop. "This bookshop has existed for many years, but friends of ours just took it over," says Jan-Jan. "It's always a surprise what you're going to find—lots of specialties, things from Japan, not too expensive. My father is a book and record addict, and it's something I dreaded as a kid. To go into the city with my dad meant spending hours under the boxes while he was looking for books and records. And now I do that myself."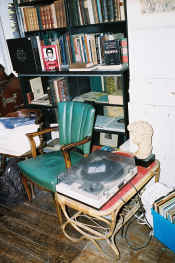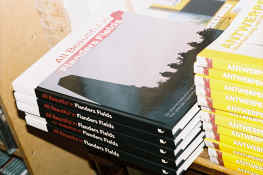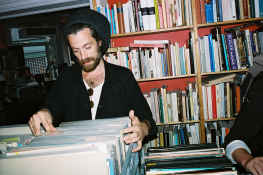 Adam Wray is a senior editor at SSENSE. His writing has also appeared in Vogue, T: The New York Times Style Magazine, The Fader, and more.
Interview:

Adam Wray

Photography:

James Giles