"We're all a bunch of peacocks"
Three Decades of Street Photography with Ari Marcopoulos
Interview:

Ben Purdue

Photography:

Ari Marcopoulos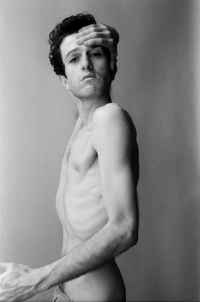 Ari Marcopoulos has occupied a space between street aesthetics and fine art for over three decades, using sidewalks and skate spots as his extended studio. His raw and uncompromising photographs documenting rappers, skateboarders, and graffiti throw-ups are instantly recognizable, with or without their telltale time stamps. Based between New York and Los Angeles, the Amsterdam-born artist's work is intimate yet coolly objective. Whether shooting desolate landscapes, books for Gucci and Supreme, or family roadtrips, the casual immediacy of his images matches the throwaway formats used to share them (photocopied black-and-white zines being his favorite). This high-low approach has made him such an important influence on the visual language of modern youth.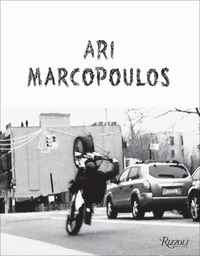 For Ari Marcopoulos: Not Yet, a new monograph of his work, Marcopoulos decided to hand much of the curatorial work over to friends, collaborators, and family. Photographs of 90s teen skaters picked by the book's designer Conny Purtill sit alongside a personal selection of the 80s portraits of icons like Basquiat, KRS-One, and the Beastie Boys. Artist Paul McCarthy's creepy mix of holes, basements, and trees is followed by cityscapes and street scenes chosen from memory by Marcopoulos' son Ethan. Each chapter tells the story of its editor's relationship with Marcopoulos through his work, combining to form a comprehensive study of his creative legacy.
Here he discusses why New York now is not all that different to the city he knew in the 80s, how streetwear is aligning with high fashion, and the true definition of a subculture.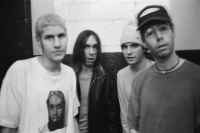 Ben Purdue
Ari Marcopoulos
What are the main differences between the youth cultures and scenes of 80s New York and the city you find yourself in now? Is it the people or the city itself that has changed most?
There's more of everything now. There's no difference in the youth. I feel like there are more people involved in creative endeavors. But in the groups of people I hung out with there isn't really much difference. It's too easy to say that the Internet and handheld information devices have changed things. I feel everything has just increased: more people, more artists, more books, etc. The city has changed too, of course—now it's a huge real estate development and a giant shopping mall. But I still love New York.
If it isn't the Internet, what has been the biggest influence on how subcultures have evolved in New York?
I don't know if there even is such a thing as subculture. I think if it's a subculture—a true subculture—then we don't really know about it. I think that subculture has been commodified. I truly don't know what a subculture is anymore. Maybe subcultures now are terrorists? They operate under the radar. I mean, there are many groups of people doing cool shit, I'm sure—the dance choreographer Nora Chipaumire really excites me—but the high fashion brands are pretending to be subcultures now, as well.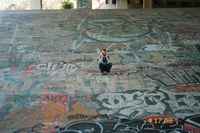 Were you drawn to underground forms of art, like graffiti, through a sense of solidarity because the art world has often treated photography as an illegitimate artform, too?
I have always been drawn to graffiti as an antidote to advertising. People hate graffiti but they never talk about the huge billboards advertising all kinds of crap. I believe that billboards are far worse than graffiti. Art world prejudices are hard to decipher, though there are some very obvious ones, but it's an industry driven by profit. There's no soul in it. There are of course great artists. But in general the whole thing is just a very expensive candy store. Million dollar chocolate chip cookies.

So has that driven your use of supposedly illegitimate forms of photography, focusing on "low" concepts such as the family photo album and zines, to further explore their potential?
The zines are just a way to see very fast and relatively cheaply what it is that I am doing, and in the process sharing it with people. A lot of people are doing zines now. I take every opportunity to get work out there in book form. When you work with bigger publishers a lot of things come into consideration; they have a marketing arm that wants certain things, they have theories about what will sell and what will not. I am not interested in that. I just want to spit out what I have in me.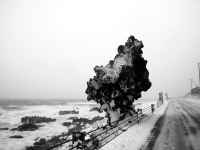 Is that carried over into how some of your work is presented, with the use of time stamps, photocopies, and low grade paper stocks?
The use of the time stamp is very simple: It shows you when the photo was taken, that's all. It also reminds me when it was taken. The photocopies are cheap and also beautiful. I feel that all ways of reproduction work. Silkscreens, photocopies, risographs, C-prints. It all just depends on what I feel needs to be the end result. In my studio I just have a low quality black-and-white printer and I love it.
Was handing over part of the curatorial responsibility for this book hard, or actually more of a relief?
It was hard and a relief at the same time. I trusted all the people I asked, but at the same time I am very used to doing all of that myself without intervention. But it is always great to see another eye approaching your work. So much is about the viewer in art that it is cool to actually involve some viewers in putting something together. The limitation was that it had to be 16 pages, so it's almost like they all made a zine.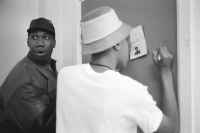 "I JUST WANT TO SPIT OUT WHAT I HAVE IN ME."
Did you give people free reign to pick whatever they wanted?
It depended. They did have free reign but of course I knew somewhat what each person would drift to. Some people purely worked from memory while others were decided in dialogue. And of course in some of the chapters it is about my personal relationship with that person.
Whose image selection surprised you the most?
My youngest son Ethan's. He had a very unique group of photos partially based on images he remembered, and then he took it from there looking at other work that he responded to. His brother Cairo was surprised by his choices, too. Honestly, there was a little surprise in everyone's selections, even my own.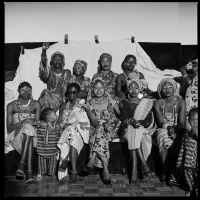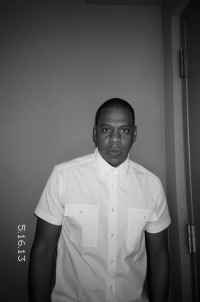 You often capture skaters at that magical point before they are about to attempt a trick. What appeals to you about those in-between spaces or moments?
It's less about a very specific moment and more about a dream state, and it isn't specific to skating. There is an intensity there and also an unawareness of my presence. Their concentration puts them in a different state. For me, it's the most beautiful moment.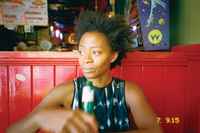 "I HAVE ALWAYS BEEN DRAWN TO GRAFFITI AS AN ANTIDOTE TO ADVERTISING."
You've collaborated with both skate labels like Supreme and luxury houses like Gucci. Do you think these brands are coming into line with each other today?
They are clients that pay me so that I can keep photographing the things I see around me. Gucci and Supreme are the same—they make clothes for profit just like I take photos for them for profit. And they let me have my vision within their parameters. I think that these brands have come closer in the way that Gucci is adapting to streetwear and Supreme is adapting to high fashion. Gucci has long been a status symbol in streetwear without actually having been influenced by it, whether they liked it or not. Now you see people combining these brands in one look using both brands as status symbols. All the luxury brands are making bomber jackets that cost $1,000, but you can get a regular bomber jacket for $50 at the army surplus store. This common item can become a status symbol as well.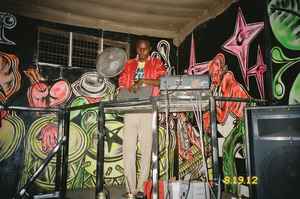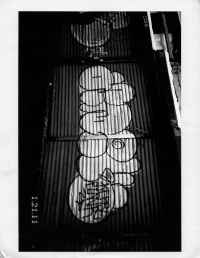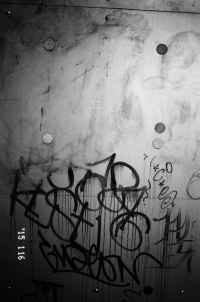 Do street aesthetics still feel as immediate and exciting today even though their crossover into the mainstream is well under way?
In New York you see plenty of people that look dope, from people with no money to the fashion freaks. We're all a bunch of peacocks, myself included. But I just went to a Bruce Nauman exhibition and he's in a video wearing just jeans, a white t-shirt, and a pair of nondescript leather boots. And he looks fucking cool.
Interview:

Ben Purdue

Photography:

Ari Marcopoulos