The Bittersweet Symphony of Snoopy
As Isolation Becomes a More Immediate Part of Our Lives, Charlie Brown's Pet Beagle Has Come to Feel Like a Mascot For Our Shared Unease
Text:

Max Lakin

Illustration:

Hassan Rahim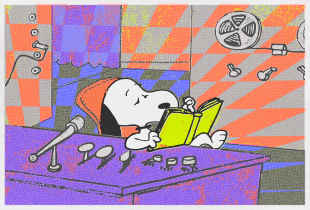 In 1984, the fashion industry's most high-profile houses converged at the Louvre to show versions of its designs in miniature. The models were foot high Snoopy dolls. Diane von Furstenberg, Hermès, Jean-Paul Gaultier, Gianni Versace, Oscar de la Renta and Oleg Cassini created looks for Snoopy and Belle (a seldom-heard from sister who lives in Paris and is conveniently au courant? Mais bien sûr!) for an exhibition called, unceremoniously, "Snoopy & Belle in Fashion." Balmain draped Snoopy in an ermine-edged velvet cloak. Karl Lagarfeld, as he was accustomed, made six separate outfits, including matching bijou Chanel tweed jackets and straw boaters. Issey Miyake contributed a pleated yukata. This was all done earnestly, including the yuppie-perfect tennis whites, courtesy of Gucci.
What is it that makes Snoopy, a cartoon beagle prone to fabulism, one of the most enduring cultural icons of this or any other generation? Fashion has yet to meet a beloved cultural property it didn't want to license, yet Charles Schulz's creation has been an unusually malleable presence in apparel; Snoopy is the spring from which all branding positions come to drink. In the last half dozen years alone, Snoopy has turned up indiscriminately on fast-fashion racks and ready-to-wear runways: Marc Jacobs printed him on cotton sweats, Stuart Vevers stamped a soft-shoeing Snoopy on a Woodstock-yellow satchel and turned him into S&M-lite black leather dolls for Coach, KAWS absorbed him into his Bizarro post-postmodern oeuvre, X-ing out his eyes and putting him on pocket t-shirts for Uniqlo. H&M, Forever 21, Gap, ASOS, and Champion have proffered their versions. The question isn't if a mass retailer will announce a Snoopy capsule, but rather how long they'll wait between successive ones. Lacoste released a Peanuts tie-in in 2010 and managed to hold off for five whole years before going back to the well.
Snoopy engenders a fervent fandom more profound than the gestalt product to which he belongs. There is no casual admiration—people who love Snoopy really love Snoopy, as an Instagram account @snoopyinfashion (48.1k followers) illustrates. There is a museum devoted to Schultz's work, in California, which is not in itself remarkable, but Snoopy is the only of his characters to have warranted a dedicated satellite, in Tokyo, with rotating exhibits based on minutiae of Snoopy's comic strip appearances. There's a DIY Snoopy stuffed toy workshop, overbooked until April.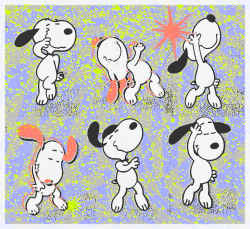 Fashion loves cartoons, and it doesn't particularly matter which one. Aesthetically, a cartoon does all the heavy lifting. They're durable, reliably plunking at the soft nodes of nostalgia, which is the quickest, surest way to separate people from their money. Snoopy fits here, but it's not like designers are picky; Jacobs has also made use of Mickey Mouse and Alice in Wonderland, Coach has conscripted Dumbo and Thumper to sell its supple leather goods, and in a bit of marketing elasticity, Gucci timed its Mickey products to coincide with the Year of the Rat. These characters are potent, but they lack Snoopy's constellatory thatch of emotional range, a quality that allows him to flit between lightheartedness and gravitas, and thereby be appropriate for all moods. It surely helps that Snoopy's chic monochromatic color palette and simple lines won't jar with whatever he's plastered on, but one gets the impression graphic purity isn't the defining interest. The Peanuts characters, unaligned with any vast monolithic controlling entity, are morally inoffensive, absent of partisanship or politics. They are possessive of a knot of neuroses that endears them to like-minded souls. In Snoopy, all of that is compounded, being as he is a dog, a creature biblically predisposed to human affection. By the late 1960s, Schulz's Peanuts was syndicated across 2,600 publications in 75 countries and appeared in 21 languages, which meant an image of Snoopy was as recognizable in São Paulo as it was in Copenhagen.Snoopy's longevity means he has enjoyed a steady procession of runway appearances. For Fall 1989, Jean-Charles De Castelbajac showed a cropped coat made of stuffed Snoopy dolls that rolled down the arms like accreted cartoon barnacles. Betsey Johnson has made crystal pavé necklaces of Snoopy— what else?—riding a skateboard. During the spring shows in New York in 2007, designers including Johnson, Isaac Mizrahi and Jeremy Scott, gave the entire Peanuts gang a wardrobe overhaul, mounting a charity show that imagined them in couture (Scott spliced a Snoopy pelt, quite troublingly, into a fur coat. 2007 was a different time). For Fall 2016, Alessandro Michele, who loves to insert American iconography into his clothes as if they were runes from some pre-technological civilization, printed Snoopy on a striped tank, a piece whose simplistic saleability stuck out from an otherwise unrelated procession of Hapsburg maximalism. "Snoopy is like a philosopher," he said then, unhelpfully. Snoopy first appeared nearly 70 years ago, yet is unfixed in time. Other cartoons carry the imprimatur of their decade—the dusty mid-century patriarchy of Disey's Cinderella or new millennium hyperstimulation of Spongebob—but Snoopy is unmoored, gliding between generations and fashion movements with ease.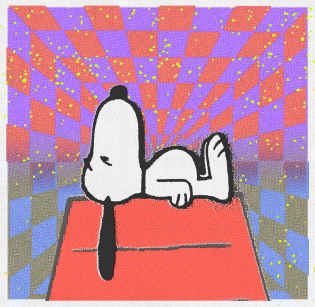 In 2014, "Snoopy & Belle in Fashion" was revived for the Instagram generation. This time, the clothes were custom Isabel Marant, Dries Van Noten, and DKNY. Opening Ceremony had Snoopy and Belle in desert boots and stacked heels; Rodarte put them in drippy tie-dye. There was a floral princess gown from Zac Posen and slubby knits from Calvin Klein. This iteration traveled the world for three years like a world heritage mission.
Snoopy's broad appeal may be in his emotional register. Unbeholden to any master (certainly not Charlie Brown, a character so woebegone that his own dog openly mocks him) and blithely indifferent to class hierarchies (he is a dog that walks like people, which doesn't seem to alarm anyone), he explodes the paradigm of the dopily servile companion. Snoopy does as he pleases, lazing about most days in an attractive mix of solipsism and angst, which cues him nicely with Gen-Xers still holding on to their mantle of disaffectedness. Yet Snoopy is not despondent. He enjoys a rich inner life, punching out pulp novels on his red typewriter in the face of near-constant rejection and, in spare moments, carrying out World War I aerial combat missions. Not content with domesticity, Snoopy tries on and sloughs off identities the way one might a horrific Snoopy pelt coat by Jeremy Scott: he has provided legal counsel, representing feminist icon Peppermint Patty in student court when she attempts to eliminate the school dress code, and style advice, as the proto-Influencer Joe Cool. Uninterested in tethering his sense of self to his job and suspicious of authority, Snoopy immediately resonates with millennials, for whom corporate loyalty is conceptually outmoded and creativity is both social currency and lifestyle.Schulz's Peanuts looked like kid's stuff but externalized heady ideas, "things that people have been afraid of," as Schulz described it. Loneliness was one. It emerged during a time in American life (like every other time in American life) nerved by political uncertainty and social anomie. Like the way military codes and army fatigues seep into our fashion when the country finds itself mired in interminable war, so too do our cartoons, a common denominator against isolation, find their way onto shift dresses and hand luggage when the daily business of being alive threatens to tip into calamity. Schulz's antidote to isolation was a beagle who learned to depend on himself—psychic dislocation tempered by self-reliance, which is a kind of freedom. As isolation becomes a more immediate part of our lives, Snoopy begins to feel like a mascot for a common unease, and how we cope: retreating inwards, reconciling self-determination with the needs of our community, finding small joys where we can. Fashion is the promise of limitless self-invention, the idea that throwing a scarf around your neck makes you something else. Snoopy hangs his life on that promise. It's the most human thing about him.
Max Lakin is a journalist in New York City. His writing has also appeared in T: The New York Times Style Magazine, GARAGE, The New Yorker, and more.
Text:

Max Lakin

Illustration:

Hassan Rahim

Date:

March 19, 2020