Into the Future with Makeup Artist Isamaya Ffrench
The Dazed Beauty Creative Director Talks Emotional Beauty and Searching for Real Life Online
Interview:

Ed Paginton

Photography:

Ed Paginton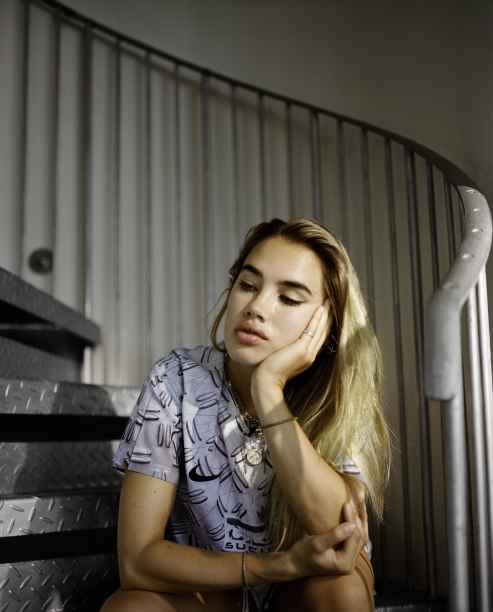 We are moving through a threshold in human evolution, defining the convergence between physical and digital terrains. For Isamaya Ffrench, makeup artist and creative director of the newly-launched Dazed Beauty, "Everything is still TBC." As the visionary force behind many of today's iconic covers and campaigns, Ffrench has carved out recognition as one of the most progressive makeup artists at large. Recently, her work for the September issue of British Vogue shot by Nick Knight, featured Rihanna, adorned with a floral mane and—in internet-breaking fashion—razor thin eyebrows.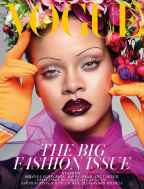 The inauguration of Dazed Beauty online sees a diverse cast of modern muses: artists and musicians rendered as nonbinary CGI avatars, designed by Sucuck und Bratwurst. Amongst the "Players" is 22-year-old model Slick Woods, whose appearance at the Savage X Fenty show this year at NYFW during her pregnancy also challenged industry status quos. Much of Ffrench's work subverts aesthetic traditions of beauty, instead employing illustration, abstraction and structural modes to establish characters and narratives. From her playful designs for Agi & Sam, past ventures as beauty ambassador for YSL, and visually abrasive collaborations with Tyrone Lebon, she is dedicated to the metamorphosis of beauty in our digital age.
Ffrench's experimental instincts are also apparent with the series of teeth moldings she created for the recent A.Human exhibition by Simon Huck in New York—with a list of participants including Chrissy Teigen and Kim Kardashian, the immersive experience examined the future of fashion and body modification. Our perception of beauty is entangled with ever-changing technologies and an enduring fascination with celebrity lives. From Cindy Sherman's Untitled Film Stills that questioned the image of women in the media, to the virtual heroine and Final Fantasy fictional character, Lightning, featured as the face of Louis Vuitton's SS16 campaign—the shifting images of femininity and beauty require a new critique. Eroding distinctions between disciplines and encouraging cross-pollination across channels online and in print, Ffrench produces diverse expressions of what's deemed "beautiful." On a Sunday afternoon in East London, Edward Pagington spoke with her about industrial design, Marilyn Manson, and the importance of always working with humor.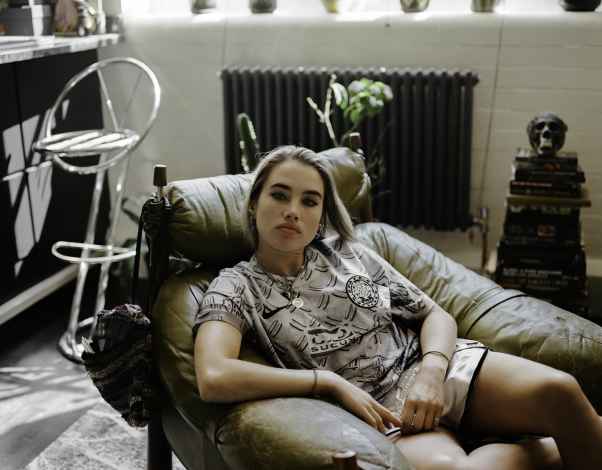 Ed Pagington
Isamaya Ffrench
You've described in the past how you kind of fell into your line of work by accident.
My background is dance and performance. I ended up going to Central St. Martins, studying industrial design. I was dancing right up until I was 22 and realized I didn't want to design mobile phones and chairs and stuff. I got a side-job as a face-painter and also began working with this company called the Theo Adams company, which is a performance group who creates bespoke shows for Louis Vuitton and Tate. It was a mix of those two things, working with the company and doing this very childish painting somehow. I found some middle-ground and ended up working in a more professional way doing shoots. At the time, there was a bit of a gap in the market for creative makeup, especially concept-based makeup. Obviously, you had a lot of high fashion artists, Pat McGrath and Val Garland, who really led the way in what we've known as fashion makeup for the last few decades. They pioneered that. But I think there was a lack of playfulness or childishness in it somehow that coincided with the sudden rise of street casting and real faces and real people. It happened at the right time.
And you studied industrial design, right? I'm interested to hear about how it has connected to the way you work today?
It made me approach a face in a more conceptual way. I always try to build some sort of narrative or character with the work. I'm not really that bothered about aesthetics and makeup or fashion for the sake of it. It has to be entertaining and tell a story.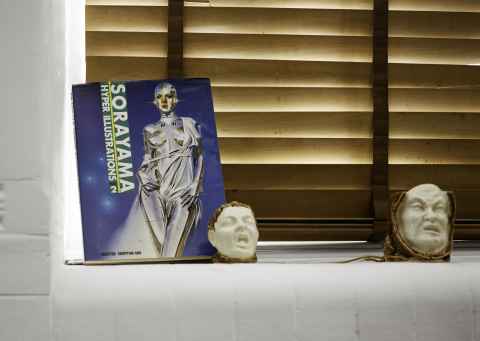 Body modification and this idea of "transhumanism" is a recurrent theme in your work, such as the Transformative conversation series with Nick Knight. What does the term "transhumanism" mean to you in relation to beauty?
I suppose everything is in relation to what we already know. The term "transhumanism," 50 years from now, could mean something completely different to what we know of it. So currently, I think it's about the integration of technology or something even in-built to our DNA programming. Transhumanism is a form of process that we are going through now, because we'll always be humans.
When I look at the work you've done with Marilyn Manson and recently Yves Tumor, there's this real sense of escapism and theatre that emerges. How does performance play a part in the narratives and characters you create?
It probably stems from a childhood coping strategy. [Laughs] And most kids do things to escape, don't they? It's about dreaming. Or at least for me in doing or imagining things to escape my reality. I feel that obviously anything that carries weight on its own story or narrative only adds another dimension to the image you are creating. Someone like Marilyn Manson, for instance, and that whole idea that his conscience is represented in a physical form. With Yves tumor, I work with him in quite a free way to try and express his tastes. People tell the ultimate story– the more loaded the character you're working with, the deeper the work will end up.
I wonder about the difference behind your process when working on someone else's face as opposed to when you have the freedom of using yourself as a canvas.
It's very different when I work on myself because there's a sense of humor, which is really important for me. I don't care if there's no sense of humor when I'm working with other people, but it has to exist within what I make for myself. Again, all these things are a collaborative effort, it's not really just my vision; it's the photographers and it's the subject. As is the case with most editorial projects. In a way there are relatively few things I've done that I could really call my own work. In terms of from start to finish, which is something I have to think about a lot because everyone has to make a compromise. Rihanna makes a compromise. Nick Knight's making some sort of a compromise.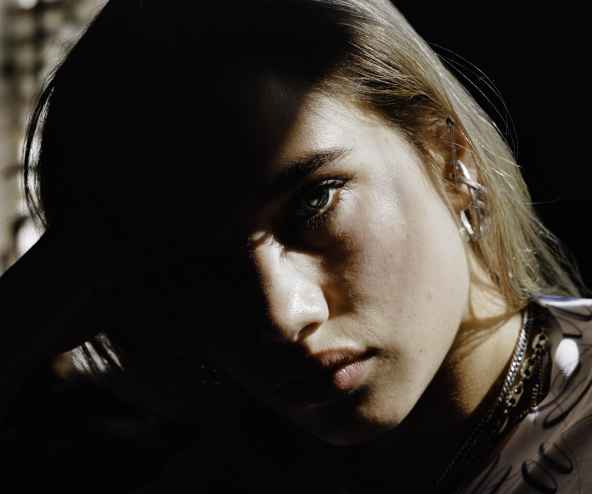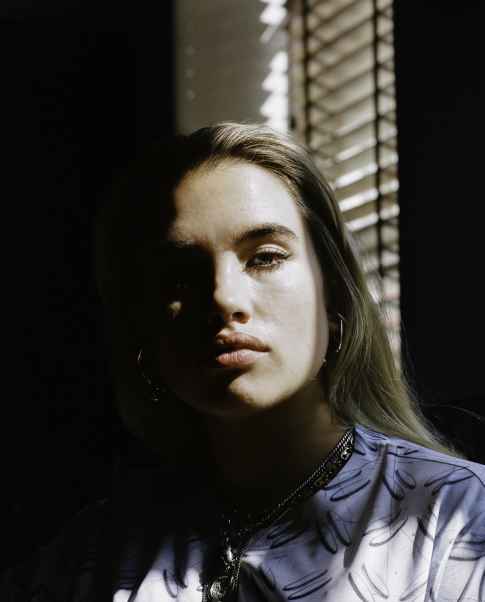 Do you begin your research process with yourself in mind, and translate that to somebody else?
There are a lot of things I like to explore, which comes back to the whole storytelling aspect. I'm about to work on this project with this amazing guy who makes grills which will be coming out later in the year. I am really interested in the symbology of how different things affect you emotionally and playing with that. For example, teeth are actually really loaded subjects – they are the last thing that disintegrates when you die; they are how you communicate; what feeds you; for pregnant women, it's last thing to lose calcium; it's really scary when people are without teeth and people dream about losing them. That's kind of where my brain goes at times, to these subjects that maybe in the end isn't translated into the work but generally informs me and is the starting point.
Again, it kind of touches on notions of beauty in our "selfie-age." Everyone assumes these personas online…
Beauty is something that, speaking from myself in a Western world, has been shaped by big corporations and it's monetized in a huge way. I think a lot of our perception of beauty is adhered to what makes money and what sells.
Like the invention of the "Venus woman" by Gillette, to sell more razors to women.
Exactly. It's a completely deluded version of our beauty ideals because it's based on a social construct. I think we're losing touch with the emotional side of beauty too, partly due to the communication online. It's not very romantic anymore, it's very superficial.


Are experiences online making our relationship to beauty emotionally "flatter"?
At least in terms of what we find attractive. We're going through it, we're not on the other side of it yet.
What are your thoughts on imperfection, improvisation, instinct—are those things you embrace?
Definitely, all of it. It's what moves me as what's beautiful.
Is this under-threat in our digital landscape?
Yes, but in a weird way, I love and hate both. Often people ask me, "Who do you think is beautiful?," and you kind of lose sight in a sense when you are looking at something so objectively, of what is beautiful and what's not. One man's treasure is another man's trash. It's quite hard for me to look at things subjectively as well, because beauty is something that is an emotion, it's not an aesthetic.
How do you navigate working for a brand with very specific, rigid codes? A lot of your work is about subversion.
That's where the industrial design degree is probably most helpful because it's purely about problem solving and understanding a brands vision and their objectives; being able to advise in regard to what they want. I work with a lot of different kinds of brands, so for me that's interesting. Even when they all want kind of the same thing. "The New Thing."
Edward Paginton is a writer and director based in London. His work has appeared in The Guardian, 032c, Modern Weekly, The Travel Almanac, and Nowness, amongst others.
Interview:

Ed Paginton

Photography:

Ed Paginton